Soft Dinner Rolls, the kind you lovingly pull apart and want to slather with butter while still warm, that's the recipe Kathy and Angie were looking for. They had tried different ones yet couldn't get the taste and texture they wanted so they reached out to me for some help.
I happily dove into research mode, comparing recipes and baking. Using the tips I know for success with gluten free yeast breads I came up with two different recipes for a final taste test. We had a private cooking class, made them both and this recipe for Soft Dinner Rolls was the clear winner.
Do's and Don'ts For Gluten Free Bakers
This year I've been running a series of cooking classes making yeast breads. Teaching is the best way for me to put into practise everything I learn, even though the learning never ends.
The good news is that once you learn the differences about baking with gluten free flour then you can eat your way to success. With one recipe after another.
I call the tips and tricks the New Basics and I write about them all the time. You'll find many tips in my recipe descriptions but also in these blog posts.
These basics may be quite different from some of the rules you know about baking with wheat flour so being open to learning is a great first step.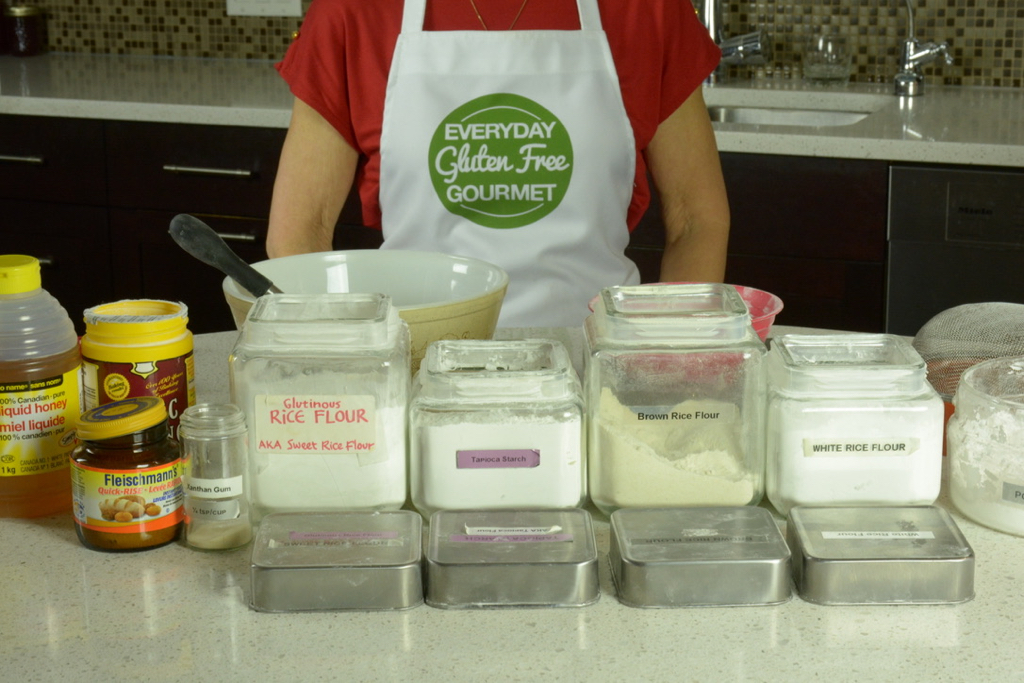 5 Tips For Gluten Free Yeast Breads
America's Test Kitchen is my most reliable source for the chemistry of baking and understanding why things work, or don't work, with gluten free flour. I trust them and use that knowledge when I'm in the kitchen.
No single gluten free flour can mimic all the properties of wheat flour. A precise combination of individual flours and starches will always give the best results.
Xanthan gum and psyllium husk powder are important binders used in yeast bread recipes. This recipe uses xanthan gum only.
Psyllium husk powder has a high viscosity so is able to bind water more effectively than xanthan gum. It creates a sturdy network with the proteins in gluten free flours and adds a wheat flavour to baking that works well in yeast breads.
Egg helps with structure in gluten free baking so sometimes there is egg in a recipe where you wouldn't expect it.
Resting time is important to allow the completion of the structure of gluten free baked goods. If you taste your dinner rolls right out of the oven they may be gummy or undercooked. Wait and taste again! That's how you'll learn how many minutes they should rest.
PIN for Later...
Best Kitchen Tools for Gluten Free Bakers
Every kitchen needs tools and these are some of the basics for this recipe.
I've moved on to pizza dough and savoury variations of this recipe but some people in my cooking classes said they were going to try making Monkey Bread. I can't wait to hear about it and see your photos. That might inspire me to try it too.
In case you don't know, Monkey bread is a sweet pull-apart bread baked in a Bundt pan. Small dough balls are dipped in butter, rolled in cinnamon sugar and then placed on top of each other in the pan.
I'd love to hear in the comments below how this recipe for Soft Dinner Rolls turned out for you or if you did something different with it.
---
More Recipes - Yeast Breads
Click on the text on the image(s) to go to the recipe/blog post.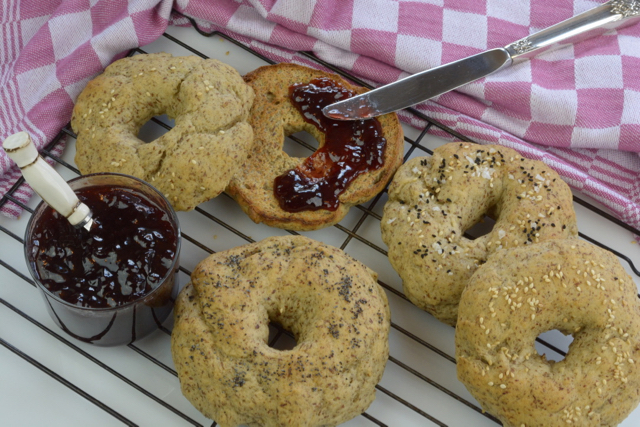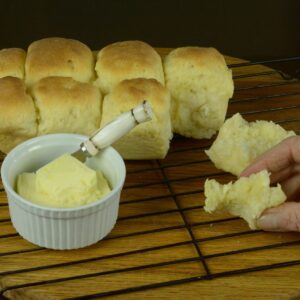 Soft Dinner Rolls
These Soft Dinner Rolls are the kind of rolls you lovingly pull apart while still warm, slather with butter and enjoy. With gluten free baking the cooling time is important so follow the instructions and you'll be wanting to make them again soon.
Ingredients
Proof Yeast
½

cup

warm milk, 105-110ºF

(I use 2% milk)

2¼

teaspoon

instant yeast

½

teaspoon

sugar
DRY INGREDIENTS
65

grams

potato starch

55

grams

white rice flour

50

grams

brown rice flour

30

grams

tapioca starch

16

grams

sweet rice flour

(or sorghum flour)

1½

teaspoon

xanthan gum

1

teaspoon

baking powder

½

teaspoon

salt
WET INGREDIENTS
1

egg

3

tablespoon

vegetable oil

2

tablespoon

honey
FINISHING
sweet rice flour for sprinkling

2

tablespoon

butter, melted

(for brushing on dinner rolls)
Instructions
Line an 8-inch loaf pan with parchment paper or an 8 or 9-inch round cake pan.

Microwave milk for about 30 seconds to reach 105-110ºF. Add sugar and sprinkle yeast on top. Stir and let proof 10-15 minutes until frothy.

Whisk dry ingredients together. Set aside.

In the bowl of a stand mixer add yeast mixture, egg, oil and honey. Mix on medium-low until combined.

Turn mixer down to low and add dry ingredients to combine.Stop, scrape down sides of bowl then beat on medium for 1 minute.

Generously flour the counter. Using your hands work into a smooth dough and turn out onto the counter. Sprinkle additional flour over the dough.

Cut the dough into 8 pieces using a knife. Flatten each piece slightly and shape into a circle then bring the edges together at the bottom to form a ball. Arrange in the loaf pan.

Cover with a clean kitchen towel and let rise for 1 hour.

Preheat oven to 350ºF at least 30 minutes before baking.

Before putting rolls in the oven brush with 1 tablespoon of melted butter. Bake 20-24 minutes or until the internal temperature reaches 175ºF measured with a thermometer.

Set dinner rolls on cooling rack in the pan and immediately brush with the last tablespoon of melted butter. Let cool for 5 minutes before lifting out of the pan.

Rest for another 5 minutes then remove from parchment directly to the cooling rack. Let rest another 5-10 minutes before biting in. If they taste under done you're probably eating them too soon. With patience you'll determine the exact amount of time they should rest after cooking.

Dinner rolls are best served while warm. Leftovers will keep in the refrigerator for a few days and they freeze well.
Notes
VARIATIONS
Herb and Garlic Dinner Rolls – Add 1 tablespoon any combination of dried herbs to the dough such as Italian herb mix (1 teaspoon each dried basil, oregano and parsley, ½ teaspoon each rosemary and thyme, pinch of garlic powder). Sprinkle with garlic powder after brushing cooked rolls with final amount of butter.
Garlic Parmesan Dinner Rolls – Add ½ cup grated Parmesan cheese to the batter. Sprinkle rolls with finely chopped garlic (2 cloves) after brushing with butter before they rise. As soon as rolls come out of the oven, brush with butter and sprinkle with 2 tablespoon Parmesan cheese and 1 tablespoon chopped fresh parsley.