This gluten free Vanilla Cream is a favourite summer dessert in my family. Served in a tart shell and covered with fresh berries it's divine!
Technically custard is made with eggs and pudding isn't so that makes the base part of this recipe vanilla pudding. Then just before serving you simply fold in freshly whipped cream, transforming it into a light, silky smooth, heavenly treat.
Organize for Success
What I like about this recipe is that I can make the base with the milk in my fridge. My pantry always has cornstarch and sweet rice flour so that means no extra trip to the grocery store. I can decide to make this dessert at night and pick up the whipping cream the next day.
PIN Vanilla Cream for later...
Cornstarch vs Sweet Rice Flour
Cornstarch is commonly used to thicken gravy, sauces and creamy desserts but gluten free cooks have lots of options. I replaced the combination of wheat flour and cornstarch in the original recipe with the combination of sweet rice flour and cornstarch. It worked well but recently I wanted to compare the results using cornstarch alone or the combination. Here's what I found.
Cornstarch alone made a softer, silky smooth vanilla cream ideal to serve in a dish with fresh fruit.
The combination of cornstarch with sweet rice flour made a more firm vanilla cream. This would hold up better when used as the filling in a tart shell. It did require extra beating to soften the base before adding the whipped cream, but the taste was the same.
COOKING TIP – You can 'over whisk' a sauce made with cornstarch and create a watery mess so don't whisk too vigorously. Simply allow the heat to thicken the sauce and gently whisk as it thickens to mix it evenly and prevent it from burning on the bottom of the pan.
Get The Tools
This is a simple dessert that can be transformed into a gourmet treat when you need one. I love to make my favourite recipe, ones that I know will work, and just make them look nice. I often say you just need to pull out the stemware but here are a few more serving ideas.
Let me know in the comments below if you made this vanilla cream and how you served it.
---
More Creamy Dessert Recipes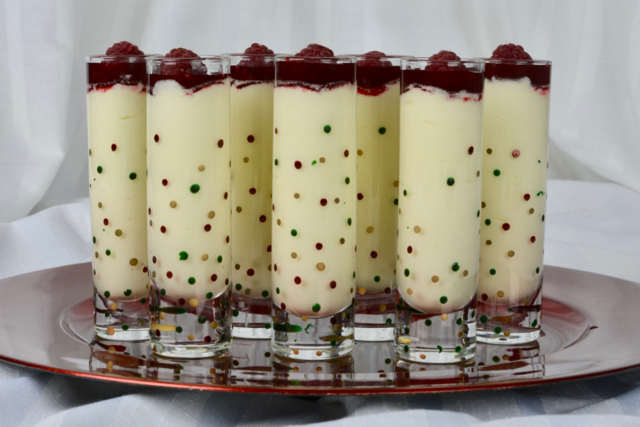 Originally posted October 2015, updated June 2020
Vanilla Cream
This gluten free Vanilla Cream is a favourite summer dessert in my family. Served in a tart shell and covered with fresh berries it's divine!
Ingredients
1

cup

sugar

6

tablespoon

cornstarch

3

tablespoon

sweet rice flour*

¾

teaspoon

salt

3

cups

milk

(I use 2%)

1

tablespoon

vanilla

1

cup

whipping cream
Instructions
Combine sugar, cornstarch, sweet rice flour and salt in a medium saucepan.

Stir in milk. Bring to a boil over medium heat whisking as it begins to thicken.

Reduce heat and stir until thick, 1-2 minutes, whisking to prevent the bottom from burning.

Cool slightly. Transfer to a bowl, cover and refrigerate overnight.
BEFORE SERVING
In a stand mixer add vanilla and beat mixture until smooth,

In another bowl beat whipping cream to stiff peaks. Fold into mixture and refrigerate until ready to serve. Can be served immediately.

Spoon over seasonal fresh fruit or use to fill a tart crust.
Notes
*Sweet rice flour can be replaced with cornstarch making a softer dessert, best served in a dish.