Step up your homemade turkey tacos with soft corn tortillas and toppings that excite you. Turkey tacos might sound ordinary but they don't need to be. Think about starting with soft corn tortillas and then all those toppings; from chipotle mayo to a tropical fruit salsa and everything in between.
Don't limit yourself to ground beef and hard, store bought taco shells. Use your imagination and celebrate Taco Tuesday more often. Then when you get together with friends you'll have all your favourites top of mind. This is what makes for easy entertaining!
Masa Harina for Homemade Corn Tortillas
In my post, corn tortillas, I give step by step instructions and photos for making tortillas with masa harina. Maseca is the brand of masa harina I use and some recipes list Maseca as the ingredient. No matter what brand you use, once you've made these you'll recognize the heavenly aroma of fresh corn tortillas and you won't go back.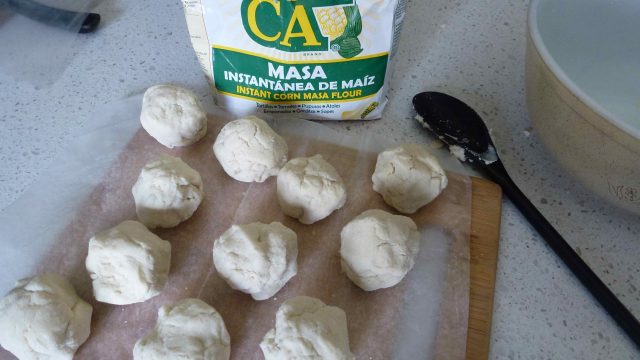 This post contains affiliate links. When you purchase using these links your cost is the same, but I receive a few cents for every dollar spent. I appreciate your support for this website.
DIY Taco Fiesta
Of course you can serve more filling options with your turkey tacos and turn it into a real taco fiesta! Guests get to create their own perfect combination of flavours from the variety of fillings and toppings you offer. Here are some of the fillings I use, usually when they're leftover from another dinner.
Organize for Success
Your set up for making tortillas, or lack of one, is the barrier! Collect all the parts, keep them together and start making homemade corn tortillas any time. This is a great family dinner if you've got kids that will help bring it all together.
Taco Seasoning Spice
Store bought taco seasoning spice can sometimes contain wheat. Making your own is an easy way around that especially if you have a well stocked spice cupboard. It's quick to make it that I have a spice jar with the recipe right on it and try to keep it full all the time. When the bottle is empty I leave it on the counter and do that little job of mixing the spices at a different time.
For kids learning about allergy awareness and foods that contain gluten a little bottle of taco seasoning spice mix is a thoughtful homemade gift for a friend. A small step toward allergy awareness.
Taco Toppings
Everyone loves chipotle mayo and on top of tacos is the ideal place for it. Try this homemade chipotle mayo and you'll never use store bought again. It's easy to make and will last in the fridge for weeks...but when put in a squeeze bottle it'll disappear fast.
In the comments below l'd love to hear about Taco Tuesday (or any taco tradition) at your house.
---
More Recipes - Taco Possibilities
Click on the text on the image(s) to go to the recipe/blog post.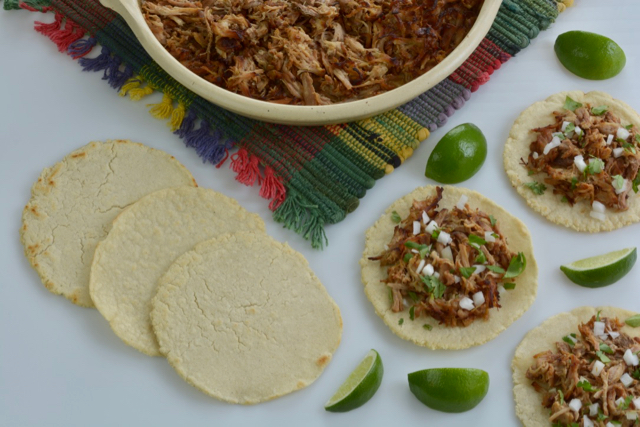 Turkey Tacos
Step up your homemade turkey tacos with soft corn tortillas and toppings that excite you from chipotle mayo to a tropical fruit salsa.
Ingredients
TACO SEASONING SPICE
2

tablespoon

chili powder

2

teaspoon

paprika

1

teaspoon

dried oregano

1

teaspoon

salt

½

teaspoon

garlic powder
TURKEY FILLING
2

teaspoon

olive oil

1

lb

ground turkey

½

onion, finely chopped

½

cup

canned tomato sauce

(213 ml can)

1

tablespoon

taco seasoning spice

(add more if you like)

½

teaspoon

chipotle powder

(optional for more heat and a little smokiness)
TACO TOPPINGS
chopped lettuce

grated cheese

(cheddar or Monterey Jack)

diced tomato

diced avocado

diced red onion or green onion

chopped fresh cilantro

chipotle mayonnaise

sour cream
12-16 CORN TORTILLAS
2

cups

masa harina

1⅓

cups

water

¼

teaspoon

salt
Instructions
MAKE TACO SEASONING SPICE
Combine spices and store in spice jar for everyday use.
TURKEY FILLING
Add turkey and onion stirring to break up meat. Cook until browned and onion is almost soft, 6-8 minutes.

Add taco seasoning spice and tomato sauce. Cook for a few more minutes.

Serve hot as a filling for assemble-your-own tacos.
PREPARE TOPPINGS
While turkey is cooking, cut and arrange toppings of your choice on a platter for DIY style tacos. Can be done in advance.
MAKE CORN TORTILLAS
Mix masa harina, water and salt, adding more water as needed to form dough.

Shape into 16 balls and flatten with tortilla press.

Cook tortillas in hot frying pan, with a bit of oil. Turn once.

Wrap tortillas in a folded towel while cooking the rest. This will steam them and make them soft enough to fold and place into a taco holder.
SERVING
Serve warm tortillas with turkey filling and all the toppings.