Yes, you can make gluten free pasta at home. My new line is, "If someone's making it, someone's making it gluten free."
There are plenty of brands of store bought pasta to choose from but some cooks (like me) just want to try their hand at making homemade gluten free pasta dough. A small hand crank machine is affordable and it's perfect for people who like to get together in the kitchen.
Can I Make Homemade Pasta with a Gluten Free Flour Blend
No, gluten free flour blends don't work well for homemade pasta. Experienced gluten free cooks know that all-purpose flour blends work in many recipes, just not all recipes. (The myth of one-to-one flour blends.)
For dinner rolls, crusty bread, pizza dough and homemade pasta, the results are best when made by combining individual flours.
To create the structure needed to hold pasta together the ratio of grains to starches needs to be more precise. This is where measuring individual flours, using a digital scale, is the key to success.
If you're ready to create your own set up to easily store and measure multiple flours check out these resources.
CLASS CALENDAR for my recurring class called 'Understanding How To Use Gluten Free Flour'.
Watch the video in my post for EGFG Gluten Free Flour Blend to see how I store and make my everyday blend. It is only the four flours I use for that recipe but it gives you an idea and demonstrates what a time saver it is to get your flours organized.
PIN for later...
Can I Substitute a Different Flour
The answer is always yes but you need to do the work to figure it out. There are guidelines but there's nothing like cooking, tasting, making notes and trying again.
Chefs and everyday cooks around the world are using different combinations of flour in every recipe imaginable. Many families also have other food restrictions that affect their choice of flours so substitutions are inevitable and you can figure it out.
Don't give up! Keep cooking and learning.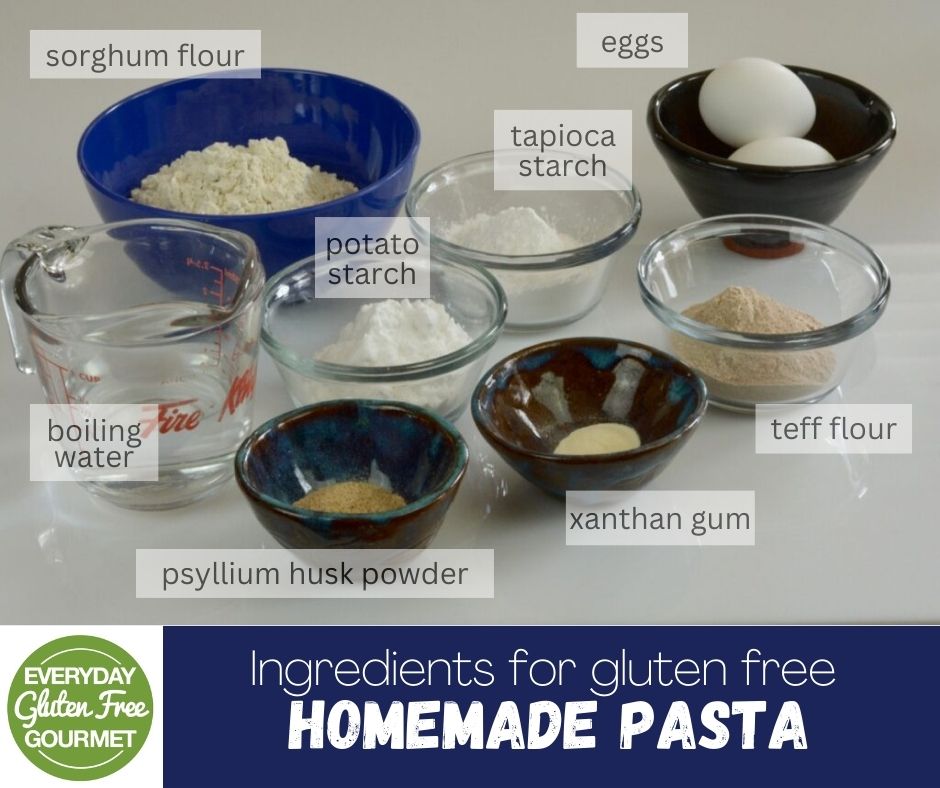 How To Do A Head-to-Head Recipe Challenge
The absolute best way to find your favourite gluten free recipe is to do a head-to-head challenge. Make two recipes at the same time and taste them.
In my virtual classes I encourage people to sign up with a friend and try it in their own kitchen. I send them a few recipes to choose from and they organize to make two recipes during the class.
At the end of class we taste our pasta with a simple sauce since the focus is the taste of the pasta, not the sauce. Once you perfect the recipe you've got the rest of your life to make all the pasta sauces you want.
Gluten Free Pasta Tutorial; Lessons From Italy
I did a few head-to-head pasta tastings and the recipe I'm sharing here was inspired by my friend Jessica over at Tasty Meditation: Tales From A Gluten Free Kitchen. While on her honeymoon in Italy she learned to make gluten free pasta and came home ready to make more. In her YouTube Pasta Tutorial she enthusiastically shares what she learned.
Tips for Rolling and Cutting Pasta
I give step-be-step instructions in the recipe card so these are some general tips specific to gluten free pasta.
Mixing the dough in an electric mixer or food processor does a better job than mixing it by hand.
A fine tapioca starch works well as a sprinkling flour.
Many Italian cooks roll homemade pasta dough with a rolling pin and cut it with a knife. None of them would ever tell you it was too hard for you learn to do it. I got a hand-crank roller decades ago so I just never tried it.
The first step of rolling the dough through the widest setting is difficult when you first start. It gets easier after making the pasta recipe a few times. Be patient and know that even if the dough looks like a disaster you can keep folding and rolling until it finally comes together. (A younger version of me would have definitely given up!)
Most hand crank pasta machines have a fettuccini and linguini setting. I always make fettuccini.
Once you've got your recipe you can cut the pasta to make lasagne, ravioli and any shape you want.
Laying the pasta in loose nests looks cute for fettuccini. Full strips for lasagne can be hung on cupboard doors or laid on a kitchen towel. If you're serious you can even buy a wooden pasta tree.
Tips for Cooking and Serving Homemade Pasta
Learning to cook gluten free pasta is a skill to master right away. Fresh homemade pasta cooks more quickly than dried pasta. In my classes we test the pasta at 4-5 minutes knowing the thickness affects the cooking time.
Use a kitchen timer and check it before the time you think it will be done. Make notes to learn as quickly as possible then repeat what you did.
Everyone wants to eat hot pasta that doesn't fall apart on your fork! Here are three tips to do that every time.
Rinse pasta in lukewarm water to stop it from over cooking.
Have the sauce hot and ready for the pasta and the people at the table.
Preheat your bowls if they're cold or if your company is extra special.
Tools To Make Gluten Free Pasta
Once you can make full sheets of pasta you can make it into any shape you want. My pasta machine and drying rack are over thirty years old but I had fun looking for all these tools on Amazon. Gluten free people need gifts too so take a look and give generously.
Whether you want to have a Kitchen Party or simply try homemade pasta for family night I encourage you to do it. If you read this far, you know you want to!
I can't wait to hear about your culinary adventures with gluten free pasta.
---
__________________________________________________________________________________________
New here? Join our community and get your FREE resource, the tips I wish I knew when I started cooking gluten free.
Yes, I need 29 Tips For Cooking with Gluten Free Flour.
Still haven't mastered gluten free cooking? Check out our online Cooking Classes.
Recipes for Your Homemade Pasta
Homemade Gluten Free Pasta Recipe
The best homemade gluten free pasta dough recipe is one made by measuring individual flours on a digital scale. A culinary adventure awaits!
Ingredients
130

grams

sorghum flour

50

grams

potato starch

40

grams

teff flour

40

grams

tapioca starch

6

grams

psyllium husk powder

(2 tsp)

2

grams

xanthan gum

(½ tsp)

110

grams

boiling water

(~½ cup)
Instructions
Set aside a bowl with tapioca starch to use for sprinkling when the dough is sticky.

Measure dry ingredients in food processor or electric mixer.

Turn on to briefly combine. Add boiled water with motor running and mix until combined.

Add egg and continue mixing until smooth dough is formed.

Turn dough onto counter and lightly sprinkle with tapioca starch. Cut into 4 pieces. Work with one piece at a time keeping the remaining pieces of dough covered with a dry cloth.
ROLLING PASTA WITH A HAND-CRANK MACHINE
Flatten one piece of pasta dough with your hands or a rolling pin. Feed the flattened dough through the roller as you turn the crank.

Place the dough lengthwise in front of you. Fold each side over in thirds. Repeat the process 3-4 times until the dough is smooth and the width of the pasta roller. This is the important step where you are trying to make a single piece of smooth dough with even edges that are the width of your machine. Keep rolling it until you have fairly smooth edges, even if it takes 10 times.

Adjust the pasta roller to the next setting and feed the dough through again. Repeat this process, adjusting the roller to a narrower setting each time until you reach the desired thickness for your pasta.*

When a piece is too long to manage, lay it on the counter and cut it in half.

Once your pasta is the desired thickness it can be cut into any shape. Repeat this process with the remaining portions of dough. Shape as desired.

Many hand-crank machines have a setting for fettuccini so that's a great place to start.

As each piece of pasta is cut into fettuccini carefully twist and twirl into a loose nest. Lay on a baking sheet to dry slightly as you repeat the process with each piece of dough.

If not using within 30 minutes cover and refrigerate. Cook within 3 days.
COOKING FRESH GLUTEN FREE PASTA
Cook fresh pasta in plenty of boiling water for 3-5 minutes depending on the thickness. **

Start checking the pasta after the first few minutes to avoid over cooking. Keep notes so you can perfect the thickness and cooking time for perfect pasta every time.

Drain, rinse briefly to stop cooking process. Toss with hot pasta sauce and serve immediately.
Notes
*The number of settings each roller has varies by manufacturer. My machine starts at 1 (the widest setting) and has 7 settings, 7 being the thinnest. Some machines are the opposite and may have a different number of settings. Always start with the widest setting.
Personal note: On my machine setting 4 is a bit too thick for my taste. Setting 5 and 6 takes more practice but is better for ravioli and tortellini where you're biting through 2 thicknesses of the dough each time. I'm still practising.
**Fresh pasta

cooks much faster than dried pasta. Don't skimp on the water and pay attention to the clock.