Recently my son said his friend wanted to make gluten free vegan bagels. Could I help? Daniel's girlfriend is gluten intolerant and vegan, and she's been missing bagels. I hesitated, never having made bagels myself, then I said sure.
I'm always up for a challenge in the kitchen. I love to see young people interested in cooking and they don't seem deterred by all the different dietary restrictions. My message on this blog is that you can make anything you want. So I tried a few recipes, came up with this and mailed him the dry ingredients.
I heard from Daniel, their first attempt at gluten free vegan bagels was a success.
Gluten Free Baking
Baking is an art and a science. My mom made biscuits and quick breads but she never made yeast breads. Over the years I've made different yeast breads but not a lot. There was a time when we regularly made pizza dough but there was also my epic fail with Irish Soda Bread (which I wrote about in this Gourmet Dinner Club post.)
I slowly embraced the challenges of baking gluten free and eventually posted an excellent recipe for Crusty Bread. Yet I never really dove into gluten free yeast breads. I'm no expert baker of yeast breads but I can certainly bake bread and so can you.
Gluten Free Yeast Bread
There are a few reasons yeast breads are intimidating. Precision is required and messing up in one step can result in a fail. Skimming through bread recipes you read about rising time, punching down dough and allowing a second rise. They talk about the feel of the dough and the sound the bread makes when you knock on the bottom. It all sounds mysterious and I'm the type of cook that prefers clear directions.
Yet at the beginning of the pandemic yeast flew off the grocery store shelves so maybe it's time to use it.
Active Dry Yeast vs Instant Yeast
Yeast leavens bread and creates a light texture. There is an expiry date on the package and yeast should ideally be stored in the fridge or freezer. The instant yeast I recently bought is good for two years.
When I learned to bake with yeast it seemed like there was only one kind to buy. These days it looks more intimidating yet there are really just two common types, active dry and instant.
They both produce very similar results but here's the difference.
Active Dry Yeast
Instant, Quick Rise, Rapid Rise or Bread Machine Yeast
-coarse, oblong granules
-is dissolved in sugar water
-slower rise time
-Fleischmann's yeast, the yellow packages labelled Traditional Active Dry Yeast
-small round granules
-does not need to be dissolved
-shorter rise time
-Fleischmann's yeast, the yellow packages labelled Quick Rise - Instant Yeast
The Rise: A Warm Draft Free Place
As yeast activates it creates bubbles of carbon dioxide and dough rises. Ideally dough should be placed to rise in a draft free location. This can be on top of the fridge or in a corner away from a door.
If your kitchen is cold or drafty you can let dough rise in a slightly warmed oven. Set the oven to 200°F for 5 minutes, no more! It should not reach 200°F but will be a just warm oven perfect for dough to rise.
If you mess up and let the oven go beyond 200°F (I've done that), don't put it in the oven. Find a draft free place and it will probably be fine.
How To Boil Gluten Free Bagels
Traditional bagels are boiled for 30-60 seconds per side before being baked. This sets the crust to create a nice chewy bagel. A gluten free trick is to add molasses or baking soda to the water to help with this process. Some recipes suggest boiling for only 10 or 15 seconds. I'd need to bake a lot more bagels to comment on that.
Get The Tools
The beauty of making bread is that you don't really need any tools. I use my Kitchen Aid to mix dough but I think Daniel did it by hand just like many home cooks have done for 100 years. Any baking sheet will do, and buy them in pairs because you can double them up if your baking always gets too brown on the bottom. I also have a liquid thermometer that I bought thirty years ago to check the water temperature to make pizza dough. With instant yeast there is no need to dissolve the yeast in water so this isn't as critical (I think). Just go for warm (but not too hot) tap water.
If you get hooked on bread making there are a lot more tools you can acquire.
There's nothing like eating something freshly baked, warm from the oven. With each success you gain the confidence to bake more things and this is a skill that will last a lifetime. It should probably be taught in school.
So dig out the yeast you bought and use it. Let me know in the comments below what you're still wondering about or how your baking turned out.
---
__________________________________________________________________________
New here? Join our community and get your FREE resource, the tips I wish I knew when I started cooking gluten free.
Yes, I need 29 Tips For Cooking with Gluten Free Flour.
Still haven't mastered gluten free cooking? Check out our online Cooking Classes.
_________________________________________________________________________
More Vegan Recipes
Make this Vegan Fish Sauce Substitute so your vegan friends can enjoy all the amazing Thai and Vietnamese dishes.
A Vegan Buddha Bowl is always a great option when you're making dinner for your friends that are gluten free and vegan.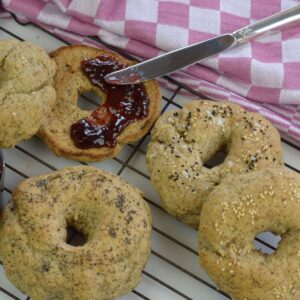 Vegan Bagels
If you're excited to enjoy gluten free, vegan bagels, warm out of the oven, you can! Ground flax seed gives these bagels a wheaty taste.
Ingredients
DRY INGREDIENTS
1

cup

brown rice flour

½

cup

potato starch

½

cup

tapioca starch

½

cup

sorghum flour

½

cup

ground flax seed

1

tablespoon

active dry yeast

1

tablespoon

xanthan gum

1½

teaspoon

salt
WET INGREDIENTS
1¼

cupa

warm water

2

tablespoon

corn syrup

2 Tbsp

cooking oil

1

teaspoon

apple cider vinegar
SHAPING
Cooking oil for your hands

SPRINKLING – sesame seeds, poppy seeds, chia seeds, onion seeds or sea salt flakes
Instructions
Slightly warm oven by setting to 200°F for 5 minutes, no more! It will not get to 200°F but will be just warm for the bagels to rise. If you forget to turn the oven off don't put your bagels in it to rise.

Line baking sheet with parchment.

Combine all dry ingredients in large bowl of a stand mixer. Mix to combine evenly.

In a large pyrex measuring cup whisk wet ingredients to combine.

Turn stand mixer to low and mix dry ingredients for 30 seconds. With mixer on slowly add wet ingredients. When combined increase speed to medium and mix for 3 minutes. The dough will be quite sticky. Using a spatula push the dough down and mark it into 4 equal portions.

Grease your hands with vegetable oil to shape the bagels. Using your hands remove a portion of dough and shape into a smooth ball then flatten it into a large disk. Using your thumb make a hole in the centre. It can be quite large as it will get smaller when the dough rises.

Place bagels on baking sheet and put in warm oven. Let rise for about 40 minutes. They should be visibly puffed up.

While bagels are rising bring a large pot of water to a boil. Add molasses and stir.

Prepare sprinkles and set aside.

When bagels are ready remove from warm oven. Preheat oven to 400°F.

One at a time, gently slip bagel into boiling water. Cook for 30 seconds per side then remove to wire rack using a slotted spoon.

Place boiled bagels back on baking sheet and sprinkle with desired toppings.

Bake in preheated oven for 22-25 minutes or until golden brown. Allow to cool on a wire rack for 10 minutes before eating. Gluten free baked goods always need extra cooling time for the structure to set.
Notes
Letting bread rise in the oven: Preheat oven by setting it to 200°F for 5 minutes, no more! It will not get to 200°F but will be just warm for the bagels to rise. If you forget to turn the oven off don't put your bagels in it to rise.