Lentil and Red Pepper Soup with Tandoori Chicken on top…drizzled with yogurt and sprinkled with fresh cilantro. Now that's one delicious bowl of soup.
March is Nutrition Month so recipe contests are a popular theme to promote healthy eating. I work for Alberta Health Services and I entered the province wide Healthy Chef Cooking Contest with this recipe.
Employees can choose from one of four baskets to create a themed dish. I chose the basket with red peppers, lentils, yogurt and chicken. That combination of foods reminded me of East Indian cooking and tandoori chicken.
Healthy Recipe Contest Theme
The contest theme was stated as:
Work Life Balance/Stress & Resiliency – Sharing laughs and meals with colleagues help keep you energized during the day. Create a dish to share with your colleagues.
Our team meets twice a month and this winter we started a 'soup thing'. Each team member takes a turn making soup for the whole group. For three months you get to enjoy homemade soup, don't need to bring a bag lunch and you only need to make soup once.
Well, this week it was my turn to make soup. Now that is serendipity.
I created this Lentil and Red Pepper soup to meet all the contest rules with the added bonus of using it here for my weekly blog post. I have now entered the contest and tested the soup on my colleagues…who gave their stamp of approval.
Food Allergy Awareness
I like to be inclusive with my cooking so accommodate allergies, intolerances and food preferences when I can. If you think like that share your experiences. Show your family and friends that it isn't that hard to consider everyone. (Okay, in some families it is hard…but you get the point.) I'm always impressed when I hear my son and his friends planning...she's gluten free, he's vegetarian and so and so can't eat nuts. It sounds more like a challenge than an inconvenience. On our team we have one vegetarian so I simply served the tandoori chicken as a garnish.
Prep Once, Eat Twice - Lentil and Red Pepper Soup
When I cook I'm always thinking about one task that will go toward a second meal. In this case I doubled the marinade and chicken. I cooked half the chicken and put the other half in the freezer to enjoy Tandoori Chicken another night.
Although I've posted homemade Tandoori Chicken the contest asked for an easy recipe. I did some research and found that Pataks tandoori paste is gluten free so that's what I used.
Get The Tools
Cookware is an investment. You don't need the most expensive set of pots but there's a wide variety of affordable cookware available and many items you purchase will last for decades. Notice what you like and choose wisely when you buy.
For the everyday home cook like me the largest pot in a typical set of pots is usually perfect for making soup. Although recipes sometimes say a Dutch oven or a soup pot they probably don't really mean that. A modern Dutch oven is like the gorgeous Le Creuset enamelled cast iron pot. They are heavy and expensive but will last for a lifetime of cooking. For a fraction of the cost you can buy a lesser quality enamelled cast iron Dutch oven and although I'm not sure, I think it would last at least half a lifetime.
Some recipes will call for a soup pot, also called a stockpot. Technically this is an extra large, bigger than what comes with a set of pots. They are ideal for an annual jam or salsa-making party, or special events like a lobster boil. If you cook for large groups you should own one. Many people would never really need one because to make an everyday soup recipe, the largest pot in a typical set of pots is perfect.
Let me know in the comments below if you made this Lentil and Red Pepper soup and what you thought.
---
More Recipes - A Round Up of Homemade Soups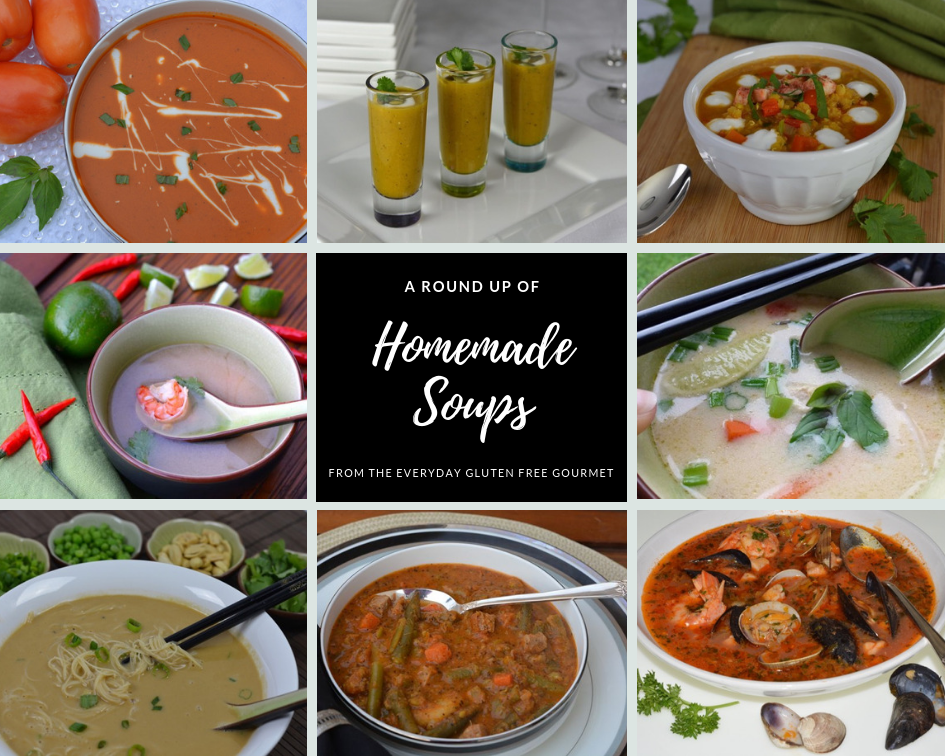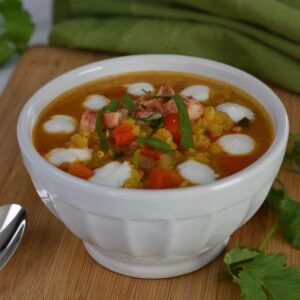 Lentil and Red Pepper Soup
You can skip the Tandoori Chicken I added to the top of this soup or you can make the chicken one night and make the soup a few days later. That's how I do it and it elevates this soup to a full meal according to me!
Ingredients
TANDOORI CHICKEN
2

tablespoon

store bought gluten free tandoori paste

(I used Patak's)

1½

tablespoon

plain yogurt

2

boneless, skinless chicken breasts
SOUP
2

tablespoon

olive oil

1

onion, chopped

2

red peppers, chopped

½

teaspoon

turmeric

¼

teaspoon

ground cumin

¼

teaspoon

ground coriander

salt & pepper to taste

6

cups

gluten free chicken stock

1

cup

red lentils

1

tablespoon

tomato paste

2

tablespoon

chopped cilantro

GARNISH – plain yogurt and chopped cilantro
Instructions
Put lentils in a bowl, cover with water and soak while preparing chicken and soup. *
TANDOORI CHICKEN
Mix Tandoori paste and yogurt. Spread on both sides of chicken.

Put chicken on a metal rack set on a foil lined tray. Bake in 350°F oven for 20 minutes or broil until cooked through.

Cool. Cut into bite size pieces and set aside.
RED LENTIL SOUP
Heat oil in soup pot on medium. Add onion and red pepper and cook until softened, about 5 minutes.

Add spices and cook stirring for 1 minute.

Drain and rinse lentils. Add chicken broth, lentils and tomato paste to soup pot. Bring to a boil. Reduce heat, cover and simmer for 20-30 minutes or until lentils are cooked.

Add cilantro. Taste and adjust seasoning.
SERVING
Serve soup in bowls. Top with chicken cubes, drizzle with yogurt and sprinkle with chopped cilantro.
Notes
*Soaking lentils isn't necessary but it decreases the cooking time slightly and is easy if you do it as the first step when making this recipe.
Nutrition
Serving:
1118
g
Calories:
1332
kcal
Carbohydrates:
25.36
g
Protein:
220.28
g
Fat:
33.2
g
Saturated Fat:
7.685
g
Polyunsaturated Fat:
7.627
g
Monounsaturated Fat:
11.965
g
Trans Fat:
0.008
g
Cholesterol:
678
mg
Sodium:
763
mg
Potassium:
2891
mg
Fiber:
4.3
g
Sugar:
2.49
g
Vitamin A:
795
IU
Vitamin C:
42.7
mg
Calcium:
129
mg
Iron:
13.26
mg