These Pork and Shrimp Lemongrass Skewers are an all time favourite in my house. Many years ago I attended a Thai cooking class where we pressed a combination of ground pork and shrimp meat around a single shrimp. I think we cooked it on a bamboo skewer but I don't remember that part, I just remember how delicious they were. Over the years we've adapted the recipe and we wrap it around a lemongrass skewer. My husband likes to make these so we call it Jim's Thai Stick.
Everyday to Gourmet
The combination of ground pork and shrimp is juicy, the cilantro and orange zest add a flavourful punch and the coating adds a nice crunch. Although the mixture can be made into little meatballs or patties the lemongrass skewer takes this appetizer to the next level.
I'd hardly call this an everyday dish. Who has an appetizer on any random day of the week? But I think there is always an everyday presentation just to enjoy wonderful food at home. No frills you might say. Then there's the gourmet presentation that creates a feast for the eyes and adds to the enjoyment of eating with friends. I often refer to the pictures on my website as the "Picture Day" version. Like Picture Day at school when you look your best.
PIN for later...
This post contains affiliate links. When you purchase using these links your cost is the same, but I receive a few cents for every dollar spent. I appreciate your support for this website.
How To Use Lemongrass
Lemongrass is an herb with a subtle citrus flavour that's unique and must be tasted to be appreciated. Fresh lemongrass is no longer difficult to find. I see it at large grocery stores with an extensive Asian section and of course in Asian markets. For convenience I like to keep lemongrass in my pantry. I buy it frozen, already chopped and ready to use. I avoid dried lemongrass that seems hard and tasteless.
But there's no lemongrass in this recipe, I simply serve it on the skewers to add some flavour and create a nice presentation. If you love the taste and you're adventurous try adding some to the mixture.
To make the skewers you need to know how to use fresh lemongrass stalks. First trim both ends cutting off about an inch of the hard root end then about one-third off the top of the stalk. Next remove the toughest outer pieces from the stalk, two or three pieces depending how thick the stalk is. Now you have the most tender part of the stalk to use. Cut the skewers to the size you want or this is the part you would finely chop to use in recipes.
To learn more about storing and using lemongrass check out my blog post How To Use Lemongrass.
Let me know in the comments below if you tried this recipe and what you thought.
---
More Recipes Using Lemongrass and a Dinner Club Menu
---
A Travel Tale - Thailand
From time to time I write a travel post for my friend Sue over at Travel Tales of Life. This is the one I wrote about our trip to Thailand many years ago simply titled Thai Red Shrimp Curry.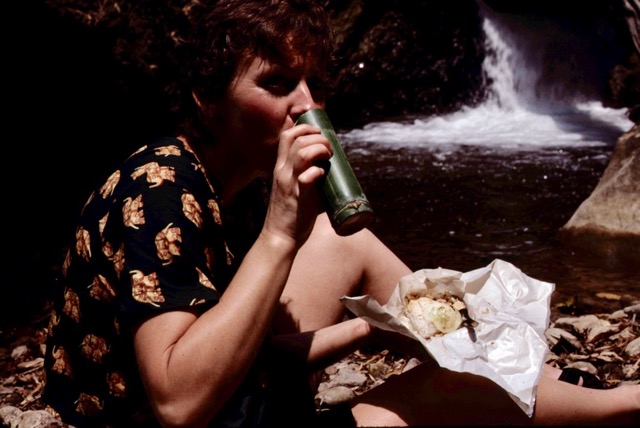 Pork and Shrimp Lemongrass Skewers
These Pork and Shrimp Lemongrass Skewers are a long time favourite after discovering this combination at a Thai cooking class years ago.
Ingredients
PORK-SHRIMP MIXTURE
300

grams

ground pork

250

grams

shrimp meat

1

green onion, finely minced

2

tablespoon

gluten free soy sauce

2

tablespoon

chopped cilantro

2

garlic cloves,

finely minced

2

teaspoon

Asian chili sauce

(I use Sambal Oelek)

½

teaspoon

finely minced orange zest
COATING
¼-½

cup

GF breadcrumbs

¼-½

cup

cornstarch
COOKING
4

tablespoon

vegetable oil
Instructions
SKEWERS
Trim lemongrass of outer stalks and the hard end. From each stalk make 2 skewers, about 5" in length.
PORK-SHRIMP MIXTURE
Puree shrimp in a food processor.

In a large bowl combine pork, shrimp, green onion, soy sauce, cilantro, garlic, chili sauce and orange zest. Stir until just combined.

Use an ice cream type scoop to measure even portions of the pork-shrimp mixture. Carefully wrap mixture around each lemongrass skewer and place on a wax paper lined tray.
COATING
Prepare 2 shallow bowls, one with breadcrumbs and one with cornstarch.

Gently roll each skewer in the breadcrumbs and then the cornstarch. Place on a clean tray until ready to cook.Can be prepared one hour in advance.
COOKING
Heat oil in a large saute pan on medium-high heat. Saute skewers turning until browned on all sides and cooked through, 12-15 minutes.
SERVING
Serve with sweet Thai chile sauce.