Summer wouldn't be complete without Smores and these Rice Krispie Smores can be made anywhere, with or without a campfire. They're a twist on the traditional campfire treat of graham crackers, milk chocolate squares and toasted marshmallows that has a few advantages. Once you've had them you can see why kids would want some more…s'more!
This post contains affiliate links. When you purchase using these links your cost is the same, but I receive a few cents for every dollar spent. I appreciate your support for this website.
Graham Cracker Substitute for Rice Krispie Smores
In Canada we can buy gluten free Rice Krispies so it was a good choice for the base. Back in the day all kids knew how to make Rice Krispie squares but it's never too late to learn. I made these a little on the soft side by adding extra marshmallows. The directions are right on the box.
To achieve a graham cracker taste I replace some of the cereal with crushed graham style crackers. Kinnikinnick graham style crackers and animal cookies are easy for me to find or available online. The sweet gooey combination of the smore made it difficult to pick out the graham cracker taste but for my everyday palate these were a win. The idea of replacing the graham cracker gets you to start thinking outside the box. Try something different for the base and see what you think, or maybe what your kids think.
Backyard Rice Krispie Smores
Usually it's the marshmallow, toasted over a campfire, that melts the chocolate to make a traditional smore. But when you can't wait for the campfire, or there's a campfire ban, here's two indoor ideas.
Put your smores on a baking sheet and crisp the tops under the broiler. No oven is perfectly even but it will still make a hot gooey marshmallow that will start to melt the chocolate. That's the smore you're looking for. Imagine, a whole tray of Rice Krispie Smores hot from the oven…what a concept!
Get The Tools - Broiler vs Kitchen Blowtorch
The tray of smores might appeal to someone with a group of young kids that can all be fed at once. But if you want the experience of everyone assembling their own and creating the amount of char on the marshmallow then you need a kitchen blow torch. This is a fun little tool for older kids (and adults) and once you have one you can look for more ways to use it.
The technique is not hard and only takes a few minutes to master. The trick is to move the torch fairly quickly making small circles so it melts but doesn't burn.
Microwaved 'Smores
The day after I made these I looked at the leftovers. They were so cute I couldn't resist…I microwaved one. Success again in only 5 seconds. Melted chocolate and gooey marshmallow…a divine smore mess. If my son was a little younger I would definitely be looking for a special event where I could take this gluten free, nut free treat!
Let me know in the comments below if you tried these or if you made some 'smore variation.
---
Recipes Using A Blow Torch and Rice Krispie Monsters
Click on the text on the image(s) to go to the recipe/blog post.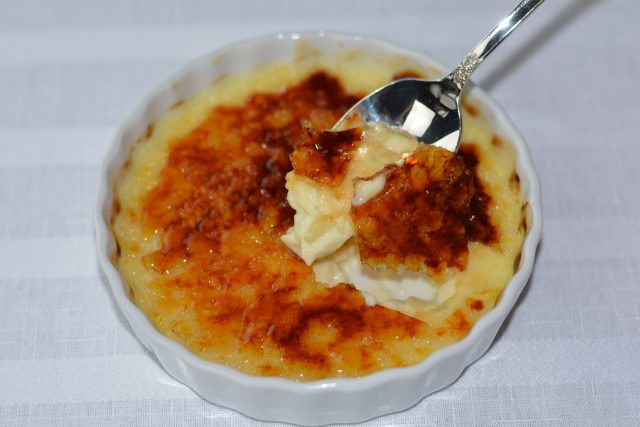 Rice Krispie Smores
Summer wouldn't be complete without Smores and these Rice Krispie Smores can be made anywhere, with or without a campfire.
Ingredients
RICE KRISPIE SQUARE BASE
¼

cup

butter

5

cups

gluten free Rice Krispie cereal

1

cup

gluten free graham cracker crumbs

50

marshmallows
S'MORES
milk chocolate squares

regular size marshmallows cut in half
Instructions
RICE KRISPIE BASE
Line a 9" x 13" baking pan with parchment paper and lightly brush with oil.

Melt butter in large saucepan over low heat. Add the marshmallows and stir frequently until completely melted.

Fold in the graham crumbs and Rice Krispies stirring until combined.

Press into prepared pan and let cool before cutting. Cut any size you like.
S'MORES
To assemble s'mores place chocolate on the Rice Krispie square then top with half a marshmallow. Place them fairly close together in a pan.

Broil for 30-60 seconds until nicely browned or brown each smore individually using a kitchen blow torch. Enjoy!