Spicy Sesame Noodle Salad is a long time favourite. It's a unique salad with a velvety smooth mayonnaise dressing that has a bit of heat from chile oil and a hint of citrus to liven it up. Substitute Tabasco sauce for the chile oil if you don't have it and avoid chunky-style hot sauces since mayo is supposed to be smooth.
I made this salad for our Block Party every July for twenty years and people always asked for this recipe. The chives in my garden are the standard garnish since they are in full bloom at this time of year. They go in the salad and on the salad.
How To Use Fresh Chives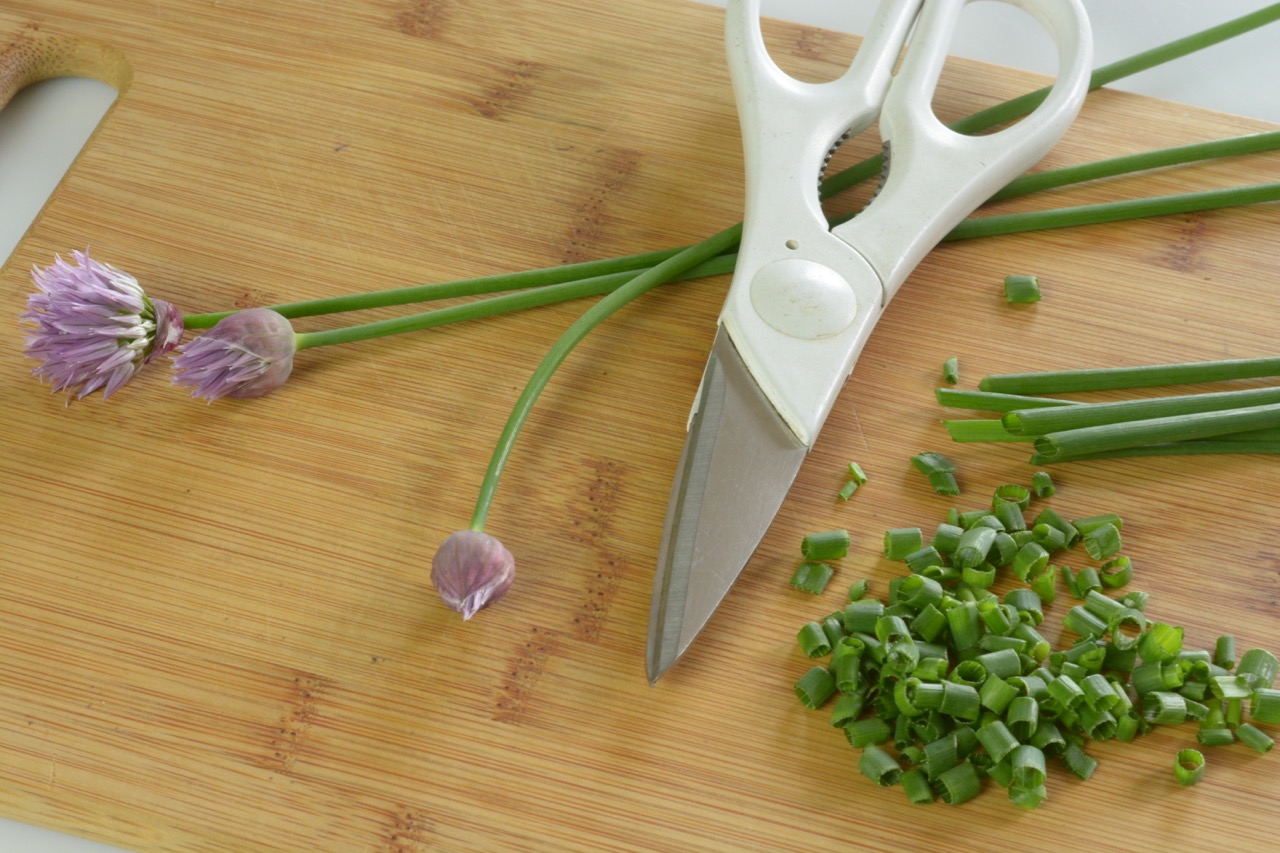 When chives are in full bloom the stems with a blossom are too hard to eat. These are the single stems I lay across a plate or bowl. For a little colour pluck the tiny purple petals and sprinkle them on a salad like I did here.
If you're intrigued by edible flowers check out this post, How to use edible flowers in the kitchen to see my favourites and how I use them.
Best Salads To Take To A Summer Potluck
This is a large recipe, the kind of salad I refer to as a Big Bowl Salad and it's perfect for any potluck.
I have a handful of these recipes. They're too large to make for myself yet they're so delicious I need to make them. So year after year I make a point of working my way through this list and I can't wait to eat them myself.
Easy Homemade Mayo Recipe
Mayonnaise is a simple concoction of eggs and oil, easily whipped up in an immersion blender or food processor. Recipes vary but this basic mayonnaise recipe works for me every time:
In a food processor combine 1 whole egg plus 1 yolk, ¼ teaspoon Dijon mustard, 1 teaspoon salt and 2 tablespoon lemon juice. Process until smooth then with the motor running drizzle in 1 cup of olive oil in a slow steady stream.
Homemade mayo is rich and creamy and tastes nothing like artificial versions you might get at fast food joints (I'm thinking chipotle mayo). In my opinion every cook should make the basic recipe at least once. Just so you know what everyone is talking about.
I'm not an actual mayonnaise connoisseur but some of my friends are. Aside from spreading mayo on a sandwich here are the most common ways I use it:
With Banderillas, a simple Spanish tapa that is elevated with straight up mayo.
The variation with chipotle chiles is chipotle mayonnaise and it's amazing on grilled vegetables or chicken, tacos, nacho salad, Mexican pizza, quesadillas, breakfast hash and so much more.
This post contains affiliate links. When you purchase using these links your cost is the same, but I receive a few cents for every dollar spent. I appreciate your support for this website.
More Ways To Use Sesame Mayonnaise
This mayonnaise is more than you need for the salad so here are some ideas to use up the leftovers.
As a dip for raw or grilled vegetables.
In an Asian chicken salad that you could invent with some leftover chicken.
On some kind of Asian inspired wrap or bowl.
Tuna or salmon salad, again with an Asian flare. Depending on your taste I typically make up these kind of dishes with some plain mayo out of the jar and the homemade mayo in an amount I think will taste great.
Tips For Cooking Gluten Free Pasta
The cooking of gluten free pasta is critical and there are many options out there. If you put in the effort and find something the whole family loves, your life in the kitchen will get a whole lot easier.
Here are my best tips for cooking gluten free pasta for a noodle salad.
Focus on the time. Start by following the package directions and taste it. As little as 30 seconds too long (or not rinsing your pasta) can result in pasta that falls apart.
Always rinse cooked pasta with lukewarm water for hot dishes and cold water for cold salads. Drain well.
Try different kinds of pasta, lots of different kinds.
This recipe is adapted from one of my go-to resources when I was learning to cook, the Silver Palate cookbooks.
Let me know in the comments below if you tried this Spicy Sesame Noodle Salad and what you thought.
Originally posted 2016, updated June 2022.
---
More Summer Salads
Almost any recipe could be made as Big Bowl Salad but I also like to make smaller versions of some of these for myself throughout the year.
Spicy Sesame Noodle Salad
Spicy Sesame Noodle Salad is unique with a decidedly Asian dressing that is velvety smooth with a bit of heat and a hint of citrus.
Ingredients
SESAME MAYONNAISE
1

egg

2

egg yolks

2½

tablespoon

rice vinegar

2½

tablespoon

gluten free soy sauce

3

tablespoon

Dijon mustard

¼

cup

Oriental sesame oil

1

cup

olive oil

1

cup

vegetable oil

½-1

teaspoon

Asian chili oil

or Tabasco sauce

1

teaspoon

orange zest

finely chopped
NOODLE SALAD
1

lb

gluten free spaghetti or thin linguini

cooked according to package directions, rinsed and cooled

½

cup

chopped chives

or green onions

2

cups

blanched green beans, snow peas, asparagus or broccoli

cut into bite size pieces
Instructions
SESAME MAYONNAISE
In a food processor or immersion blender process egg, yolks, rice vinegar, soy sauce and mustard for 30 seconds.

With the motor running slowly drizzle in the sesame oil then the vegetable and olive oils.

Season to taste with chili oil. Set aside.
NOODLE SALAD
Add chives and orange zest to noodles then fold in 2 cups of sesame mayonnaise.

Fold vegetables into salad and stir to combine. Refrigerate until ready to serve.

Transfer to serving dish and garnish with chive stems and blossoms. Serve at room temperature.
Notes
This recipe makes 3 cups of Sesame Mayo, more than you need for the salad. Use it up as a dip or in any salad using mayonnaise.
Cook noodles according to package directions. Drain, rinse with cold water, and drain well. This step prevents pasta from over cooking.