This healthy Smoked Salmon Sushi Pizza is a version of the popular Canadian invention, sushi pizza. This adaptation is simply layered in a baking pan then cut into pieces unlike the more common fried versions.
It's the first recipe for sushi pizza I ever made and it was immediately a winner. Now it's on my list of once-a-year appetizers for any occasion.
I call it a healthier version but it's also perfect for anyone who doesn't want to make hand-rolled sushi. It comes together fairly easily but cutting the pieces perfectly does take a bit of time. A sharp knife is key.
What Is Sushi Pizza
Like any good invention there are numerous versions of Sushi Pizza and they all sound amazing! The base is a crisp fried rice patty often topped with avocado slices, salmon or tuna and a drizzle of wasabi or Sriracha mayo. Pickled ginger, nori and roe can be served on top or on the side.
To live up to their name these are made in individual rounds, like a mini pizza, or slightly larger and cut into wedges. Searching sushi pizza makes me want to try other versions but it always comes back to 'so many recipes, so little time'.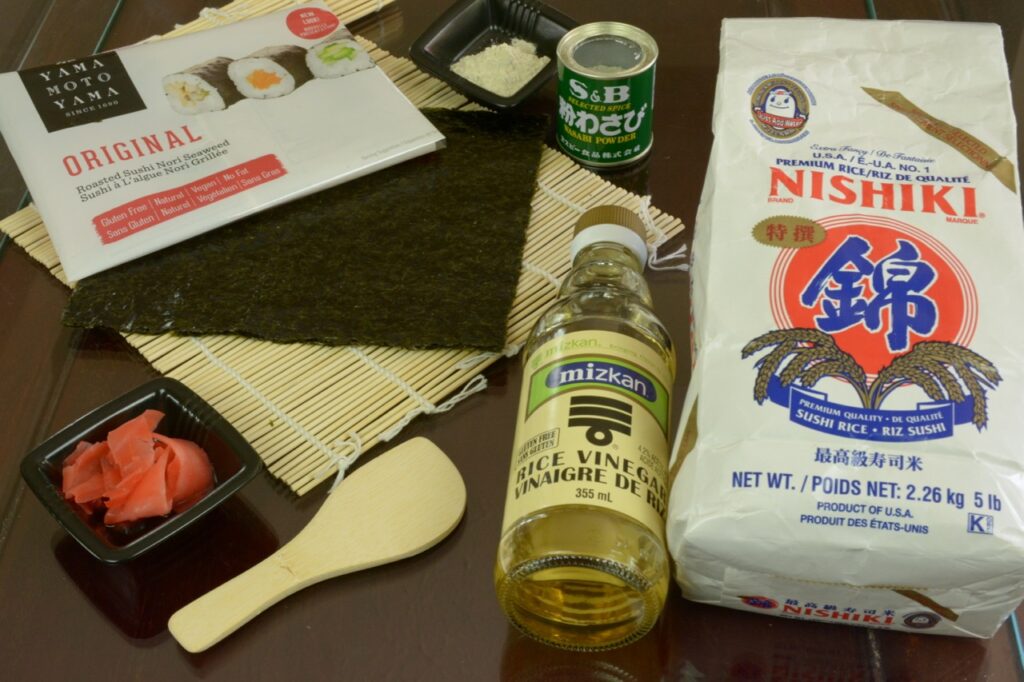 This post contains affiliate links. When you purchase using these links your cost is the same, but I receive a few cents for every dollar spent. I appreciate your support for this website.
What Can I Substitute For Sushi Rice
Nothing. Sushi rice, or the California variety called Calrose rice, is the short grain rice you need to make sushi. The high amount of starch in this rice makes it sticky when cooked and that is the feature we're going for. It's not recommended to substitute any other rice for sushi.
The topic of rice gets deep very quickly. For the everyday home cook who enjoys rice you should try different kinds for all the classic recipes and learn the difference. For gluten free eaters there's a world of possibility in rice. See recipe suggestions at the bottom of the page.
How Do I Make Seasoned Rice Vinegar
The basic recipe for the vinegar used to season rice for sushi is ¼ cup unseasoned rice vinegar, 4 teaspoon sugar and 1 teaspoon salt. Heat it in the microwave or on the stove until the sugar dissolves. You just made the seasoned rice vinegar used for sushi.
Seasoned rice vinegar is probably gluten free but gluten is sometimes added when any ingredient is flavoured. For me, the more important reason to buy plain rice vinegar is that it decreases the amount of items I have to stock in my pantry. I use it in recipes like gluten free pie pastry (the secret to tender pastry) and these Korean Short Ribs.
Wasabi Paste vs Wasabi Powder
Wasabi is a Japanese radish and as soon as you want to know more this topic gets deep. Apparently most of us have never had real wasabi. It's rare and expensive so most wasabi products; paste, powder and mayonnaise, are made from horseradish or mustard and they're all related.
You probably know wasabi heat goes up the nose and maybe that's what you like about it. What we really need to know is if wasabi powder or wasabi paste is safe for a gluten free diet.
Some brands of wasabi paste I looked at list wheat in the ingredients. Wasabi powder always has less ingredients and can easily be made into paste so that's what I buy.
How To Make Wasabi Paste
My tin says to mix 5 teaspoon wasabi powder, 3 teaspoon water, stir and place the bowl upside down for 1 minute for maximum spiciness. I have no idea why but it makes me feel like I know some ancient Japanese secret so I just do it.
Easy Wasabi Mayonnaise Recipe
This Smoked Salmon Sushi Pizza recipe has a layer of wasabi mayonnaise and I think that's brilliant! Every bite has all the elements of sushi.
Mix ¼ cup mayonnaise with 1 tablespoon wasabi paste and that's it. For those who require more heat make a stronger mayonnaise and serve it on the side in a squeeze bottle. Have fun!
Is Nori Gluten Free
I see nori in flat packages with ten or more sheets, plain or toasted. Some brands now have a gluten free claim on the package so reading the ingredient list is always important.
Nori sheets can be seasoned with soy sauce or teriyaki sauce so they could contain gluten. Buying plain products as often as possible always seems like good advice and just season your food at home.
Wow, that was a lot of information. But once you've got these four gluten free ingredients; sushi rice, rice vinegar, nori and wasabi, you can make many different recipes.
I'd love to hear in the comments below if you made my Smoked Salmon Sushi Pizza.
Originally posted 2016, updated in 2022.
---
More Related Recipes and Resources
Do you have a favourite gluten free soy sauce yet? This sushi pizza is the recipe I made for my Soy Sauce vs Tamari Tasting. It's a fun and delicious way to test your taste buds and find your favourite.
If you're just exploring gluten free Asian dishes you'll find more in this post, Gluten Free Asian Pantry.
For those of you reading all the way to the bottom but you still don't want to buy sushi rice, try my California Roll Salad. It's the best potluck salad ever and uses all the ingredients listed above except the short grain sushi rice.
If you're interested in other rice dishes I use short grain Arborio rice to make Italian risotto and Spanish paella. For long grain rice I interchange Thai Jasmine and Indian basmati in almost all my other rice recipes including Thai Coconut Rice, Saffron Rice and Fruited Rice Pilaf.
Healthy Smoked Salmon Sushi Pizza
This healthy Smoked Salmon Sushi Pizza is an un-fried version of the popular Canadian invention, sushi pizza. Also perfect if you don't want to hand-rolled sushi. It comes together fairly quickly but cutting the pieces is key to a nice presentation. A sharp knife is key!
Ingredients
SUSHI RICE
1½

cups

sushi rice

1¾

cups

cold water
SEASONED RICE VINEGAR
¼

cup

unseasoned rice vinegar

4

teaspoon

sugar

1

teaspoon

salt
EASY WASABI MAYONNAISE
¼

cup

Miracle Whip or mayonnaise

1

tablespoon

gluten free wasabi paste

(see notes if using wasabi powder)
FILLING
24

thin slices of long English cucumber

(or as many as needed to cover the pan)

¼

lb

thinly sliced smoked salmon

(125 g)

1

sheet

toasted nori

(see notes on toasting)
GARNISH
¼

cup

finely chopped chives or green onions

1

tablespoon

toasted sesame seeds

(two colours if you have them)
Instructions
MAKE SUSHI RICE
Rinse rice under cold water until water runs clear, about 1 minute. Drain well.

In a medium pot combine rice and cold water. Bring to a boil on medium-high heat. Reduce heat and cover, simmer 18-20 minutes.
MAKE SEASONED RICE VINEGAR
Combine vinegar, sugar and salt in a small bowl. Microwave 30-45 seconds and stir until sugar is dissolved. Set aside.

Transfer hot rice to a low, wide bowl. Sprinkle with seasoned rice vinegar and fold in using a wooden rice paddle to combine and encourage cooling. Cover with a damp towel if not using right away.
MAKE WASABI MAYONNAISE
Combine mayonnaise and wasabi paste. Set aside.
ASSEMBLE SUSHI PIZZA
Line an 8-inch square baking pan with plastic wrap that generously hangs over the sides. Arrange cucumber slices in rows, slightly overlapping, to cover the bottom of the pan.

Arrange smoked salmon slices over cucumber.

Spread Wasabi Mayonnaise evenly over the salmon.

Gently spread half the rice on top of the salmon. Sprinkle your hands with water and firmly press down the rice.

Place nori sheet on top of then rice then top with remaining rice pressing firmly into the pan. Fold in sides of the plastic wrap, covering with more plastic wrap if needed. Place a second empty pan on top and fill it with full food cans to compress the rice. Refrigerate for several hours or overnight.

Unwrap and invert onto sushi pizza onto a cutting board. With a sharp knife cut into small squares about the size of the cucumber slices. Place on a serving platter.
GARNISH before or after cutting
Sprinkle with snipped chives and sesame seeds. Serve with gluten free soy sauce or tamari.
Notes
Sushi Rice - Asian brands are typically labelled sushi rice,

Calrose rice is a popular brand from California.
Sushi Rice is best made the same day.
Wasabi Paste - Mix 5 teaspoon wasabi powder with 3 teaspoon water in a small bowl. Stir and place the bowl upside down for 1 minute for maximum spiciness.
Toasted Nori - I hope you bought toasted nori sheets but if you couldn't buy them you can simply wave the sheet briefly over a gas burner or under the broiler.
Compressing Sushi Pizza - Two pans are better than one and this technique of weighing down the entire pizza is one of many reasons I always recommend buying baking pans in pairs.
Rice Cooker instructions - Cook sushi rice in your rice cooker as usual.