California Roll Salad combines all the elements of a California Roll into a salad. The best part is that it's easy to make gluten free and this is the kind of salad everyone loves! You can roll your own sushi but this big bowl salad is perfect for family gatherings, picnics and potluck events.
Setting Up Your Asian Pantry
I love Asian food so these were some of the first gluten free ingredients I searched for. Below I list them by ingredient for this recipe. The list may seem long but once you have your pantry stocked you can make all kinds of Asian specialties.
Many ingredients are naturally gluten free and can often be found in the Asian section of a well-stocked grocery store. However, additives and preservatives may include wheat so always check your labels and support the brands displaying a gluten free claim.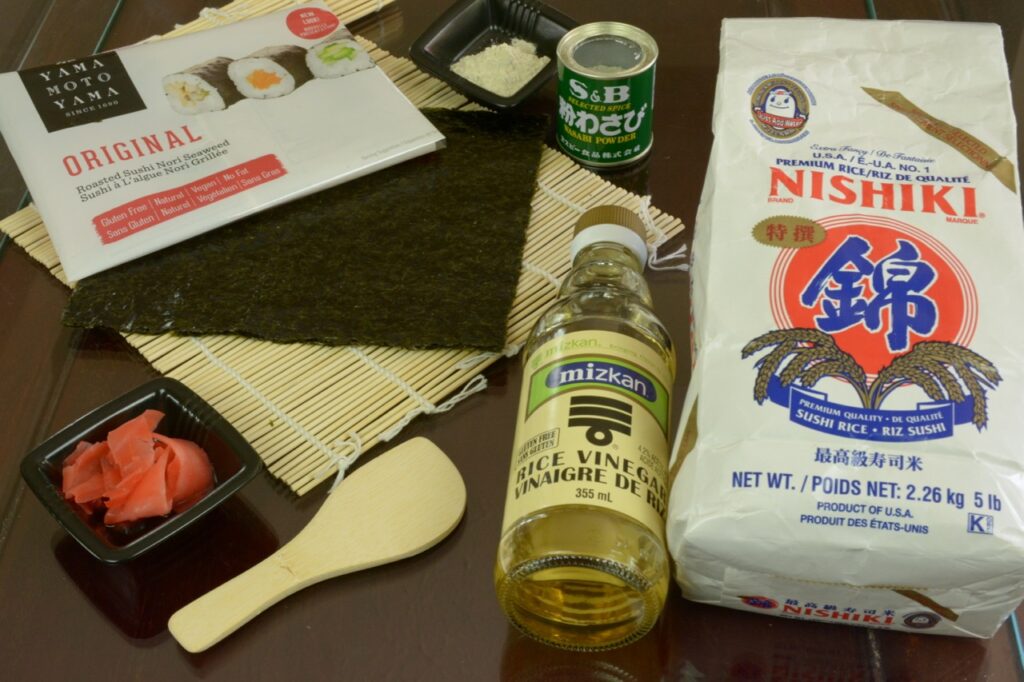 This post contains affiliate links. When you purchase using these links your cost is the same, but I receive a few cents for every dollar spent. I appreciate your support for this website.
Seasoned and Unseasoned Rice Vinegar
Rice vinegar is available as either seasoned or unseasoned. The seasoned rice vinegar has added sugar and salt so I buy the unseasoned vinegar. When possible I want items with only a few ingredients and just add my own seasoning when I want. Marukan brand rice vinegars are gluten free and GMO free.
Pickled Ginger For California Roll Salad
Pickled ginger, sometimes called sushi ginger, it is thinly sliced young ginger in a brine of sugar and vinegar. Young ginger turns a pink hue from the pickling process but most brands add colouring to enhance the pink colour. (Damn it!). Pickled ginger is sold in plastic tubs or jars in the deli or Asian section and has an expiry date. It will last up to a year in your fridge but find a few recipes you like and keep it moving.
Toasted and Natural Nori Sheets (AKA Seaweed)
Edible seaweed is shredded, pressed into thin sheets and then dried. The sheets are sold in square packages, regular or toasted, and since my recipe calls for the toasted ones that's what I buy. They can be re-toasted to bring out the natural grassy flavour. If you think it's worth the effort then do it. I confess that I haven't done that step for years.) Nori sheets will last indefinitely in the pantry but use them to make my Smoked Salmon Sushi Pizza.
Fresh, Canned and Fake Crabmeat
When you cook gluten free you learn more food manufacturing than you ever cared to know. Fresh crab and canned crab are both gluten free. Fake crab or sea legs are not gluten free and it's probably time to quit eating food that starts with the word fake.
Gluten Free Soy Sauce and Tamari
There are several inexpensive brands of soy sauce that list only chemicals on the ingredient label. There are also several brands of gluten free soy sauce and tamari available. When I was new to gluten free I compared many brands and wrote this post: Soy Sauce vs Tamari Tasting. If you're going to make my Sushi Pizza you might as well do a taste test at the same time.
Wasabi, Horseradish and Food Substitutes
Wasabi is a Japanese type of horseradish, familiar to us as the green paste served with sushi. It is expensive and therefore, to satisfy our need for cheap food, some brands are made of mustard or non-Japanese horseradish and the label will say something like wasabi style paste. Some of these preparations include wheat starch and I couldn't find a gluten free one so I just quit looking.
I buy wasabi powder in a tiny tin that can be made into a paste in about five seconds. Both S&B brand and Eden Foods wasabi powder is gluten free (at the time of writing). S&B also sells tubes of wasabi paste labeled gluten free.
Wasabi Paste - Stir together 3 teaspoon wasabi powder and 1½ tablespoon water. Wait 1 minute and use in any recipe.
There you have it, all the Japanese ingredients needed to make this California Roll Salad and my Sushi Pizza. I'd love to hear your experience about shopping, eating or tasting any of the ingredients. I hope you enjoy this big bowl salad soon!
Originally posted 2015, updated July 2021.
---
More Recipes
Click on the text on the image(s) to go to the recipe/blog post.
California Roll Salad
This California Roll Salad combines all the elements of a California Roll into a salad. It's the kind of salad I like to take to a potluck.
Ingredients
1½

cups

long grain rice

¼

cup

unseasoned rice vinegar

(first amount)

¼

cup

sugar

1½

teaspoon

salt
SALAD
3

tablespoon

unseasoned rice vinegar

(second amount)

3

tablespoon

vegetable oil

1

long English cucumber, quartered lengthwise, sliced

½

cup

finely shredded carrot

4

green onions, cut into 1-inch lengths, each length cut into thin strips

2

tablespoon

finely chopped pickled ginger

1

tablespoon

toasted sesame seeds

(I buy them toasted)
FINAL ASSEMBLY
1

can

crabmeat, drained

(5 oz/120 g)

1

avocado, quartered and cut crosswise into thin slices

2

toasted nori sheets, cut into thin strips about 2-inches long. Reserve a handful for garnish.
SALAD DRESSING
3

tablespoon

GF soy sauce

1½

tablespoon

GF wasabi paste

(OR 3 teaspoon wasabi powder and 1½ tablespoon water mixed)

1½

teaspoon

ginger juice from jar of pickled ginger
Instructions
RICE
Bring rice and water to a boil in medium saucepan. Put the lid on, turn heat to low and simmer for 20 minutes.

In small saucepan combine first amount of rice vinegar (¼ cup), sugar and salt. Bring to a boil stirring until sugar is dissolved. Set aside.

Transfer cooked rice to a large bowl and pour warm vinegar mixture over top. Stir with a fork pushing rice up the sides of the bowl allowing it to cool.
ADVANCE SALAD PREP
Using a fork, stir in second amount rice vinegar and oil.

Fold in cucumber, carrot, pickled ginger, green onion and sesame seeds. Salad can be prepared up to this point 1-2 days in advance. Cover and refrigerate. Bring to room temperature before proceeding.
SALAD DRESSING & FINISHING
Fold crab, avocado and nori strips into salad and transfer to a large glass bowl.

In a small bowl stir all dressing ingredients until smooth.

Sprinkle salad with remaining nori strips and drizzle with dressing. Serve within 4 hours.