There is no easier dessert than grilled peaches. The juiciest ripe peaches, a little oil and a grill, that's it. Yet the taste of a simple grilled peach is almost magical. They can be used in both sweet and savoury recipes but for dessert that little indent from the stone is perfect to hold ice cream.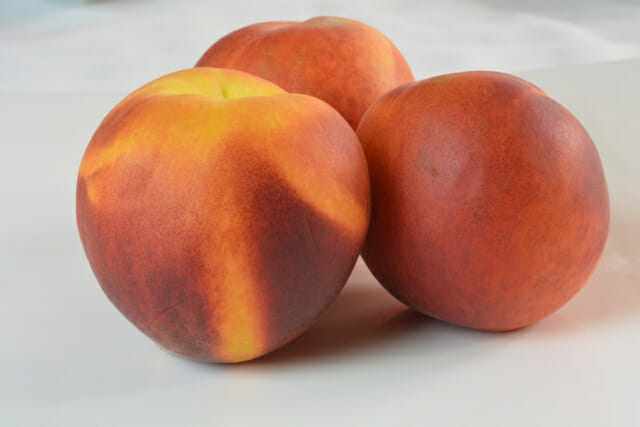 Peaches are perfect on their own but raspberries are ripe at the same time and together they are divine. Try this combination in a pie, a fruit pizza or a fruit crisp.
After grilling these peaches my final dessert was served with a small scoop of ice cream, a handful of freshly picked raspberries and a drizzle of my homemade raspberry sauce, a simple yet decadent dessert.
PIN for later...
This post contains affiliate links. When you purchase using these links your cost is the same, but I receive a few cents for every dollar spent. I appreciate your support for this website.
A Seasonal Strategy – Grilled Peaches
To add variety and excitement to the food you prepare in your kitchen think of the seasons. A sure sign of what fruits are at their peak is their availability at the farmers market or the size of the display at the grocery store. Sometimes the look can be deceiving but most often they should have smooth skin, no blemishes and simply look fresh. You may even smell the aroma as you walk by.
So what do I mean by a seasonal strategy? Well, this is the time of year to enjoy all of your favourite recipes that call for peaches. Be sure to try new combinations as well and anything that sound interesting to you. Soon enough peach season will be over so create a simple system to save your seasonal favourites. It might be a real or virtual recipe box, a binder or maybe just a list of the names on a recipe card. Then you will be ready to repeat all of your favourite peach recipes next August and over time you will gather quite a collection.
Let me know in the comments below what you like to make with fresh peaches.
---
More Recipes for Fresh Peaches & Easy Desserts
I make this Raspberry Syrup every summer with ripe berries from my garden. It is amazing on anything!
Peach Raspberry Crisp
Peach Pie
Homemade Peach Ice Cream
Grilled Pizza with peaches, prosciutto and goat cheese
Salad with peaches and Gorgonzola
Peach salsa on grilled chicken, fish or fish tacos
If you don't have fresh peaches Affogato is one of the easiest desserts ever.
Grilled Peaches
It doesn't get any easier than this. Grill the freshest, juiciest peaches you can find and expect to be amazed!
Ingredients
4

ripe peaches, halved with stone remove

2

tablespoon

olive or vegetable oil
SERVING
ice cream, fresh raspberries and/or raspberry sauce
Instructions
Generously brush peach halves all over with oil.

Place peaches cut side down and grill for 5 minutes. If you want nice grill marks give them a 90° turn at 2½ minutes.

Turn peaches and grill the other side for another 4-5 minutes.

Enjoy as is or serve with ice cream, raspberries and/or raspberry sauce.