Glazed Fresh Fruit Pizza is an easy year round dessert that everyone loves. The cream cheese filling softens the cookie crust just enough that it can easily be cut into wedges.
Any combination of fresh fruit creates the bright, colourful look you want for a summer fruit pizza. The jelly glaze is optional but it's easy and makes this look like a fancy, store-bought dessert.
So why call it pizza? I have no idea but since North Americans are crazy about pizza and it's a fabulous combination why not!
Fruit Pizza vs Fruit Tart
In your house you can make up a name for anything you cook and that's how house specials are created. Foodies like me, and some of you I'm sure, do the same thing but we're also interested in details. I didn't research the difference between a Fresh Fruit Pizza and a bakery style Glazed Fresh Fruit Tart but off the top of my head this is what I think.
| | |
| --- | --- |
| Fresh Fruit Pizza | Fresh Fruit Tart |
| -Cookie-like crust pressed flat like a pizza crust, not necessarily perfect like one made in a cake pan | -Tart pastry with a proper edge that will hold the filling |
| -Always a cream cheese topping | -A variety of fillings such as vanilla cream, lemon curd and more. |
| -Fruit arranged in a random fashion (not everyone does this but I don't see pizza with circles of perfectly overlapping pepperoni) | -Fruit arranged in a concentric circles that covers the entire filling |
| -Can be served with or without a glaze | -Always covered with a glaze (but in my example below I ran out of time and...no glaze) |
Gluten Free Sugar Cookie Crust
If you love cookies you'll love this crust made with the exact recipe I use for sugar cookies. If you already have a favourite sugar cookie recipe or store bought mix you can use that.
To shape the crust for this dessert I want it to look like a pizza, not a fancy bakery tart. The first step is to make the crust flat without an edge.
You can use a pizza pan but mine are a little burnt so I think the best pan for making dessert pizza is a 12-inch tart pan with removable bottom. The trick is to only use the bottom piece.
The fluted side piece makes this look more like a fruit tart to me so I simply roll the dough right on top of the metal base piece and bake it like that.
PIN for later...
This post contains affiliate links. When you purchase using these links your cost is the same, but I receive a few cents for every dollar spent. I appreciate your support for this website.
Best Filling For Fruit Pizza
Fruit Pizza should have a cream cheese filling. It stays in place on the crust and holds the fruit where you place it. Vanilla custard or lemon curd, both perfect for a fruit tart, rely on the edge of the tart pastry to keep it in place.
I've served many variations of Fruit Pizza over the years so if you like to experiment you can easily create a bit of an edge with this dough and try one of these fillings.
Should A Fruit Pizza Be Glazed
A sweet glaze made with melted jelly and a bit of liqueur gives this dessert the finished look you'd expect from a bakery. The glaze can be brushed over the fruit only or the entire top surface. I think both look beautiful.
Some of you are wondering, do I need to add that glaze? (It really is a whole cup of melted jelly!)
No, you don't need to add the glaze. Below are photos of my dessert before and after I added the glaze.
The skill of a good host is to act like it was all part of the plan. Invite someone to spread the filling on the crust and give them the creative license to cut the fruit and arrange it however they like.
Don't mention that you had a vision of what the fruit would look like. Don't mention that you wanted to add the glaze. Carry it to the table and serve it with a smile.
How To Serve Fruit Pizza
You know I always go for the presentation so here are a few ideas to make your dessert look amazing!
The platter must be perfectly flat for the entire size of the cookie crust. Many platters have a bit of a lip but I always have one that's perfectly flat.
Serve it right in the pizza pan you cooked it in or on a pizza board to keep that pizza theme going. To avoid any garlic taste that might linger from pizza cover the board with parchment paper or colourful napkins. Use a pizza cutter to cut it just for fun.
A plain white platter seems to make the colours of the fruit pop. serve the pizza right on the pan if you want and transfer it to a serving platter like that. I do this method when the crust is not easily coming away from the pan or when I just couldn't be bothered with that step.
Buy a plain white pizza box and line it with colourful tissue paper or napkins. If you have kids they can decorate the box inside and out to match the party theme. This is also an excellent way to transport your dessert to it's final destination.
Can I Make This Recipe With My Flour Blend?
This is the $64,000 question. You have to try it to find out.
Having a flour blend that works in the majority of your recipes really does make life easier for gluten free cooks. I'm set up to easily weigh flour for baking but many of you ask if my flour blend will work.
I'm going to make this recipe next week so I'll use my EGFG flour blend and let you know what I think in my weekly update.
I'd love to hear in the comments below if you made a gluten free Fresh Fruit Pizza.
---
More Gorgeous Gluten Free Summer Desserts
Click on the text on the image(s) to go to the recipe/blog post.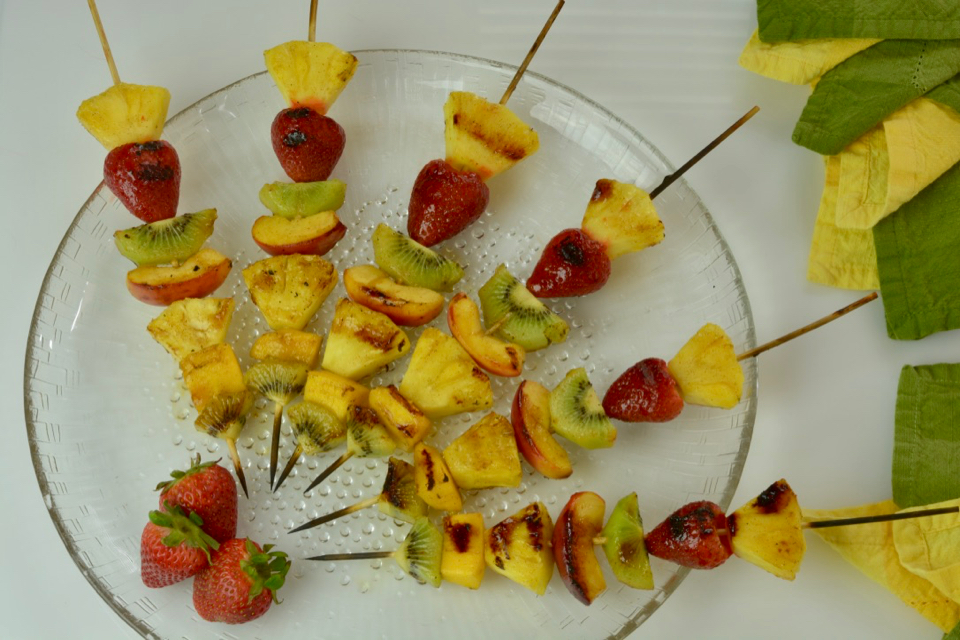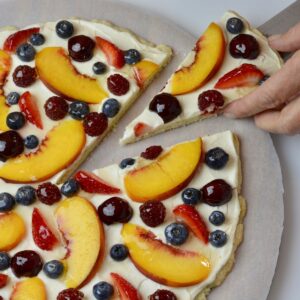 Glazed Fresh Fruit Pizza
Dessert Pizzas are a fun, casual dessert that everyone loves. The cream cheese topping softens the cookie crust so it can easily be cut into wedges and served like pizza. The fun part is creating a random pattern with any combination of colourful fruit.
Ingredients
SUGAR COOKIE CRUST
⅓

cup

butter, room temperature

⅓

cup

sugar
DRY INGREDIENTS
½

cup

brown rice flour

(73 g)

¼

cup

potato starch

(41 g)

¼

cup

tapioca starch

(35 g)

1

teaspoon

baking powder

1

teaspoon

xanthan gum
WET INGREDIENTS
1

egg

1½

teaspoon

milk

½

teaspoon

vanilla
CREAM CHEESE FILLING
8

oz

cream cheese

(250 g)

¼

cup

icing sugar

1

teaspoon

vanilla
JELLY GLAZE
¾

cup

crabapple jelly, melted

(apple jelly or red currant jelly)

1

tablespoon

Grand Marnier*

(or any orange liqueur)
Instructions
COOKIE CRUST
Combine dry ingredients in medium bowl and whisk to combine.

In a small bowl mix egg, milk and vanilla. Set aside.

In a stand mixer beat butter and sugar on high speed until fluffy, 2-3 minutes.

Reduce speed to low and slowly spoon in the dry mixture, beating until combined.

With the motor running, add the wet ingredients. Mix until thoroughly combined.

Place the dough on a piece of wax paper and cover it with a second piece. Flatten into a disk about 6-inches in diameter. Cover and refrigerate, at least 30 minutes or overnight. Can be prepared a day in advance.
FILLING
In the small bowl of a stand mixer beat cream cheese, icing sugar and vanilla until smooth, about 2 minutes. Set aside until ready to use. Can be prepared a day in advance.
ROLLING and BAKING COOKIE CRUST
Preheat oven to 350°F. Use a 12-inch pan with removable bottom (the bottom piece only) or a pizza pan.

Lightly sprinkle both sides of the chilled cookie dough with sweet rice flour.

Leaving the wax paper on the dough, roll it into a large circle. When it is almost as big as your pan remove the paper and put the pan on top of the dough. Using a pizza peel or sturdy placemat flip the dough over so it is on the pan ready for the oven.

Bake in preheated oven 8-10 minutes or until barely brown around the edge. Transfer to wire rack and cool completely.
GLAZE
In a small pan on low heat melt jelly. Remove from heat and allow to cool slightly before brushing on the fruit.
ASSEMBLY & SERVING
Spread cream cheese filling over the entire pizza crust.

Top with your choice of fresh fruit in a random pattern.

Brush glaze over the entire surface. Refrigerate until ready to serve. Best served within 4 hours.
Notes
TIP: Gluten free dough can be quite delicate. It is always easier to work with when cold so put it back in the fridge at any point you find it difficult to work with.
*Liqueur thins the jelly slightly but it can be omitted. Heat your jelly until it's spreadable and brush it on while it is still quite warm.