I've been making a lot of Cherry Hand Pies lately and eating way too many of them. I got into this when someone on Twitter asked if I could teach a cooking class on gluten free flour. Sure I said, "What would you like to make?" The answer was piecrust, flaky biscuits and cinnamon rolls.
And that's exactly what we made.
I chose to make little hand pies instead of one big pie for a few reasons.
It's easier to roll out a small piece of pastry to cut shapes from rather than rolling a whole piecrust.
Hand pies cook quicker than a full pie so you can make them, let the dough rest, cook and eat them in less than two hours.
They're fun! You get to be creative making different shapes and that's exactly what happened.
In this class we all made half-moon shapes with a single 4-inch circle of pie dough and also a full circle hand pie using two of the pastry rounds. In this particular class Vanessa made a cute heart-shaped hand pie and Sophi made one to resemble a big Pop Tart. Everyone had fun and it was my fault we totally forgot about the egg glaze that is essential for a beautiful looking hand pie. We all agreed that probably didn't affect the taste.
PIN for later...
Gluten Free Pie Pastry
Baking is both science and art and I'm pretty sure that's enough info for most everyday home cooks. People tell me they just want a recipe that works and enough detail to do it right, the first time!
Enter America's Test Kitchen, the recipe testers and tasters for everyday cooks in America. They have now published three gluten free cookbooks and I highly recommend them. Their third book came out in late 2020 but I've got the first two and they have been a fabulous resource.
The test kitchen does the kind of testing no home cook could ever do. They know that baking soda, lemon juice and vinegar are all used in pastry to tenderize the dough. They tested each one and said vinegar works best. They also figured out that sour cream added tenderness to the pastry dough while butter gave it the desired richness. This is what gluten free bakers need to know and I recommend you trust them. Save yourself the disappointment of using your grandmother's recipe and swapping out the wheat flour with a random gluten free flour blend.
Different Gluten Free Flour Blends
I started with America's Test Kitchen pastry recipe but substituted my EGFG Flour Blend for theirs. I've had great results doing this with all kinds of recipes. Once you've got a blend you like the taste of and one that works in many of the recipes you make then you're on your way to reliably delicious baking.
The table below, 11 Gluten Free Flour Recipes, is meant to demonstrate the many different flour combinations people bake with. No one needs to have this many blends, or try them all. My cooking class students tell me it's helpful to see that there's no one right recipe plus it gives them the confidence to substitute or try something different as they learn.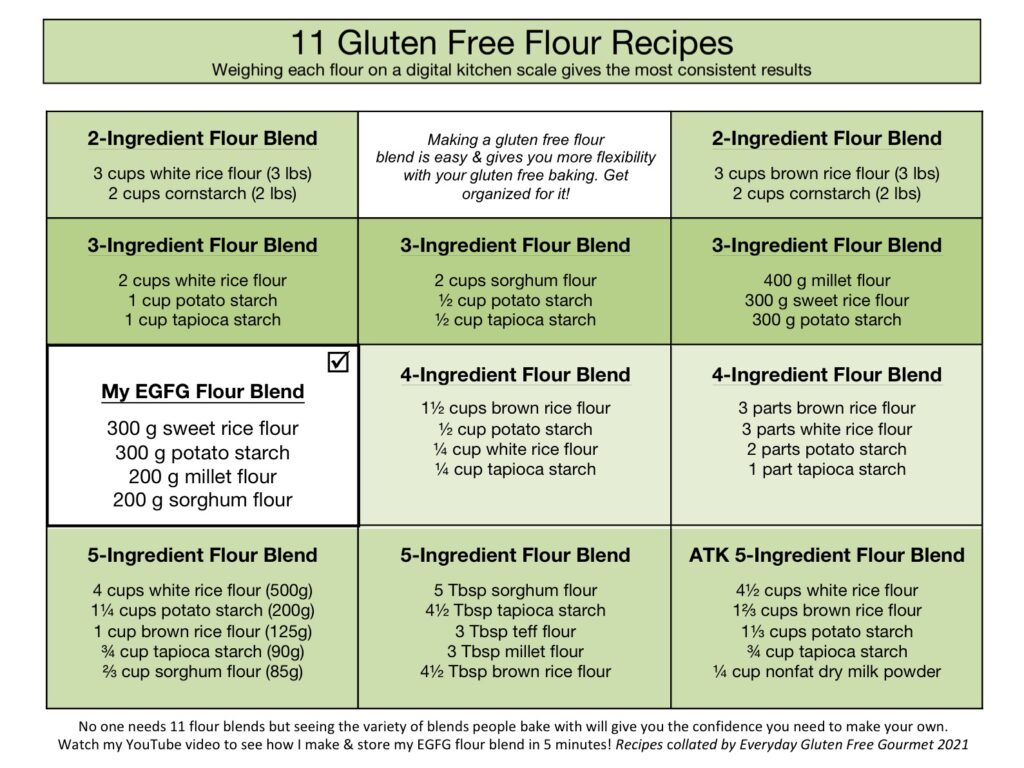 Once you're looked at the table just take what makes sense to you, adapt recipes in your kitchen and keep notes. If you only make pie once or twice a year, you'll be happy you took the time to make your own notes. If you make pastry often, you'll also be happy you made notes to get to perfection as quickly as possible.
Tips on YouTube For Gluten Free Pastry
Add xanthan gum for structure and freshness.
Let the dough rest for 30 minutes to allow gluten free flours to absorb the liquid.
Dust pastry lightly with sweet rice flour at any step in the process.
Pastry is easiest to handle when it's cold so keep the dough you aren't working with in the fridge. Anytime the dough is too soft put it back in the fridge for 10-15 minutes.
Flexible cutting mats, placemats, plastic wrap and wax paper can all be used to flip dough without breaking it.
Read the recipe, refer back to it and remember they too can have mistakes. I forgot to include the egg wash in my recipe the first time I printed it and this is what our hand pies looked like with no egg wash.
What To Make with Leftover Pastry Dough
Every pie making session ends with little bits of leftover dough. They are either too small to make anything from or you've had enough fun and you're ready to be done. My mom taught us kids to make cinnamon pastry twists with the last of the dough. Roll the dough a little thicker, about ¼-inch thickness, for the strips. Generously sprinkle cinnamon and sugar right onto the dough and cut it into ½-inch wide strips. Transfer the strips to a baking sheet, separate and twist each strip a few times until they look nice. Some will break but they can still be cooked and I guarantee they will be eaten. Bake the strips at the same oven temperature for about five minutes until nicely browned. Using the same method you can make cheese strips using Parmesan cheese.
Get The Tools
You don't need a lot of tools to make pie but of course every kitchen has a few tools. And every home baker has a few more tools they might hope to own one day. Here's some ideas:
Since I only have one rolling pin that has never-before-touched-wheat, we tried rolling out some dough using a wine bottle. A rolling pin works best but it's possible to roll out pastry dough for these cherry hand pies using a wine bottle or a glass.
Master The Art Of Making Cherry Hand Pies
My final piece of advice is to commit to make pie a few times. I think three times is the magic number. Make pie three times in the next month or so and you will learn enough to be able to make pie once a year for the rest of your life. But feel free to make it as often as you like.
I'd love to hear about your pie making experience in the comments below. I especially want to hear from someone who made this recipe with regular vinegar instead of rice vinegar, I'm sure it will turn out just fine.
---
More Recipes and Help with Gluten Free Pastry
Click the link below to go to that recipe/blog post.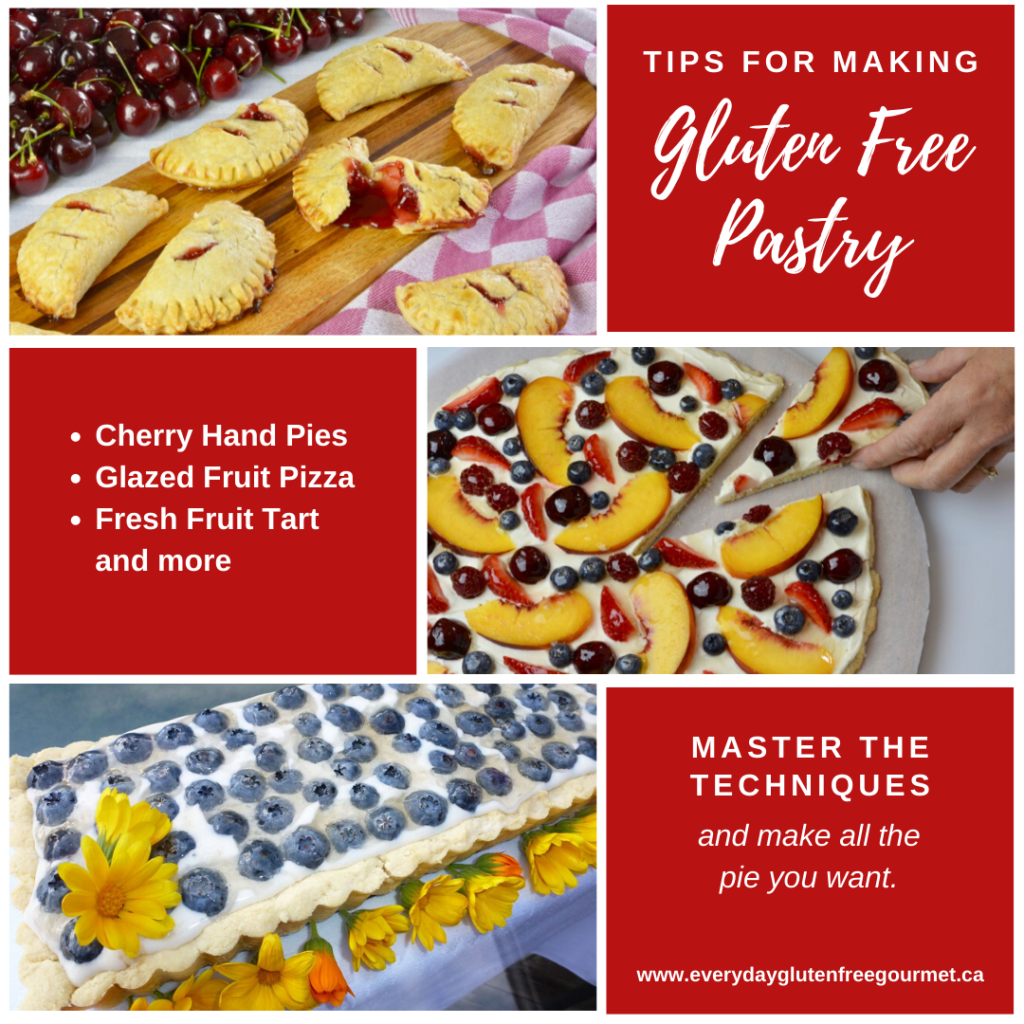 Cherry Hand Pies
Have you nailed gluten free pastry yet? With this recipe you can make Cherry Hand Pies, pot pies, quiche, tourtière and so much more.
Ingredients
PASTRY
6

tablespoon

cold water

3

tablespoon

sour cream

1

tablespoon

rice vinegar

390

grams

EGFG gluten free flour blend*

(2¾ cups plus 2 Tbsp)

1

tablespoon

sugar

½

teaspoon

salt

½

teaspoon

xanthan gum

1

cup

butter,

cut into small pieces and frozen for 15 minutes
FILLING
1

can

gluten free cherry pie filling

(18 oz/540 ml)
SPRINKLING FLOUR - sweet rice flour
Instructions
Measure and cut butter, place in freezer for 15 minutes.

In 1-cup measuring cup combine water, sour cream and vinegar. Set aside.

Combine flour, sugar, salt and xanthan gum in food processor with dough blade. Process for 5-10 seconds.

Add butter on top and process until combined into uniform crumb-like mixture.

Pour sour cream mixture onto flour, pulse until well combined and looks like pastry.

Turn dough onto a large piece of wax paper and divide into 2 pieces. Shape each piece into a round disk and wrap in wax paper. Refrigerate for at least 20 minutes until cold enough to work with. Can be prepared in advance, wrapped well in plastic and stored in the fridge for several days.
EGG WASH
Mix egg and milk. Set aside.
ROLL OUT PASTRY
Working with 1 piece of dough at a time, remove from fridge and let sit until pliable.

Leaving the disk in the center of the wax paper, sprinkle both sides lightly with flour.

Using a rolling pin start in the center and roll out toward the edge. Lift and repeat always starting in the center, turning the dough as you go. Roll out to ⅛-inch thickness.
SHAPING HAND PIES
Cut dough into 3½-inch or 4-inch circles. (see notes)

Drop a small amount of cherry pie filling in the center of a circle. Gently fold over pinching the edges together. Using a fork, dipped in flour, gently press the edges to seal. Make air vents in the top of each pie.

Brush each hand pie with egg wash and sprinkle with sugar.

Bake in 400°F oven for 20-25 minutes or until golden brown. Cool on baking racks.
Notes
*EGFG flour blend: 300g sweet rice flour, 300g potato starch, 200g sorghum flour, 200g millet flour (makes ~8 cups)
For a half moon hand pie use 1 circle and fold it over. For a full moon use 2 circles. 

For a Pop Tart look cut 2 rectangles.