My Italian Fish and Shellfish Soup was inspired from the cookbook I received as part of the cooking class I participated in at the Sydney Seafood School in Sydney, Australia. We think it is amazing!
Hearty seafood soups are a Mediterranean specialty made with fish and shellfish that are readily available and inexpensive. They typically include fish heads that add flavour, and the cheek meat, which is considered a delicacy. I consider myself pretty adventurous in the kitchen and I have cooked fish heads (possibly only once) but I don't feel the need to do that again.
Italian Fish and Shellfish Soup
Shellfish is surprisingly easy to use and cook. I often cook shrimp so I like the convenience of having some in my freezer for everything from Pad Thai to paella. I don't cook mussels or clams often but when I do I wonder why not. They are as easy to cook as shrimp but they are always best used fresh.
I buy the freshest fish and shellfish possible at my local store, Boyd's Lobster Shop. They would probably sell me fish heads too but I didn't ask. I'm happy with what is in the counter or sometimes I place a special order. For this recipe red snapper fillets are perfect.
If you are not familiar with shellfish, or just haven't cooked with it often; I encourage you to give it a try. Invite some friends over, open a nice bottle of Italian wine and make this Italian Fish and Shellfish Soup together. Make it an adventure.
Italian Tomato Passata vs Canned Tomatoes
Tomato passata, sometimes called passata di pomodoro, is uncooked pureed tomatoes that have been strained. This is slightly different from canned stewed tomatoes and considered superior by some. Passata can be found, most often in a glass bottle, at Italian specialty shops and online. If you are unable to find passata, substitute canned tomatoes but puree them before you measure.
Fish Stock vs Bottled Clam Juice
You may be able to purchase fish stock at a seafood shop or specialty shop but bottled clam juice is a great substitute and is readily available at the grocery store. I would avoid any dried product that generally is more salt than anything else.
When cooking you can cut corners, skip a few ingredients and make substitutions to suit your taste. This is exactly how you create your own favourite recipes. But the first time you try a new recipe I generally recommend making it as written. If it appealed to you enough that you decided to try it then follow it as close as possible to get the general taste. If it is good enough to repeat then you can adjust to your liking.
So to experience this Italian Fish and Shellfish Soup look for the tomato passata and buy all the fish and shellfish. Use fresh parsley and make the garlic crouton garnish. (I simply couldn't find the gluten free bread I wanted on the day of my photo shoot otherwise it would be in the photo.)
Get The Tools for Soup
Cookware is an investment. You don't need the most expensive set of pots but there is a wide variety of affordable cookware available and many items you purchase will last for decades. Notice what you like and choose wisely when you buy.
For the everyday home cook like me the largest pot in a typical set of pots is usually perfect for making soup. Some recipes will call for a soup pot, also called a stockpot. Technically this is extra large, bigger than what comes with a set of pots. They are ideal for an annual jam or salsa-making party, or special events like a lobster boil. If you cook for large groups you should own one. Many people would never need one because to make an everyday soup recipe, the largest pot in a typical set of pots is perfect.
Let me know in the comments below how you loved this soup as much as we do and what adjustments you made.
---
More Recipes with Mussels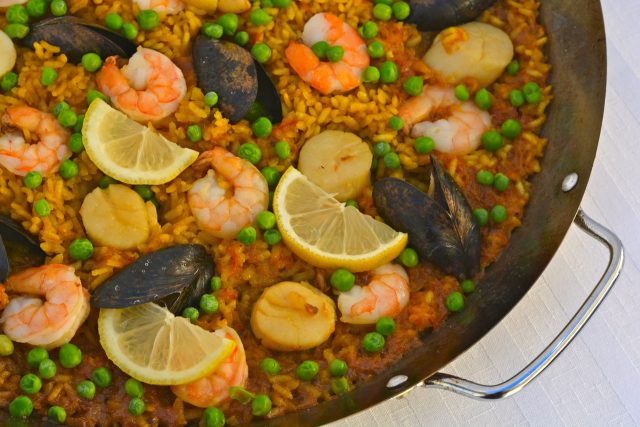 Italian Fish and Shellfish Soup
This soup was inspired from a cooking class I attended at Sydney Seafood School while there on vacation. Amazing!
Ingredients
½

cup

olive oil

1

large onion, finely chopped

1

carrot, peeled and finely chopped

4-6

celery heart stalks with leaves, finely chopped

(the tender inner stalks)

4

garlic cloves, finely chopped

1

cup

passata

⅛

teaspoon

dried thyme

salt and pepper to taste

2

bottles clam juice

(8 oz/236 ml)

1

cup

water

18

mussels, rinsed and drained

18

clams, rinsed and drained

2

red snapper filets (about 10 oz), cut into bite-size pieces

12

shrimp, peeled and deveined with tail on

½

cup

chopped fresh parsley
GARLIC CROUTONS
gluten free sourdough bread or buns, sliced

2

tablespoon

olive oil

2

garlic cloves, halved
Instructions
Heat olive oil in large soup pot over medium meat.

Add onion, carrot, celery and garlic. Sauté 8-10 minutes until vegetables are softened and slightly browned.

Add passata, thyme, salt and pepper. Bring to a boil, reduce heat and simmer until thickened, about 15 minutes.

Add clam juice and water. Bring to a boil.

Add mussels and clams then cover pot with a tight fitting lid. Shake the pot to distribute shellfish evenly in the broth. Reduce heat and cook for 2-3 minutes until the shells start to open.

Remove lid, add red snapper, shrimp and parsley. Gently stir to combine.

Turn heat up to bring soup back to a boil quickly. Put lid on, reduce heat and simmer 2-3 minutes until shrimp are pink and mussels and clams are all open. Discard any that did not open.

Taste broth and season with salt and pepper.

Divide fish evenly among 6 bowls and cover with broth.

Garnish with garlic croutons if desired.
GARLIC CROUTONS
In a small dish add garlic to olive oil.

Brush cut sides with garlic oil and toast all cut sides under the broiler. Lay one or two pieces in the center of each soup bowl.