Paella is the national dish of Spain and this version is Paella with Seafood. This delicious rice dish has varies from region to region but in your kitchen you can make it however you like. Whether you fill it with meat, seafood or vegetables, it's perfect for entertaining since people love to watch the process with the anticipation of a wonderful meal to enjoy.
This post contains affiliate links. When you purchase using these links your cost is the same, but I receive a few cents for every dollar spent. I appreciate your support for this website.
Get The Tools
You don't need a paella pan to make paella, a large or extra large frying pan will do. If you want a paella pan they vary in quality and size from 12-inches to 18-inches measured across. Here are some suggestions.
A 15-inch carbon steel paella pan may last you forever.
If you're serious about paella or know someone who is this Paella gift kit includes the pan, rice, saffron and a cookbook. When I was first married my husband gave me all sorts of foodie gifts like this and that's what fuelled my passion for cooking.
The Rice
Paella is made with short grain rice which is readily available in most grocery stores. It is often labeled as arborio or risotto rice. Spanish bomba rice would be the authentic choice but use what you can find and make some paella soon.
The Sofrito
The combination of vegetables and aromatic ingredients sautéed together to create the base of your paella is called sofrito. There is variation among cooks but it is most often a combination of onion, garlic, tomatoes and paprika. The vegetables can be finely chopped or grated.
The Pimentón
Considered one of the secret ingredients of paella this Spanish paprika is available in Mexican, Latin American and specialty food shops. Smoked, sweet pimentón is the favourite for paella but there are other varieties available. Use regular paprika if you cannot find this but over time it is worth the investment.
The Saffron
Saffron threads are hand picked from the purple crocus flower thus the high price. It is often referred to as the most expensive spice in the world. However, only a few threads of saffron added to any dish imparts a unique aroma and flavour, followed by a taste and aroma that does not disappoint.
What Goes in Paella
I usually make paella with meat and vegetables or a vegetarian version. Try three or four foods at first, resisting the urge to include so many foods you overwhelm the taste of the dish. Here are some suggestions.
Chicken, chorizo sausage, shrimp and mussels
Chorizo sausage, red peppers, green beans and artichoke hearts
Red peppers, green beans, fennel and artichoke hearts
Are you curious about the idea of a Dinner Club? Here's my menu for a Spanish Fiesta, let me know in the comments below if you make some or all of it.
---
__________________________________________________________________________________________
New here? Join our community and get your FREE resource, the tips I wish I knew when I started cooking gluten free.
Yes, I need 29 Tips For Cooking with Gluten Free Flour.
Still haven't mastered gluten free cooking? Check out our online Cooking Classes.
More Recipes - A Dinner Club Menu, Spanish Tapas and Mussels
Click on the text on the image(s) to go to the recipe/blog post.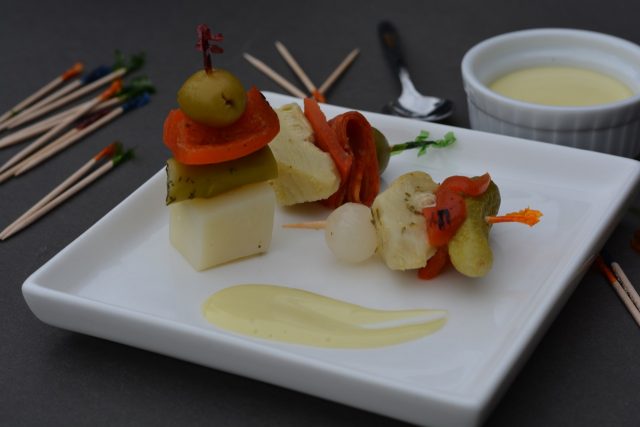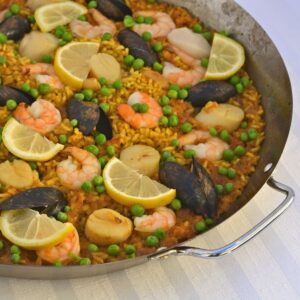 Paella with Seafood
Paella is the national dish of Spain. It's a delicious rice dish that can be filled with your choice of meat, seafood or vegetables.
Ingredients
SAFFRON-CLAM BROTH
¼

teaspoon

saffron threads

8

oz

bottled clam juice

4-5

cups

gluten free chicken stock
SOFRITO
¼

cup

olive oil

1

medium onion, grated in large holes of a box grater

3

tomatoes

4

whole garlic cloves

4

finely chopped garlic cloves

½

teaspoon

pimentón

(Spanish paprika)

¼

teaspoon

salt
RICE
1¾

cups

arborio rice or Spanish bomba rice
SEAFOOD
12-18

mussels

12-18

scallops

12-18

shrimp, peeled

½

cup

frozen peas
GARNISH
Chopped fresh parsley, lemon slices or wedges
Instructions
SAFFRON-CLAM BROTH
In a small frying pan toast the saffron until fragrant, 30-60 seconds. Remove from heat and cool.

In a saucepan combine clam juice and chicken stock, bring to a boil over medium heat. Remove from heat and set aside. Crush toasted saffron onto the clam juice and chicken stock. Set aside to infuse while preparing paella.
SOFRITO
Set pan over medium-low heat. Add the oil. When hot add the onion, stirring occasionally until it softens and darkens slightly, 4-5 minutes.

Halve the tomatoes and grate in large holes of a box grater (should be about 1¼ cups juicy tomato pulp).

Stir in the tomato pulp, chopped and whole garlic, paprika and salt. Gently cook the mixture in the center of the pan stirring frequently, until it becomes dark red and thick, 15-20 minutes. Turn the pan often to ensure even cooking. If it starts to stick, deglaze by adding a little water and scraping the pan.
RICE
When the sofrito is done, add the rice to the pan and cook over medium heat, stirring to combine, 1-2 minutes. Spread the rice evenly in the pan. Increase the heat to high and slowly pour the clam/chicken broth over the rice being careful to leave the rice in an even layer. From this point on, do not stir the rice. Bring to a boil and adjust the heat to maintain a simmer, moving the pan as needed so it bubbles all the way to the edges. Simmer vigorously until the rice appears at the level of the broth, about 8 minutes.
SEAFOOD
Evenly arrange the shrimp and mussels in the pan, pushing them into the rice. Lower the heat so the broth maintains a moderate simmer and cook for about 5 minutes until shrimp is pink, scallops are cooked and mussels are opened.

Continue simmering until the liquid is absorbed and the rice is tender but still firm (taste a few grains on the top layer), about 5 more minutes. The rice needs to simmer for about 18 minutes total. Taste to ensure the rice is cooked and adjust seasoning to taste.

If at any point the broth seems to be evaporating too quickly, reduce the heat slightly, cover loosely with sheets of foil, or add a little more broth or water, ¼ cup at a time as needed.
GARNISH
Sprinkle with chopped parsley and lemon. Serve immediately.