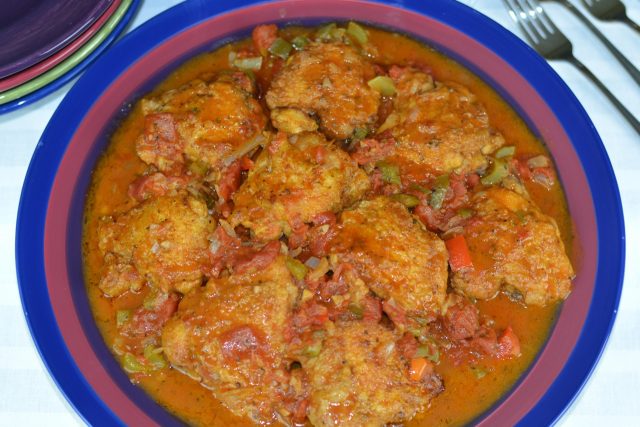 Description
Chicken Cacciatore is a delicious everyday meal. Cacciatore means hunter's stew in Italian and there are many different versions of this dish from all parts of Italy. This recipe is the version from my house and it's naturally gluten free.
My husband loves everything Italian. Tomato-based sauces, slow cooked dishes, red wine and watching Italian cooks on YouTube.
I think Chicken Cacciatore should have mushrooms. They have an earthy flavour and seem like a perfect addition to a hunter's stew. On the night we had this dinner my mushrooms got voted out.
The Basics for Homemade Sauce
This sauce starts with chopped onion, celery and carrots, ingredients I always have on hand. In Italian cooking this basic combination is called a soffritto and is generally used in a 2:1:1 ratio. It is the base for many Italian sauces, soups and stews. It is sometimes referred to as the Holy trinity.
Whether you sauté your vegetables in butter or oil, add garlic, peppers or parsley it is all up to you. If you like the kind of cooking where you don't follow a recipe but rather create in the moment then this is a good place to start. Knowing the basics helps and you can experiment from there to make your favourite recipe. In Italian cooking a can of tomatoes is often going to be included. Don't forget to taste your sauce as you cook.
Other cultures use the same concept of three aromatics or spices as a starting point for many dishes. In France their combination is called a mirepoix. In Spain it is sofrito…which I briefly wrote about in my post on paella. Over at The City Cook blog, Kate McDonough has a nice review of The Trinities if you are interested in learning more about them.
Let me know in the comments below if you made this Chicken Cacciatore and how it turned out.
---
More Recipes – One Pot Meals
Ingredients
2 Tbsp cornstarch
¼ tsp paprika
¼ tsp salt
¼ tsp pepper
12 bone-in chicken thighs (skin off or on)
2 Tbsp olive oil
2 cups sliced mushrooms
1 onion, chopped
1 celery stalk, chopped
1 carrot, peeled and chopped
1/2 green pepper, chopped
1/2 red pepper, chopped
4 cloves garlic, chopped
28 oz can diced, stewed tomatoes
½ cup red wine
½ cup GF chicken stock
1½ tsp dried oregano
1 tsp dried basil
1/8 tsp dried red pepper flakes
1 bay leaf
salt and pepper to taste
Directions
1

Combine cornstarch, paprika, salt and pepper in a plastic bag. Pat chicken dry then add to bag. Shake to lightly coat the chicken pieces.

2

Heat 1 Tbsp oil in Dutch oven over medium heat. Add chicken in batches and brown on both sides. Transfer to a plate as they are browned.

3

Add another 1 Tbsp oil to the Dutch oven and add onion, celery, carrot, peppers, mushrooms and garlic. Saute for 5 minutes.

4

Add tomatoes, wine, chicken stock, oregano, basil, red pepper flakes and bay leaf and bring sauce to a boil.

5

Return chicken to the pot. Reduce heat, cover and simmer stirring occasionally for 45 minutes or until chicken is tender.

6

Remove bay leaf before serving.