These fudgy, fabulous Chocolate Cheesecake Brownies are made with quinoa flour. No other flours, starches or binders needed.
That means it's a recipe to keep and share with family and friends, especially those you trust to bake safe treats for you.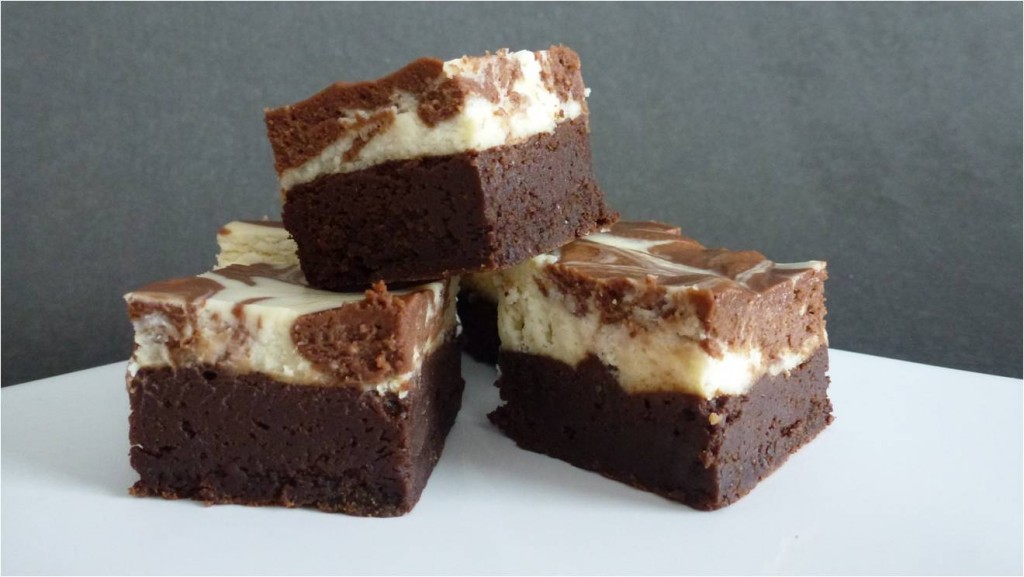 Fun Facts About Quinoa Flour
The grain quinoa is high in fibre and protein and so is the flour. That doesn't exactly make these sugar-laden brownies healthy but it might be one more reason to give them a try.
Before you say you don't like quinoa let me tell you about that 'odd taste'. Quinoa has a bitter taste from the saponins in the outer coating. As quinoa has grown in popularity it is now standard practice for the manufacturers and processors to pre-rinse the quinoa before it's sold.
That's great news for us cooks! If you have a bad memory about quinoa or you've never used quinoa flour I think it's time to give it another try.
In this brownie recipe I can't detect that taste in the chocolate layer but if you like to lick beaters or scoop up a finger full of cheesecake batter you you might detect a hint of that taste. I can guarantee that it completely disappears during cooking.
If you don't believe me then just make them and try it yourself. I check this every time I make them.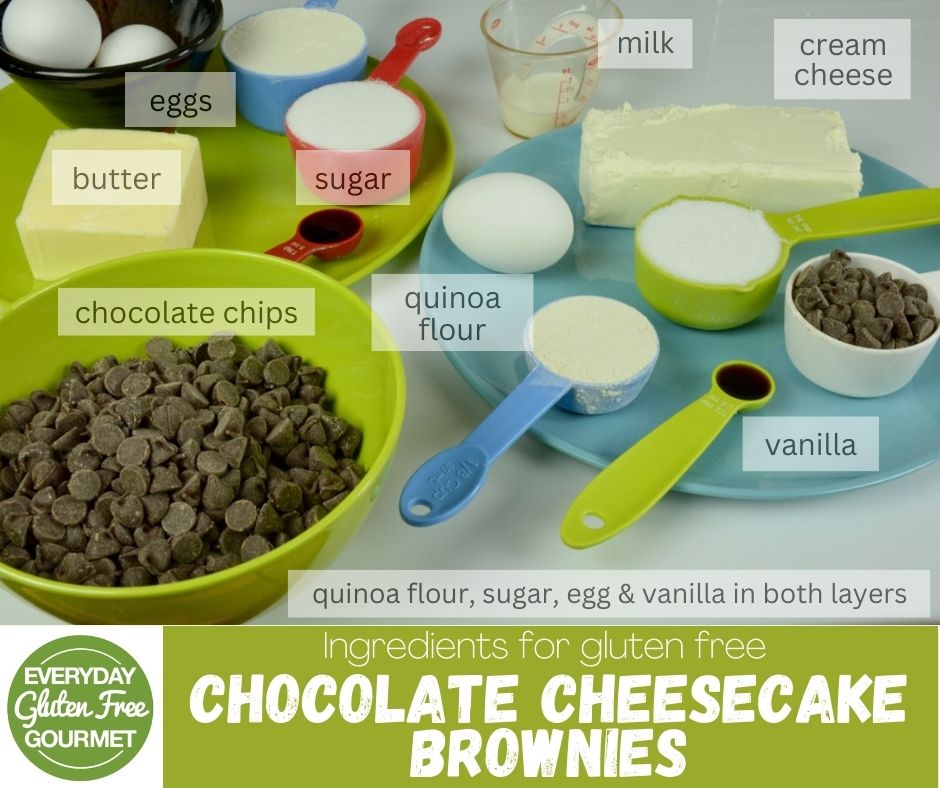 Tips For Making Brownies
Parchment is easier to fit into a pan when you scrunch it up under running water. Try it! Tin foil is the old fashioned option that still works well.
Pour wide ribbons of cheesecake onto the brownie layer by moving the bowl back and forth across the whole pan.
Making Chocolate Swirls
After mixing some of the cheesecake batter with melted chocolate chips blob it on top in any random pattern. Then grab a knife, wooden skewer or spreader of any kind and have fun making swirls trying not to go into the brownie layer.
How To Cut Perfect Brownies
If you don't care about perfect cuts then just remove the brownie onto a cutting board and eyeball it. Use a hot knife, wiped off between each cut. There will still be some cheesecake brownie on the knife that can be carefully removed and eaten with your finger or a small spreader.
For those of you like me, who want those nice cut edges here's how I do it.
Cut a thin slice off two sides. Set off to the side for your own taste test.
Lay a ruler on top of the brownie and make a cut mark at 1½ inches intervals in one direction. Repeat at the opposite end of the brownie so you can see exactly where to make the cut. Using a hot knife make 4 cuts. Now you have another long thin piece to add to your taste test pile.
Turn the brownie a quarter turn and use the ruler to repeat at 1½ inches intervals in the other direction. Using a hot knife make 4 cuts. You will have 16 perfectly cut pieces worthy of any celebration or a surprise treat for no reason at all.
To serve a larger crowd or smaller portions cut each brownie on the diagonal and you'll have 32 triangles.
Yes, this is a tedious process but I don't mind it one bit. I want nice looking brownies and that's how I do it.
The reward for your effort is all the small pieces to enjoy immediately. This is the quality control measure in my kitchen to ensure I'm sharing only the highest quality home baking.
PIN for later...
Safe Gluten Free Cooking Away From Home
For Canadians quinoa flour can easily be found at Superstore with the Celiac Canada certification logo on it. To me that means you can put these brownies on your short list of recipes to make when you're away from home.
Here are three situations this may be the perfect treat or dessert.
When visiting the family cabin or a weekend away with friends. Take your own foil baking pan if you need to.
For grandparents who want to cook with or for their gluten free grandchildren.
To a friends house to demonstrate how cooking gluten free doesn't have to be that hard.
Once you've perfected this recipe at home and you're ready to take it on the road here are two variations. I'm sure you can come up with many more.
How To Make Brownies Look Nice
Brownies taste the same when they're cut haphazardly and served out of a plastic container. But if you know me, you know I love the presentation and serving brownies is no exception.
Here are some of the fun ways I like to serve brownies (after cutting them as close to perfect as possible).
Arranged on any pretty tray garnished with edible flowers.
For a casual party or a fun homemade gift (especially for teachers) I like to put brownies in a pizza box. Line it with a colourful napkin and get the kids to decorate the inside and outside of the box.
I wouldn't do this with Cheesecake Brownies but a regular brownie recipe can be cut horizontally and made into the perfect summer dessert. See how I did that in this recipe for a Raspberry Brownie Ice Cream Cake. You could also make only the brownie layer of this recipe, I might do that twice since it could be a challenge to cut horizontally.
Best Baking Pans and Serving Ideas
Every kitchen needs a few tools and a set of two square baking pans is the most versatile bakeware that can be used for all sorts of baking. From granola bars to sushi pizza there's no end to the value of these pans. Buy two, you won't be sorry.
I'd love to hear in the comments if you made these brownies or a variation. I'm always looking for pictures too.
Originally posted 2015, updated May 2023.
__________________________________________________________________________________________
New here? Join our community and get your FREE resource, the tips I wish I knew when I started cooking gluten free.
Yes, I need 29 Tips For Cooking with Gluten Free Flour.
Still haven't mastered gluten free cooking? Check out our online Cooking Classes.
Chocolate Cheesecake Brownies
These brownies are fudgy and fabulous but the best part is that I can make them anywhere I go. Just buy a bag of quinoa flour and you're cooking! You're sure to get rave reviews.
Ingredients
BROWNIE BASE
1½

cups

chocolate chips

½

cup

butter

⅓

cup

sugar

2

eggs

½

teaspoon

vanilla extract

½

cup

quinoa flour
CHEESECAKE TOPPING
¼

cup

chocolate chips

250 gram

package

cream cheese

(room temperature)

½

teaspoon

vanilla extract

¼

cup

sugar

1

egg

1

tablespoon

milk

2

tablespoon

quinoa flour
Instructions
Preheat oven to 325°F. Line an 8-inch square baking pan with parchment or foil, hanging about 2-inches over two sides of the pan to help easily remove the cooked brownie.
BROWNIE BASE
Put chocolate chips in a small bowl and microwave on high for 1 minute. Stir.

Add butter to chocolate chips and microwave on high, another 30 seconds, stirring to ensure it doesn't burn. Repeat for another 30 seconds if needed, stirring until smooth. Set aside.

In a medium bowl whisk sugar, eggs and vanilla. Add melted chocolate and stir to combine.

Add the flour and mix thoroughly. Pour into prepared pan.
CHEESECAKE TOPPING
Place chocolate chips in a small bowl and microwave on high for 30 seconds. Stir and microwave for another 30 seconds if needed until chocolate is smooth. Set aside.

In a medium bowl beat cream cheese, vanilla, sugar and egg. Combine with chocolate mixture.

Add about ½ cup of cheesecake mixture to small bowl with melted chocolate. Set aside.

Spread remaining cheesecake mixture onto the brownie base to cover it completely.

Drop spoonfuls of the chocolate cheesecake mixture all over cheesecake layer in the pan.

Using a knife or skewer draw circles through the chocolate cheesecake mixture into the white cheesecake topping to create swirl pattern. Be careful not to touch the bottom brownie layer.

Bake in preheated oven 32-35 minutes, until the middle springs back when gently touched in the center. Cool then chill overnight before cutting.
Notes
The secret to perfect edges for both brownies and cheesecake is using a hot knife. Run a large knife under hot water (or dip it into the water), wipe it off and make one cut. Repeat for EVERY SINGLE CUT.
Tips for cooking cheesecake: When over cooked cheesecake cracks in the oven or as it cools. When perfectly cooked the cheesecake layer should be set but not completely firm to the touch. It takes practise so record the time it took in your oven and when you know the exact time follow it.
For a summer version of this recipe try these Raspberry Swirl Cheesecake Brownies.