Are you excited about cooking up some amazing food in your own backyard this summer? I am and burgers will definitely be on the menu, including these Bison Burgers.
I'm always a bit envious when the smell of burgers cooking on the barbecue wafts into my backyard but then I think good for them. At least someone's cooking!
What Goes Best With Bison Burgers?
The standard North American hamburger favourite may be an all-beef patty but I have some not so traditional favourites I enjoy every summer. These Bison Burgers are now on the list but I won't skip my Thai Turkey Burgers and the Mediterranean inspired Lamb Burgers.
If you're going to make burgers at home they might as well be awesome. To do this successfully you need to find those unique flavour combinations that people before you have figured out. You can certainly invent your own but don't miss out of some of the classics.
In this recipe the Saskatoon Blueberry Barbecue Sauce and crumbled goat cheese complement the bison for a unique taste experience not to be missed. The standard mustard, relish and ketchup is fine but sometimes you've got to move outside your comfort zone.
PIN for later...
This post contains affiliate links. When you purchase using these links your cost is the same, but I receive a few cents for every dollar spent. I appreciate your support for this website.
How To Cook Bison Burgers
Here in Alberta we are well known for our exceptional beef but perhaps not so well know for bison. Alberta Food Tours is trying to change that. What Is Alberta's Story shares some history and promotes our local food movement. It's a good read and a story to share over an ice cold beverage while the burgers are cooking.
Bison is a lean meat so it's important to know that ground bison cooks in about half the time of ground beef. Other cuts may be cooked low and slow but for bison burgers follow half the time as a guide. The actual temperature of your barbecue and the thickness of the patty affect the cooking time so keep that in mind.
Alberta bison can be found frozen at many butcher shops and online from Alberta Bison. In the United States Nebraska Bison came up at the top of my search. For the full experience don't miss the berry barbecue sauce and just make it with all blueberries if you can't find a Saskatoon bush near you.
Get The Tools
You don't need many tools to cook on a barbecue but gluten free cooks think about cross contamination. If you haven't tried grilling sheets you must. The food still browns through the sheet so you can safely eat with friends or even on your own shared barbecue.
Let me know in the comments below what you cooked up in your backyard.
---
More Grilling Recipes
Click on the text on the image(s) to go to the recipe/blog post.
In my round up post, 29 Great Gluten Free Grilling Recipes for Summer, you find lots to choose from. If you're just looking for burgers these are two more of my summer favourites!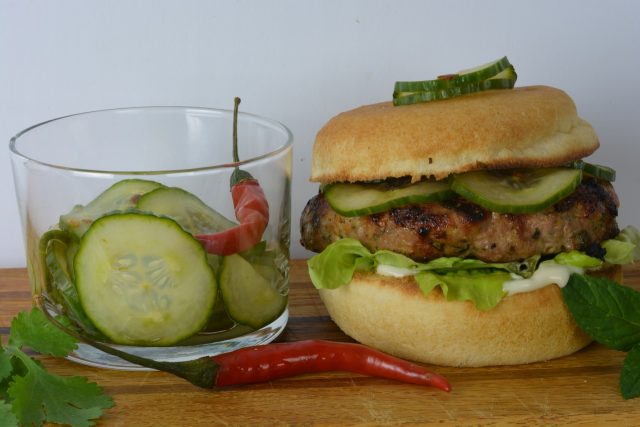 Bison Burgers with Saskatoon Blueberry Barbecue Sauce
Bison Burgers served with Saskatoon Blueberry Barbecue Sauce and crumbled goat cheese is simply a magical taste sensation not to be missed!
Ingredients
1

lb

ground bison

½

teaspoon

onion powder

½

teaspoon

garlic powder

½

teaspoon

salt

½

teaspoon

pepper

4

gluten free hamburger buns

TOPPINGS - Saskatoon Blueberry Barbecue Sauce, goat cheese, sliced red onion, tomato and lettuce.
Instructions
Gently shape bison into 4 patties.

Combine spices in a small dish. Using your fingers sprinkle all the spice mixture onto both sides of the bison patties.

Cook on preheated grill about 6 minutes per side depending on thickness. Follow 'half the cooking time of beef' as a general guide.

For nice grill marks give the meat a quarter turn half way through the cooking time. Flip the patties and cook to desired doneness. Medium-rare or medium is delicious!

Brush patties with Saskatoon Blueberry Barbecue Sauce during the last half of the cooking time.

Toast hamburger buns then top with cooked patties and crumbled goat cheese.

Serve extra Saskatoon Blueberry Barbecue Sauce on the side with lettuce, tomato and sliced red onion,