Sausage Breakfast Hash has been around for a long time and adapted by almost everyone. It is basically fried potatoes, onion and meat. Many versions are served with a fried egg on top and some include other vegetables as well as cheese. Although sausage is popular some recipes use corned beef or bacon. There are also plenty of vegetarian and vegan recipes to be found. If you like to create this is your kind of recipe.
Today I made my hash with gluten free chicken apple sausage from a local sausage maker. They have an amazing selection of sausages so this is the recipe to experiment with.
Southwestern Variation: Sausage Breakfast Hash
I bought chorizo sausage for a school fundraiser recently so was experimenting with the southwestern flavours I love. For this version I used chorizo sausage in place of the chicken apple. Near the end I folded in some diced tomato, avocado and shredded Monterey Jack cheese. To finish the dish I squeezed chipotle mayo over the top and garnished it with cilantro from my garden. We enjoyed this version for dinner.
Breakfast for Dinner
My teenage son and his friends love getting together and making breakfast for dinner. They all know how to make breakfast and are learning to accommodate the dietary restrictions in the crowd. Breakfast hash is a new gluten free dish he has added to his repertoire. If you have teenagers get them to try this.
Get The Tools
I didn't make my hash in the cast iron skillet you see in the photo but it's that time of year. Where I live the Calgary Stampede, the Greatest Outdoor Show on Earth, is on and our city suddenly takes on a western flair. Everyone wears blue jeans to work, often with the same old western shirt they wear year after year. Some go all out and wear cowboy boots and hats. It's all acceptable and often expected. I pulled out my stash of western things for this photo including a Calgary Stampede branding logo (for food) and added my cast iron skillet.
Breakfast hash is perfect for any meal from camping to a leisurely weekend breakfast. Let me know in the comments below if you made it and if you do breakfast for dinner in your house.
---
More Breakfast Recipes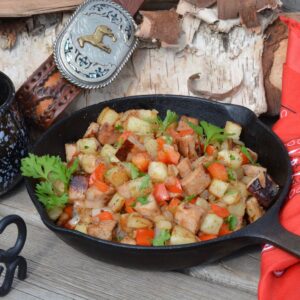 Sausage Breakfast Hash
Sausage Breakfast Hash has been around for a long time and adapted by almost everyone. It is basically fried potatoes, onion and meat.
Ingredients
1

lb

sausage

(chorizo, chicken-apple or breakfast)

1½

lb

potatoes, about 3 large potatoes

2

tablespoon

vegetable oil

2

tablespoon

butter

1

onion, diced

1

red pepper, chopped

salt & pepper to taste
Instructions
Using a fork poke holes in both sides of each potato. Microwave on high heat for 2 minutes. Turn and microwave another 2 minutes until almost cooked through. Let cool. Alternately boil the potatoes.

Peel potatoes if desired. Cut into even pieces the size you like.

Heat oil and butter in large skillet over medium-high heat. Add potatoes spreading them evenly on the bottom of the pan. Let them sit for 3-4 minutes to develop a golden crust on the bottom. Repeat this method stirring every few minutes to cook the potatoes until crispy on all sides. Transfer potatoes to a bowl and set aside.*

In a separate pan sauté whole sausages until browned on all sides. Remove sausage to cutting board and cut in half lengthwise. Return to the pan and sauté until cooked. Remove from pan and cut into chucks. Add to the potatoes.

Add more oil and butter as needed.

Add onion and red pepper to the pan and sauté until cooked, about 10 minutes.

Add potato-sausage mixture and stir to combine and reheat.

Salt and pepper to taste. Garnish with parsley if desired. Serve hot.
Notes
*You can cook the potatoes and sausage in the pan together. I was going for a nice photo so I did them separately.