Tiny chia seeds are packed with fibre and protein making them an excellent choice for your gluten free diet. They promote slow digestion and provide a steady stream of energy so this Summer Chia Pudding is on my list of healthy breakfast options. There are many ways to incorporate chia seeds into your diet but breakfast is a great place to start.
A Chia Seed Challenge
Even after you're into the groove of living gluten free it's still hard to change a habit. The first time I bought chia seeds I tried them, wasn't crazy about the texture and let the bag sit there for a year or so. I'd put the bag on the counter for a week then put it back in the cupboard having made nothing. It was like a game I played with myself. Have you played that game?
I know what a powerhouse chia seeds are and I always want to make healthier choices so I tried harder and eventually figured it out. If you're up for a chia seed challenge try this Summer Chia Pudding three ways and make enough jars to last the week. Here's what I did to assess the texture and sweetness and find my favourite.
The typical ½ cup plain yogurt with 2 tablespoon chia seeds and 2 teaspoon maple syrup.
Half the seeds for a softer pudding using ½ cup plain yogurt with only 1 tablespoon chia seeds and 1 tablespoon honey.
One jar with dairy free oat milk and no sweetener.
PIN for later...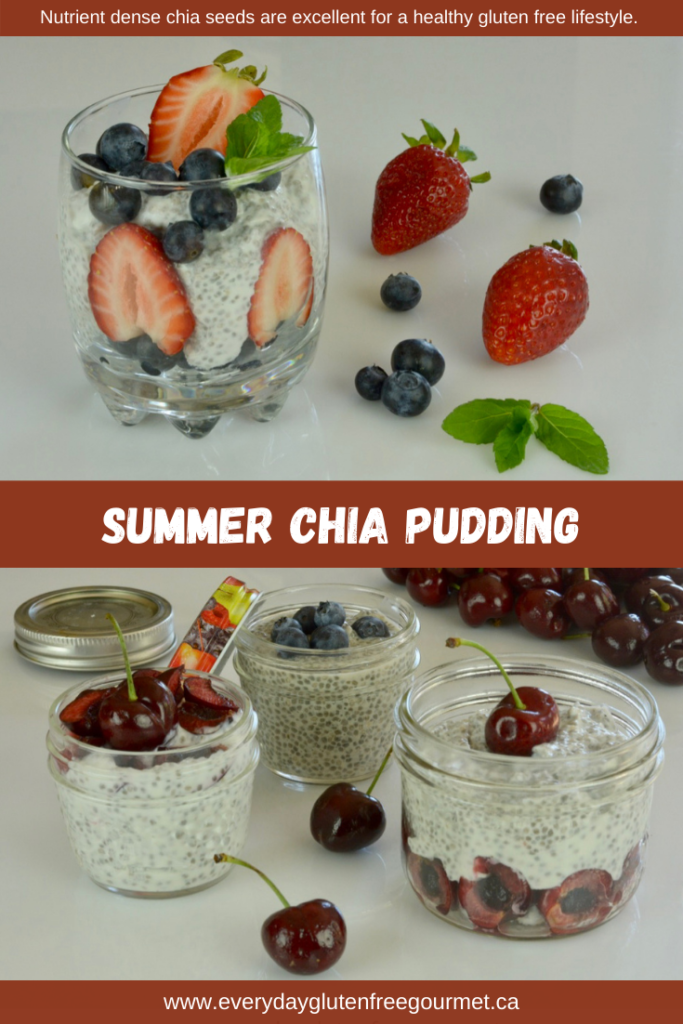 This post contains affiliate links. When you purchase using these links your cost is the same, but I receive a few cents for every dollar spent. I appreciate your support for this website.
The Ratio
Gluten free eaters know all about mouth feel and making chia seed pudding might have you talking about it. The most common recipe is 1 tablespoon chia seeds for every ¼ cup milk or yogurt. The result is a thick gel and when made with yogurt a spoon will stand straight up on its' own. Just try it and see what you think.
The sweetness is personal. My husband prefers the recipe with a tablespoon of sweetener but two teaspoons is enough for me. The addition of fruit is mandatory and the yogurt recipe with half the chia seeds is my favourite.
Organize For Success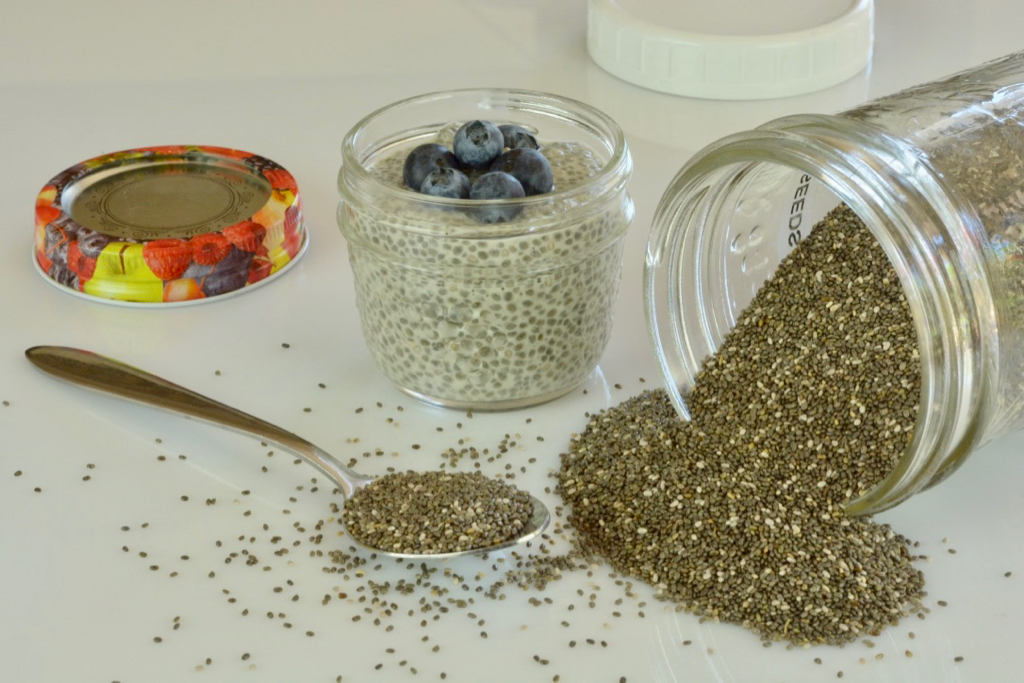 If you've been around here for a while you know I love Mason jars. If there's something I can make and portion directly into a jar it's a grab-and-go win for me. Whether I'm sitting in my garden eating this summer chia pudding or taking breakfast with me to eat at work it's just plain easy. You can read about my 2-lid system for 7 different sizes of Mason jars in this post, Organize For Success with Mason Jars.
I'd love to hear in the comments below any of your chia stories or what you learned from your chia challenge.
__________________________________________________________________________________________
New here? Join our community and get your FREE resource, the tips I wish I knew when I started cooking gluten free.
Yes, I need 29 Tips For Cooking with Gluten Free Flour.
Still haven't mastered gluten free cooking? Check out our online Cooking Classes.
More Breakfast Recipes
Click on the text on the image(s) to go to the recipe/blog post.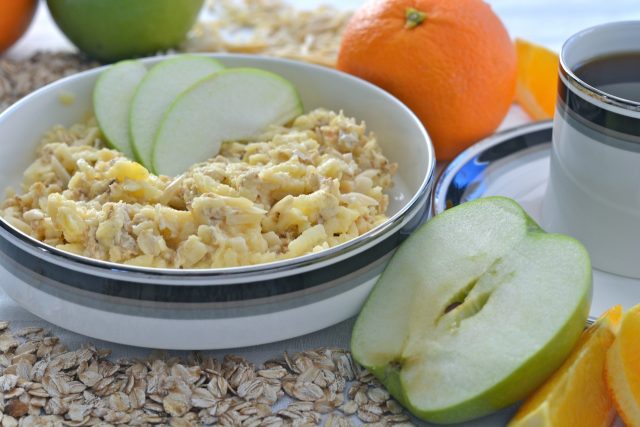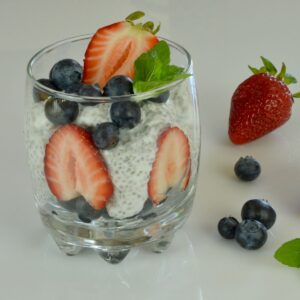 Summer Chia Pudding
Tiny chia seeds are packed with fibre and protein making Chia Pudding a healthy breakfast option or a grab-and-go snack. Add summer fruits for a summer version.
Ingredients
½

cup

plain yogurt or milk

(or non-dairy alternatives)

1-2

tablespoon

chia seeds

(more makes it thicker)

2-3

teaspoon

sweetener

(maple syrup or honey)
Instructions
Portion yogurt or milk into a jar and sprinkle seeds on top.

Add sweetener of your choice and stir.

Let stand at room temperature 5-15 minutes. Stir again to prevent clumps.
Notes
Chia pudding will continue to thicken and set over the next 1-2 hours but can be enjoyed immediately after stirring or at any stage. Add fruit and serve or refrigerate for later.