Have you got a good short list of gluten free desserts? My dessert list includes ice cream and this Strawberry Cheesecake Ice Cream is perfect for May and June when strawberries are in season. A simple no-cook recipe that is decadent.
Homemade ice cream is simple but everyone loves it and it can be a fun way to have your guests help out. I like to prepare the mixture in advance then ask someone to crank the ice cream as soon as they arrive. When it's done just pop it into the freezer until it's time for dessert.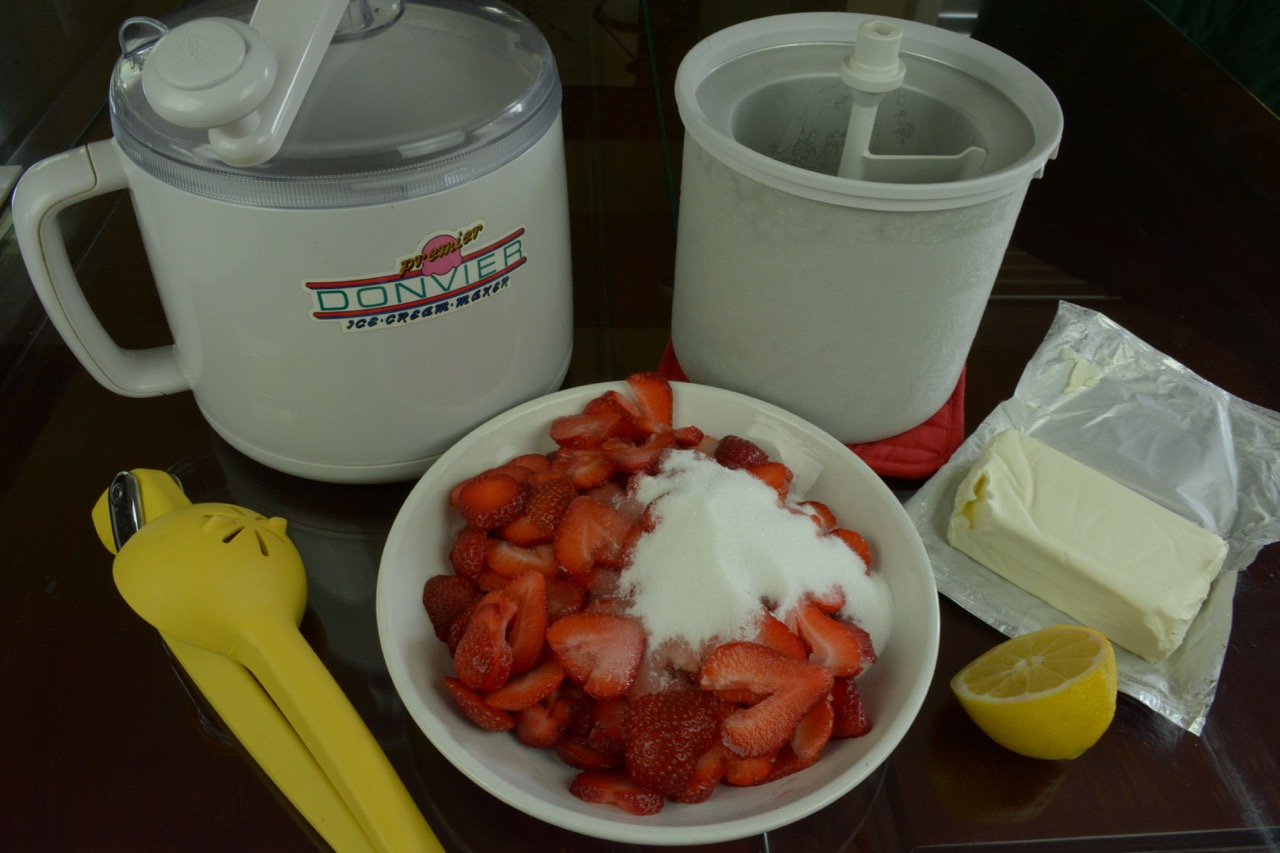 Hand-Crank vs Electric Ice Cream Makers
The best ice cream maker is a simple machine that makes creamy delicious frozen desserts. My dad loved ice cream and over the years we bought him several different ice cream machines. This is what I learned.
The old-fashioned hand-crank style requires adding ice and rock salt. It's old-fashioned and fun once or twice but there are better options now.
Electric ice cream makers require more attention than they should and the motor easily overheats. We've owned a few but the models are not memorable.
Then my sister and I each bought the identical Donvier Ice Cream Maker so we could borrow each others when we wanted to make ice cream for a crowd. It's a hand-crank machine with no moving parts. The metal insert is kept in the freezer so it's always ready to make ice cream. Now, over twenty years later, we still do that and our machines work like new.
PIN for later...
The Best Hand Crank Ice Cream Maker
An ice cream maker is ideal for any family with gluten free eaters. It's a good investment and 'thrifters' might pick one up at a garage sale that was hardly used. The Donvier Ice Cream Maker is my pick but I'm sure there are many good ones.
At a virtual Kids Class/Meetup we made mini Oreo Ice Cream Pies and talked about different ideas to flavour store bought vanilla ice cream. Sure, you can buy gluten free ice cream but there are always flavours that aren't gluten free.
When you make ice cream at home you can invent any flavour you want. Teaching kids to do this teaches them how to make their own fun food events and their friends will be happy to join it.
All ice cream lovers can have fun with this so I hope you buy an ice cream maker and start making ice cream soon.
5 Ways To Serve Strawberry Cheesecake Ice Cream
I love taking a family favourite dessert and dressing it up for company. Some occasion's need an extra special presentation so put a little thought into it. Here are 5 ideas to get you thinking.
Portion ice cream into chilled wine or martini glasses, top with thinly sliced strawberries, a splash of orange liqueur.
Make ice cream sundaes or a DIY Sundae Buffet with fresh fruit, chocolate sauce, chopped nuts, candy sprinkles and maraschino cherries.
Ice cream sandwiches are great for a crowd and you can even have the presentation complete in the freezer. Just bring them out and serve. See my recipe for Chocolate Chip Cookie Ice Cream Sandwiches for more tips on this.
An Ice Cream Cake is also a make ahead dessert that everyone loves. I'd choose a crumb crust (graham crackers or chocolate cookies) topped with this Strawberry Cheesecake Ice Cream. Be sure to add a fresh strawberry garnish after the cake comes out of the freezer.
Another favourite is a brownie-ice cream cake. In this Raspberry Brownie Ice Cream Cake I layered the brownie with store bought ice cream and sorbet.
So many ideas! Are you excited about making summer desserts?
Organize For Success
I keep the metal insert stored in my freezer year round (wrapped in a large plastic bag) so I'm ready to make ice cream any time. The outer container and the paddle live in the original box at the back of an upper cupboard.
My list of favourite ice cream recipes includes some with a custard base (like the Aztec Chocolate Ice Cream below) as well as a few no-cook recipes like this Strawberry Cheesecake Ice Cream.
Is someone in your house crazy about ice cream? If so start a recipe challenge to pick a favourite flavour for every month of the year.
Let me know in the comments below if you tried this ice cream and what favourites are on your list.
---
More Ice Cream Recipes
Strawberry Cheesecake Ice Cream
This decadent Strawberry Cheesecake Ice Cream is super easy so add it to your "Must Make" list when fresh strawberries are at their peak. Making ice cream is a fun pre dinner activity and can harden while you eat. After dinner dish it up and enjoy!
Ingredients
4

cups

sliced, fresh strawberries*

(or frozen, sweetened strawberries)

½

cup

sugar

(first amount)

250

grams

cream cheese,

room temperature

¾

cup

white sugar

(second amount)

1

cup

milk

1

tablespoon

lemon juice

pinch of salt

½

cup

whipping cream
Instructions
SWEETEN STRAWBERRIES
Combine sliced strawberries and sugar. Let sit 1 hour then stir.
MAKE ICE CREAM
In a food processor or blender, puree sweetened strawberries, cream cheese, sugar, milk, lemon juice and salt.

Add whipping cream to pureed mixture and pour into the frozen insert of an ice cream maker. Stir according to manufacturers directions.

In my hand-crank Donvier ice cream maker I turn the crank a few times every 2-3 minutes. The ice cream starts to freeze to the outside of the metal canister and each time you stir it a small amount of frozen ice cream is shaved off the sides.

In about 20 minutes you have soft ice cream. Freeze for at least 4 hours for hard ice cream.

Transfer to a container with a lid if not serving in 1-2 hours.

Serve in a dish topped with sliced fresh strawberries, in a cone or layered between a brownie to make an ice cream cake.
Notes
*

You cannot add unsweetened berries to make ice cream. They will freeze like little rocks and you'll be spitting them out. I used to buy frozen, sweetened strawberries for this recipe but they are no longer readily available.