I love cookies all year long but in the month of December whipped shortbread is near the top of the list of cookies I want to enjoy. This old-fashioned Whipped Shortbread is the kind of recipe your grandmother might have made. Whether you decorate these cookies with a piece of maraschino cherry or holiday sprinkles it's the melt-in-your-mouth buttery taste that so many people love.
This post contains affiliate links. When you purchase using these links your cost is the same, but I receive a few cents for every dollar spent. I appreciate your support for this website.
Get The Tools
Another reason to love whipped shortbread is the fact that there is no rolling out dough. Use a small scoop to portion the dough quickly and easily plus you get uniform sized cookies and that ensures even baking. You can use two spoons to do this job but if you don't have any portion scoops be sure to add them to your Christmas list.
How To Organize Holiday Recipes
Some people type into Google and make any recipe they find. For gluten free bakers this is a high-risk activity. There are many variables that affect baking plus the added challenge of numerous gluten free flour combinations. If you want to enjoy baking I highly recommend you save your favourite holiday recipes, especially since you might not make them for the next eleven months. I have two systems to keep my holiday recipes.
A Large Envelope
One year I glued a nice photo of my Christmas baking to the outside of a half-size envelope. It is filled with favourite recipes written on cards, clipped from magazines plus some given to me from friends. I've had this envelope for a long time and although it's not organized it serves me well.
Three-Ring Binder
Over the years my collection of holiday recipes grew. One year I designated a three-ring binder for this plethora of recipes. I taped some recipes to full size pages, hole-punched others and even typed a few and put them in page protectors. My binder also includes the pumpkin recipes I make at Thanksgiving and Halloween, and my favourite punch recipe that I seemed to be searching for year after year. It also holds my entire turkey feast menu. It's a mish-mash for sure but the label on the spine says Xmas Favs and it works for me.
Whatever you do, whatever recipe you make, just be sure to have some fun and enjoy your cookies. Let me know in the comments below how your holiday baking turned out.
More Recipes and Help With Cookies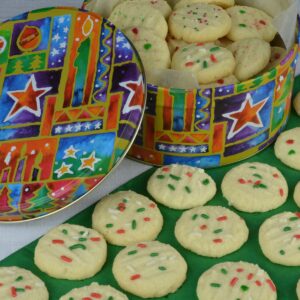 Whipped Shortbread Cookies
In December whipped shortbread is near the top of the list of cookies I want to bake, eat and share. This is a melt-in-your-mouth shortbread cookie that people will not believe is gluten free.
Ingredients
1

cup

butter, room temperature

½

cup

icing sugar

1

teaspoon

vanilla

1

cup

white rice flour

(120g)

½

cup

cornstarch

(70g)

¼

cup

tapioca starch

(35g)

½

teaspoon

xanthan gum
DECORATING - sprinkles or maraschino cherry pieces
SPRINKLING FLOUR - sweet rice flour
Instructions
Preheat oven to 300°F. Line baking sheets with parchment paper.

In large bowl of an electric mixer beat butter, icing sugar and vanilla on medium speed until mixed well.

In a medium bowl combine white rice flour, cornstarch, tapioca starch and xanthan gum. Whisk to thoroughly combine.

With mixer on low speed slowly add the flour mixture. Once it is all combined increase speed to medium and beat for 5 minutes.

Make dough balls using a small scoop.

Place the dough balls onto the prepared baking sheets about 2-inches apart. Flatten the dough balls slightly, dampen your fingers if the dough is sticky.

Dip the tines of a fork in flour then gently press into the top of each cookie.

Decorate cookies with festive sprinkles or a piece of maraschino cherry.

Bake in preheated oven, 22-25 minutes, until set but not brown. Let cookies cool on baking sheet for 2 minutes, transfer to wire racks to cool completely.

Store in airtight containers, double wrapped for maximum freshness.
Notes
For cut cookies shape the dough into a log on top of a piece of waxed paper. Without adding extra flour roll the dough back and forth until you have an evenly shaped log. Using a fresh piece of waxed paper place holiday candy sprinkles in the centre. Lay the log on top and slowly roll it in the sprinkles to generously cover the entire log. Refrigerate overnight. Cut into thick slices (

½ or ¾-inch) and bake as directed.