Vietnamese Salad Rolls are something everyone should be able to make. They're healthy and refreshing, full of crunchy vegetables, rice noodles and fresh herbs. The best part, like so many Thai and Vietnamese dishes, they're naturally gluten free.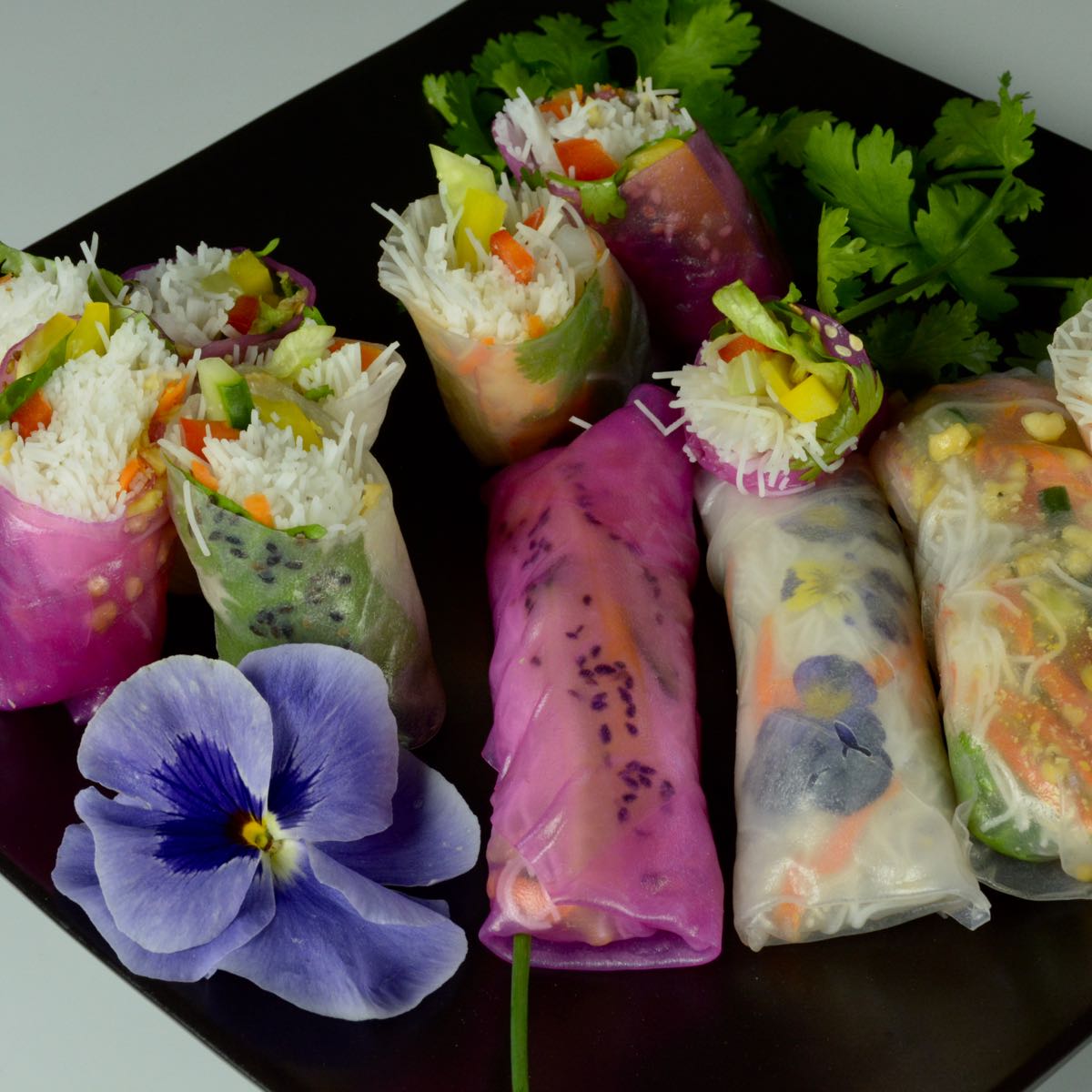 If you like to give guests a job as soon as they walk in the door making salad rolls is fun activity for entertaining.
Authentic Vietnamese Salad Rolls
I think of this recipe (made with shrimp, noodles and herbs), as the most authentic Vietnamese Salad Roll recipe. It's really just the first way I ate them more than thirty years ago.
As a food blogger and person who devours more recipes than food, I've learned that calling anything authentic is like comparing one family recipe to another. Every authentic recipe has slight variations from region to region and country to country.
Recipes also change over time and get reinterpreted meaning you can fill your salad rolls with any ingredients you like. I've given you a short list of ideas right in the recipe card.
Salad Rolls vs Summer Rolls vs Spring Rolls
Salad rolls are sometimes called summer rolls or rice paper rolls. They're made with rice paper wrappers and filled with any combination of rice noodles, raw veggies or fruit, and fresh herbs.
Spring rolls are deep-fried and don't typically include noodles.
How To Use Rice Paper Wrappers
Rice paper wrappers are made from rice flour, water and salt. They're dry and brittle and come in different shapes and sizes.
I like a 9-inch round wrapper for salad rolls but you can also make them smaller using 6-inch round wrappers. Triangular wrappers are traditionally used at the table to wrap grilled foods.
Rice paper wrappers should be stored flat in the flexible plastic container they came in or an airtight bag. I find the flimsy plastic container with sides helps prevent them from breaking.
When making salad rolls leave the stack of wrappers in the package removing only one at a time. If left open to the air they will curl up and are more likely to break when you touch them.
How Long Do I Soften Rice Paper To Make Salad Rolls
Soften sheets one at a time in hot tap water soaking for less than 30 seconds. They will continue to soften as you add the fillings. They are more difficult to work with when they're too soft so remove them more quickly if you have that problem.
Some wrappers may be broken when you take them out of the package and others may break when you put them in the water. Depending where the tear is you can make your salad roll anyway or throw it out and start with a new wrapper.
How Long in Advance Can I Make Salad Rolls
Salad rolls can be made up to 8 hours in advance. Place them in a single layer on a tray and cover with plastic wrap or a damp towel and store in the fridge. If they feel a bit stiff when you take them out dip your fingers in warm tap water and gently rub some water on the salad rolls.
I never make them a day ahead but I always eat any leftovers the next day. Do that and decide for yourself how long you would want to make them in advance.
Watch How To Make Salad Rolls on YouTube
What is the Best Dipping Sauce for Salad Rolls
Everyone asks this question and my answer is always nuoc cham. It's a vinegar-based sauce that I think of as the traditional dipping sauce to serve with salad rolls.
I absolutely love peanut sauce but it's not my first choice for salad rolls. Some restaurants even serve them with hoisin sauce but that's not the right taste for me.
Nuoc cham is simple to make and will keep in your fridge for months. I always make the full recipe of sauce even though it's way more than you need for twelve salad rolls.
3 Tips To Organize Salad Roll Ingredients
Here are three tips for advance prep that makes serving salad rolls look like a breeze. Don't under estimate the value of these simple steps, they make entertaining look easy.
Prep your fillings in advance. For my in person cooking classes and my own entertaining I prepare the ingredients like you see in this photo.
Know what dishes you need for each job. I also know what bowl I use to soften the rice noodles and I have a specific serving dish that is low and easily holds a single rice paper wrapper. (A pie plate isn't big enough or deep enough. It's just annoying!)
Make the Nuoc Cham dipping sauce in advance.
What To Make with Leftover Nuoc Cham Dipping Sauce
Here are three other recipes that use slight variations of nuoc cham. They're all interchangeable and if you can identify that you like the combination of one over another then you're a super taster. (I'm not.)
Nuoc Cham vs Nuoc Mam
Nuoc mam is the Vietnamese word for fish sauce. It's the essential ingredient in Thai and Vietnamese cuisine. It should be naturally gluten free (famous last words) and you can learn more about this ingredient in my post, Fish Sauce.
Nuoc cham is the dipping sauce made with fish sauce (nuoc mam). Recipes vary but mine is made with fish sauce plus rice vinegar, lime juice, sugar, garlic and dried chiles. I think it's amazing!
Is There a Vegan Substitute for Fish Sauce
Yes, there is. If you've got friends who are allergic to fish or vegan you've got to share this Vegan Fish Sauce Substitute recipe. I've used it in many Thai and Vietnamese recipes and even at some of my cooking classes. No one can tell the difference.
Ingredients for Salad Rolls
Here are some of the items I see on Amazon.
How To Serve Vietnamese Salad Rolls
Serve salad rolls whole or cut in half diagonally. To make a pretty platter I serve them both ways and garnish with lots of fresh herbs. In the summer when I can pick edible flowers from my garden I use them too.
When I want to be inspired for a different presentation I go to Google Images. I type the name of the recipe I want in the search bar and voila, more ideas than I've got time to look at. That's how I found the pink salad rolls I made for this photo.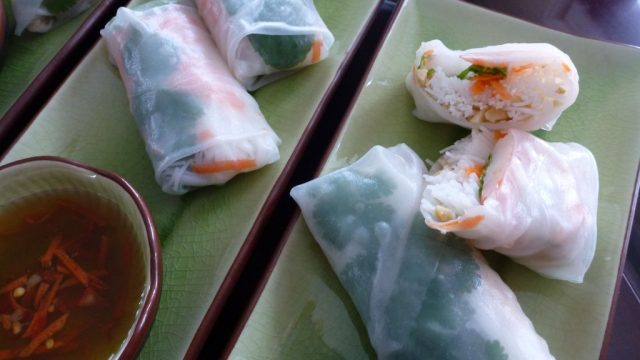 If you've never made salad rolls it's time. Thai and Vietnamese cuisine has so many dishes that are gluten free and dairy free that I refer to them as a gift to the gluten free community.
Let me know in the comments what you made or what you still want to try.
Originally posted 2015, updated July 2022.
__________________________________________________________________________
New here? Join our community and get your FREE resource, the tips I wish I knew when I started cooking gluten free.
Yes, I need 29 Tips For Cooking with Gluten Free Flour.
Still haven't mastered gluten free cooking? Check out our online Cooking Classes.
_________________________________________________________________________
Vietnamese Salad Rolls
Everyone loves the freshness of Vietnamese Salad Rolls with Nuoc Cham dipping sauce bursting with the flavour of fresh herbs and vegetables.
Ingredients
SALAD ROLLS
12

rice paper wrappers

18

cooked shrimp, halved horizontally

(3 halves per salad roll)

250

grams

fine vermicelli rice noodles

½

cup

soft lettuce, finely shredded

½

cup

carrot, finely shredded

1

bunch

cilantro, Thai basil and/or mint leaves

(I like to combine any 2 of these)

¼

cup

peanuts, chopped
OPTIONAL FILLING INGREDIENTS
cucumber, peppers, jicama, avocado, mango, edible flowers, black or brown sesame seeds
NUOC CHAM DIPPING SAUCE
½

cup

fish sauce

¼

cup

lime juice

½

tablespoon

rice vinegar

(or white vinegar)

½

cup

sugar

¾

cup

warm water

½

teaspoon

crushed chiles

2

garlic cloves, minced

2

teaspoon

small carrot, shredded
Instructions
SOAK NOODLES
Place rice noodles in a large bowl. Pour boiling water over them and let sit for 5 minutes. Set a timer! Drain, rinse with cold water to stop the cooking process then drain again.
NUOC CHAM DIPPING SAUCE
Combine all ingredients in a large measuring cup or Mason jar. Stir until the sugar dissolves. Set aside.
SALAD ROLL FILLINGS
Prepare all filling ingredients and refrigerate in an airtight container. Can be done a day in advance.
SOAK RICE PAPER WRAPPERS
Use a large, flat bowl that is slightly larger than the size of the rice paper wrappers. Fill the bowl with tap hot water. I can make 6 salad rolls before the water is not warm enough. Empty the bowl and refill with hot water.

Gently slip 1 rice paper wrapper into the bowl of warm water until submerged. Let it soak for 10-20 seconds to soften. Carefully remove from bowl and lay on work surface.
ASSEMBLE SALAD ROLLS
Place 3 shrimp halves on the bottom third of the wrapper.

Top with a small amount of noodles, folded into a sausage shape.

Sprinkle a very small amount of carrot, lettuce, herbs and peanuts.

There is no correct order. Try different ways and as you roll them up see what you can make show on the best side of the finished salad roll.

Fold the bottom of the wrapper up over the filling. Next fold over each side of the wrapper. Now hold the filling and roll it up keeping it as tight as possible.*

Place salad rolls in a single layer on a plate covered with plastic wrap or a damp towel. Continue making salad rolls and covering them up as you go. If not serving immediately, keep the salad rolls tightly covered with plastic wrap in the fridge for 4-6 hours.

Serve them whole or cut on a diagonal with Nuoc Cham dipping sauce or peanut sauce.
Notes
*In my cooking classes I have people make the first 2 salad rolls and put them in a container for lunch the next day. By the 3rd salad roll you'll be able to make them a little tighter and by 10 you'll be a pro!
TIPS - Whatever you place on the wrapper first is what will show through the finished salad roll. Vary the look by starting with herbs, shrimp, carrot or edible flowers. It still takes practice to roll the wraps without having the folded in ends covering the filling you wanted to show through. Keep practicing!
PINK RICE PAPER WRAPPERS - Add some beet juice (from a jar of pickled beets) to the water to soak the wrappers. Start with just enough water in the bowl plus a generous splash of beet juice so the wrapper can quickly absorb some colour since it soaks for less than a minute. I tried this when the water was a bit cooler so the rice paper soaked for a little longer. Experiment!
NOODLES - Once softened rice noodles can keep in the fridge for several hours or overnight. To make salad rolls you want fairly dry noodles. Lay them on a kitchen towel before using if they're quite wet.