Gingerbread cookies are a tradition in my house. Every year I bake gingerbread cookies in an array of shapes from big gingerbread men with little cut-out hearts, fancy snowflakes and different sizes of stars for my Gingerbread Cookie Christmas Tree. When I'm baking with kids they love the Ninjabread Men, snowmen and all the tiny shapes; little houses, stars, candy canes, hearts, Christmas trees and mini gingerbread people.
Giving away my homemade gingerbread is part of the tradition. I have lots of cellophane bags and pretty ribbon for gift giving so I can bake with abandon. Julia Child would have liked that.
PIN for later...
Tips For Making Gluten Free Cookies
Over the years as I've made a point of learning the adjustments needed to successfully bake gluten free cookies. I share those tips in all of my cookie recipe posts and also have blog posts on the topic of cookies. At the bottom of this post are links to all the resources I have to help you bake the cookies you crave.
For specific tips and techniques about rolled cookies check out this post for Sugar Cookies.
The Joy of Baking, Gluten Free
Cookie baking is an activity to be enjoyed, not endured. It's an afternoon or evening project in the kitchen being creative. Even if I'm alone I love the aroma of gingerbread in my kitchen and Christmas music playing in the background, it's a sure sign of the holiday season.
Making rolled cookies involves counters dusted with flour (gluten free of course) and the lengthy process of moving cookie dough in and out of the fridge (or freezer - GF tip!) then in and out of the oven. Rolling the dough, cutting it into shapes and a mess of cookie cutters strewn all over the counter. This is the joy of baking and I love it.
Create the kind of atmosphere you want and make it a holiday tradition. There are unlimited possibilities!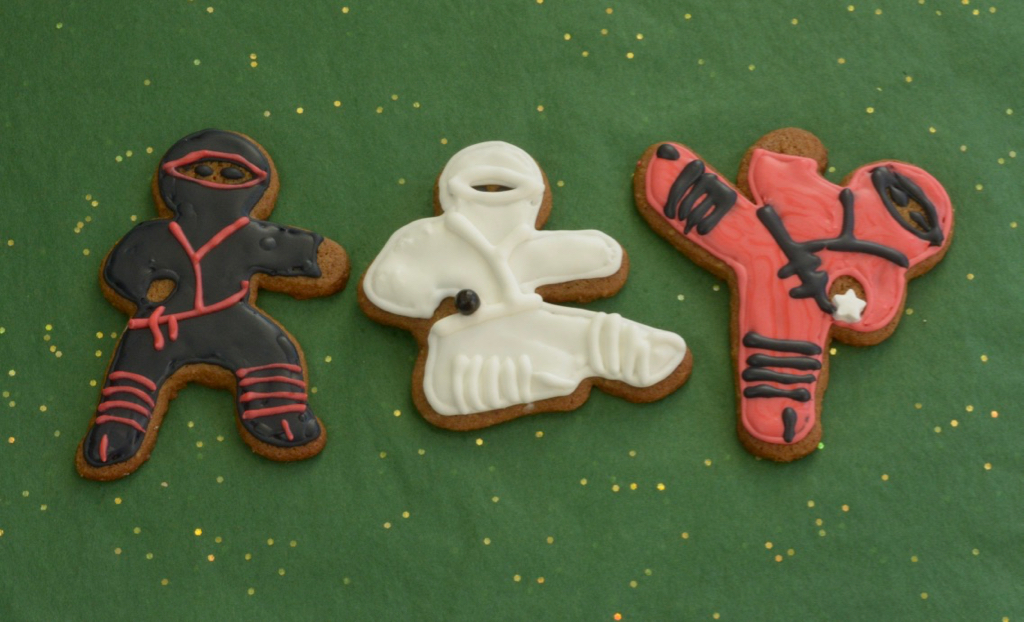 How To Make a Gluten Free Cookie Flour Blend on YouTube
My advice for adapting a wheat flour recipe is to record what you do and eat your way to success. I've had great success with this Cookie Flour Blend in many recipes (but not all). The learning never ends but neither do the cookies!
For this recipe I started with a gluten free gingerbread cookie recipe. I wasn't completely satisfied with any of the recipes I tried so I kept tweaking it to taste just like my old favourite recipe. I finally got the right amount of molasses and spices that I love. It's a large recipe so you'll have lots of cookies for everyone to taste and still plenty to give as gifts.
Organize for Success - Saving Recipes
Do you have a file of favourite Christmas recipes? It's a great idea especially for gluten free cooks. Create a simple system to save your personal and family favourite holiday recipes. Add the new gluten free recipes that you love and toss out the ones that don't work. As your collection grows the hard part will be deciding which ones you want to bake. This recipe for gingerbread cookies is now in my collection of holiday favourites and I make it every year.
Fun Things to Make with Gingerbread
At some point the fun has to end and when I'm tired of rolling and cutting cookies I just roll out the rest of the dough to any shape. Then I create some kind of scene like I did here to ring in 2019. Use your imagination!
Get The Tools
To make my gingerbread cookie Christmas Tree I make sixteen stars using a set of four star cookie cutters. The wooden base that holds the cookies is dowling from the craft store. My dad made me the small wooden squares that holds the dowling so you'll need to find someone who can do that. I also have a set of tiny cookie cutters to make two stars to top my Cookie Christmas Tree. This set of six stars would give you lots of options.
It takes time to collect good quality pans but they last for decades so it's worth the effort. Many items do double duty in the kitchen so pay attention to the pans and sizes you like. For a cookie baking spree I use a lot of pans.
Let me know in the comments below if this gingerbread recipe worked for you and what you made. Better yet share your pictures.
__________________________________________________________________________________________
New here? Join our community and get your FREE resource, the tips I wish I knew when I started cooking gluten free.
Yes, I need 29 Tips For Cooking with Gluten Free Flour.
Still haven't mastered gluten free cooking? Check out our online Cooking Classes.
More Holiday Baking and Help for Making Cookies
Gingerbread Cookies
Making gingerbread cookies is a holiday tradition! Try gingerbread men with heart cut-outs, Ninja-bread men, snowflakes and more. Get out your holiday cookie cutters and plan an afternoon of cookie baking.
Ingredients
DRY INGREDIENTS
610

grams

gluten free cookie flour blend*

4½ cups

1

tablespoon

cocoa

1

tablespoon

ground ginger

2

teaspoon

cloves

2

teaspoon

cinnamon

¾

teaspoon

baking soda

¼

teaspoon

salt
WET INGREDIENTS
14

tablespoon

butter, room temperature

(1 cup less 2 Tbsp)

1

cup

sugar

1

egg

½

cup

molasses

2

tablespoon

cream

sweet rice flour for dusting
Instructions
Whisk dry ingredients together, set aside.

In an electric stand mixer cream butter and sugar on high speed until light and fluffy.

Turn down speed and add egg. Beat until mixed.

With machine running pour in molasses and cream, mix to combine.

Reduce speed, slowly add dry ingredients beating until dough is formed.

Divide the dough directly onto 3-6 pieces of wax paper. Flatten into disks, lightly dusting both sides with flour if needed. Fold paper to cover, refrigerate 2 hours.**

Preheat oven to 350°F. Line cookie sheets with parchment paper.

Working with one piece at a time, lightly dust dough with flour rolling to ¼ or ⅜-inch thickness. Cut into shapes with cookie cutters returning dough to fridge at any point during rolling and cutting if it is too soft. Cookies should hold their shape when being transferred to baking sheet.

Bake cookies on middle rack of 350°F oven for 8-10 minutes. Thinner cookies will cook more quickly. Thicker cookies are best for ornaments and gingerbread houses.

Set baking sheet on cooling rack for 2-3 minutes before transferring cookies to racks to cool completely.

If storing cookies for more than 2 days double wrap and freeze for maximum freshness.
Notes
*Cookie flour blend: 2⅔ cups brown rice flour, 1 cup ground almonds, ¾ cup potato starch, 6 tablespoon + 2 teaspoon tapioca starch, 1 teaspoon xanthan gum (makes 5 cups).
**Wrap in plastic if storing overnight. Will keep in fridge for a week, freezes well.