Arctic Char is a flavourful pink-fleshed fish that is related to trout and salmon. Char is native to the arctic waters of the Northern Hemisphere and I was inspired to try it when I went to Canada's Yukon Territory for work.
Before I went to Whitehorse I looked up the Top 10 foods Yukon Territory in known for. (Doesn't everyone do that?) The list included dishes like bannock and smoked salmon as well as wild game, sourdough bread and lots of fish. The fish included king crab, salmon, trout and Arctic char. I decided on an Arctic Char recipe just because I'd never cooked it before.
Fish is the ultimate fast food. It cooks in minutes and lends itself to simplicity.
This recipe shows off the Arctic char and lets the individual tastes of the citrus fruit come through. Arctic char is a thin fish so it cooks quickly under the broiler. The trick is to have everything ready. At the last minute cook the fish and you'll be sitting down to enjoy it in right away.
PIN for later...
Using both citrus fruit and zest brings a sparkle to many recipes and I try to make all my favourites during citrus season. It does take a minute to get the zest off the fruit so for convenience I like to keep citrus zest in the freezer at all times.
To learn more about citrus check out this post, How To Use Citrus Zest.
How To Make Citrus Supremes
In this recipe for Arctic Char I make a citrus sauce using citrus supremes. What are citrus supremes? They are beautifully cut segments of citrus fruit with all the peel and pith removed.
In this video you can see how I did it following these steps.
Cut both ends so the fruit sits flat on your cutting board.
Using a serrated knife cut from top to bottom being sure to cut away both the peel and the pith.
Holding the fruit in your hand carefully cut into both sides of each segment and let it drop into a bowl.
Once all the segments are cut squeeze the juice from what is left in your hand. Use the perfect pieces for this recipe and save the broken ones with the juice for yourself.
You might think it's too much work to cut these but I'm pretty quick and it feels like a treat to me. Do it a few times and you'll get quicker, the reward is there now matter what you're using them in.
I also use citrus supremes in these recipes:
Citrus Season
This citrus sauce is simple so using a variety of citrus fruits is the key to success. During our winter, December to March, there are numerous varieties to choose from. On the day we took this photo I used a clementine, a tangerine, a Moro (blood orange) and a Cara Cara navel orange. Along with a lemon it was an amazing combination.
I adapted this recipe from The Side Chef, the combination is brilliant.
Let me know in the comments below if you tried this Arctic Char.
__________________________________________________________________________________________
New here? Join our community and get your FREE resource, the tips I wish I knew when I started cooking gluten free.
Yes, I need 29 Tips For Cooking with Gluten Free Flour.
Still haven't mastered gluten free cooking? Check out our online Cooking Classes.
More Main Course Fish Dishes
Click on the text on the image(s) to go to the recipe/blog post.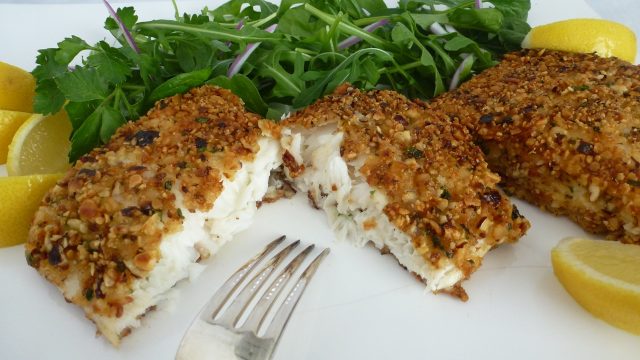 Arctic Char with Citrus Sauce
This recipe for Arctic Char with citrus sauce is light and easy. Do go to the trouble of cutting the citrus supremes and make it during citrus season when you can use a variety of citrus fruits that are new to you.
Ingredients
CITRUS SAUCE
1

cup

citrus segments from 3 or 4 fruits and juice

clementine, tangerine, Moro blood orange, Cara Cara or other navel orange

1

lemon

segments only

2

tablespoon

olive oil

2

tablespoon

minced chives

optional

¼

teaspoon

sea salt flakes
MARINADE
1

tablespoon

honey

1

tablespoon

olive oil

1

tablespoon

citrus juice from cut fruit

4

Arctic Char fillets,

3-4 oz each
Instructions
Preheat the broiler. Prepare rack so your fish will be 3 inches from the broiler. Place an inverted baking sheet on top of another baking sheet to get the fish closer to the heat. Oil the bottom of the inverted baking sheet. Set aside.

Cut off the top and bottom of each fruit using a serrated knife. Set the fruit flat side down and work from top to bottom cutting away all the peel and pith.

To remove the citrus supremes work over a bowl to catch the juice. Hold the fruit in one hand and cut along the inside of each segment with the other, separating each piece until it falls away.

When there is no fruit left squeeze the pith to extract the rest of the juice. Reserve 1 tablespoon of citrus juice for the marinade. Save the remainder for the sauce.
MARINADE
In a shallow bowl combine honey, olive oil and 1 tablespoon citrus juice. Whisk to combine. Add Arctic Char fillets and marinate 5 - 10 minutes.
SAUCE
To the bowl of citrus segments and remaining citrus juice add olive oil, chives and sea salt flakes. Stir to combine. Set aside.
COOKING
Remove fillets from marinade and place skin side down on prepared baking sheet. Lightly season with salt and pepper.

Set the rack as close to the broiler as possible and broil 4-5 minutes, no more.

Transfer fish to serving platter and top with citrus sauce. Serve the remaining sauce of the side.
Notes
Snipped Chives: I love using scissors to snip fresh chives from the garden onto many dishes from early spring to late fall. I grow them in my garden and think you should too. In the winter you can skip this garnish.