Hazelnut Lemon Halibut is on my list of recipes to make in and around the month of March. That's halibut season.
This delicate, white fish has a succulent texture that's definitely worth the effort to find it and cook it. Halibut is not inexpensive so I think of it as a treat. It's healthy and it's available so I get to enjoy it on occasion.
Fish is really nature's fast food. There are many simple sauces and breading recipes to make a quick meal. Variety is important for gluten free eaters so incorporating different foods into your meal rotation can ensure you're getting lots of vitamins and nutrients from your food.
Sweet Rice Flour vs Cornstarch for Gluten Free Breading
When I was learning to cook gluten free, sweet rice flour was often used as an alternative to wheat flour for coating foods. This could be coating cubes of beef to make stew, breading chicken strips or pork cutlets, or in a saucy dish like my Chicken Porto. In recipes with a sauce the sweet rice flour adds bulk to the food and slightly thickens the sauce.
Cornstarch does an equally good job. In the gluten free world home cooks need options so pay attention to what certain ingredients are used for. I wouldn't switch sweet rice flour and cornstarch in baking but you can do that in the typical three part method for breading.
Three Step Method for Breading
Lay food in a single layer on a plate or tray and set out three bowls for an assembly line coating process.
Dredge in sweet rice flour or cornstarch. Shake slightly for an even coating.
Dip into egg mixture, typically egg mixed with milk or cream. Hold in the air to allow excess to drip off food and back into the bowl.
Lay food on top of the seasoned breadcrumb mixture. Turn to coat all sides. Transfer to tray or wire rack and get ready to cook. (Some foods benefit from resting at this point, check out this recipe for Breaded Pork Chops for more on that topic.)
Pantry Tip: Label for Learning
Fill a small jar with sweet rice flour and label it. My label says Sweet Rice Flour (AKA Glutinous Rice Flour) and I store it in my baking cupboard, right alongside the baking powder, baking soda and xanthan gum.
To help you adjust to using different ingredients add another label that tells you how you can use it or even the names of a few recipes you make with it.
Sweet rice flour also retains moisture better than other rice flours so I use it in my EGFG flour blend for everyday baking. To learn more about it check out this post, How To Use Rice Flour.
Hazelnut Lemon Breading for Fish
I've had plenty of disappointments with store bought gluten free breadcrumbs and learned a little something from every one of them. You can read more about that in this blog post, Gluten Free Breading Help.
Now I have a good system for saving broken bread pieces and leftover buns specifically to make my own crumbs. I have a large airtight container in my freezer with a bold label. Even when that container is empty it stays in the freezer (that's the secret).
For this recipe I didn't have my own breadcrumbs, I was still learning and I found some gluten free panko breadcrumbs. That was the first time I'd seen them.
People actually make panko-style crumbs with gluten free bread but that takes some dedication. Here are three brands you can buy:
Feel free to use your own homemade breadcrumbs is you have some.
The addition of hazelnuts and lemon zest gives this breading a bright flavour and makes it memorable. It's a perfect complement to any white fish so try it on both cod and red snapper too.
How To Prepare and Store Citrus Zest
Citrus zest brings punch to many dishes so I try to keep some in my freezer at all times. These little containers are designated for the zest and they stay in the freezer even when they're empty.
In this video I demonstrate when I use my small hand zester and the more popular rasp.
This post contains affiliate links. When you purchase using these links your cost is the same, but I receive a few cents for every dollar spent. I appreciate your support for this website.
I had that small hand zester for decades before I even heard the word Microplane. The long rasp grater/zester, sometimes referred to by the quality brand name Microplane, has many uses and everyone should have at least one.
These graters come in different shapes and sizes and make an excellent gift. There are many less expensive ones like this Deiss brand.
Prep Once, Eat Twice
If you're only cooking for two people you can easily half this hazelnut lemon breading recipe. Yet thinking ahead (all the time) makes life in the kitchen easier.
That doesn't always mean planning meals and menus.
In this case I like to have half the breading leftover. I make the full amount and divide it in half as soon as I make it. Half is for the fish I'm making and the other half for the freezer, with a label.
The label is the key step in finding and using most things in your freezer.
My best tip here is to add helpful information on the label. I might write 'hazelnut breading for halibut' so when I see that label in the freezer it's a dinner suggestion from myself. I know I can use it on other fish and I might even try it on calamari if I'm feeling adventurous.
When halibut's in season I'm making this Hazelnut Lemon Halibut and I think you should too. Let me know in the comments below, if you tried this recipe and what you thought.
---
__________________________________________________________________________________________
New here? Join our community and get your FREE resource, the tips I wish I knew when I started cooking gluten free.
Yes, I need 29 Tips For Cooking with Gluten Free Flour.
Still haven't mastered gluten free cooking? Check out our online Cooking Classes.
More Breading Recipes and Help with Gluten Free Breading
Click on the text on the image(s) to go to the recipe/blog post.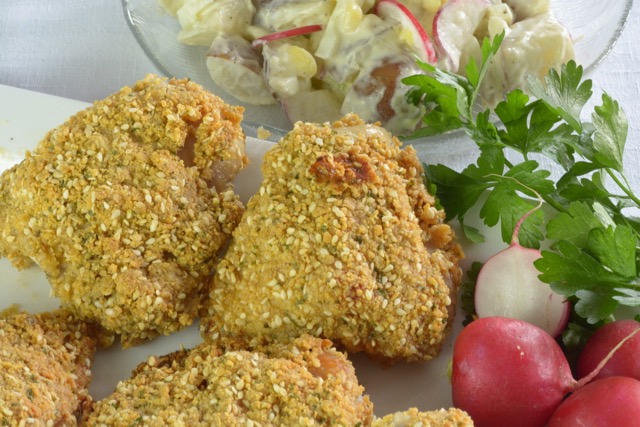 Hazelnut Lemon Halibut
Hazelnut Lemon Halibut has a succulent texture and a burst of fresh citrus flavour. Fish is nature's fast food so try this breading on any white fish for a quick dinner (especially if you have the breading made and waiting in your freezer).
Ingredients
6 -

4 oz

halibut fillets

½

lemon
BOWL #1 - DRY
½

cup

sweet rice flour

or cornstarch

salt and pepper
BOWL #2 - WET
1

egg

2

tablespoon

cream

(10% or higher)
BOWL #3 – HAZELNUT BREADING
1

cup

gluten free Panko breadcrumbs

(or other gluten free breadcrumbs)

½

cup

finely chopped hazelnuts

zest of 2 lemons, finely chopped

2

tablespoon

fresh parsley

(or 2 teaspoon dried)

salt and pepper
PAN FRYING
2

Tbso

butter

2

tablespoon

olive oil
Instructions
Assemble three bowls of ingredients for breading the fish.

In bowl #1 mix sweet rice flour, salt and pepper.

In bowl #2 beat the egg and cream together.

In bowl #3 combine breadcrumbs, nuts, lemon zest, parsley, salt and pepper.

Squeeze lemon juice over the fish.

Dredge fish in bowl #1 (seasoned flour)

Dip in bowl #2 (egg mixture)

Dredge in bowl #3 (hazelnut breading) pressing crumbs into the fish.

Heat butter and oil in a sauté pan over medium-high heat. Add fish and cook for 3-4 minutes until browned, turn and cook for 3 minutes until browned.

Place fish on a baking tray and bake in oven for 5-10 minutes or until done, depending on the thickness of the fish. Serve with lemon.
Notes
Treat yourself in and around the month of March when halibut is in season.