These gluten free Rhubarb Streusel Muffins are a great first recipe for gluten free cooks. They should be soft and moist with a sweet crunch. If yours' aren't you need to learn more about all the gluten free flours and blends available.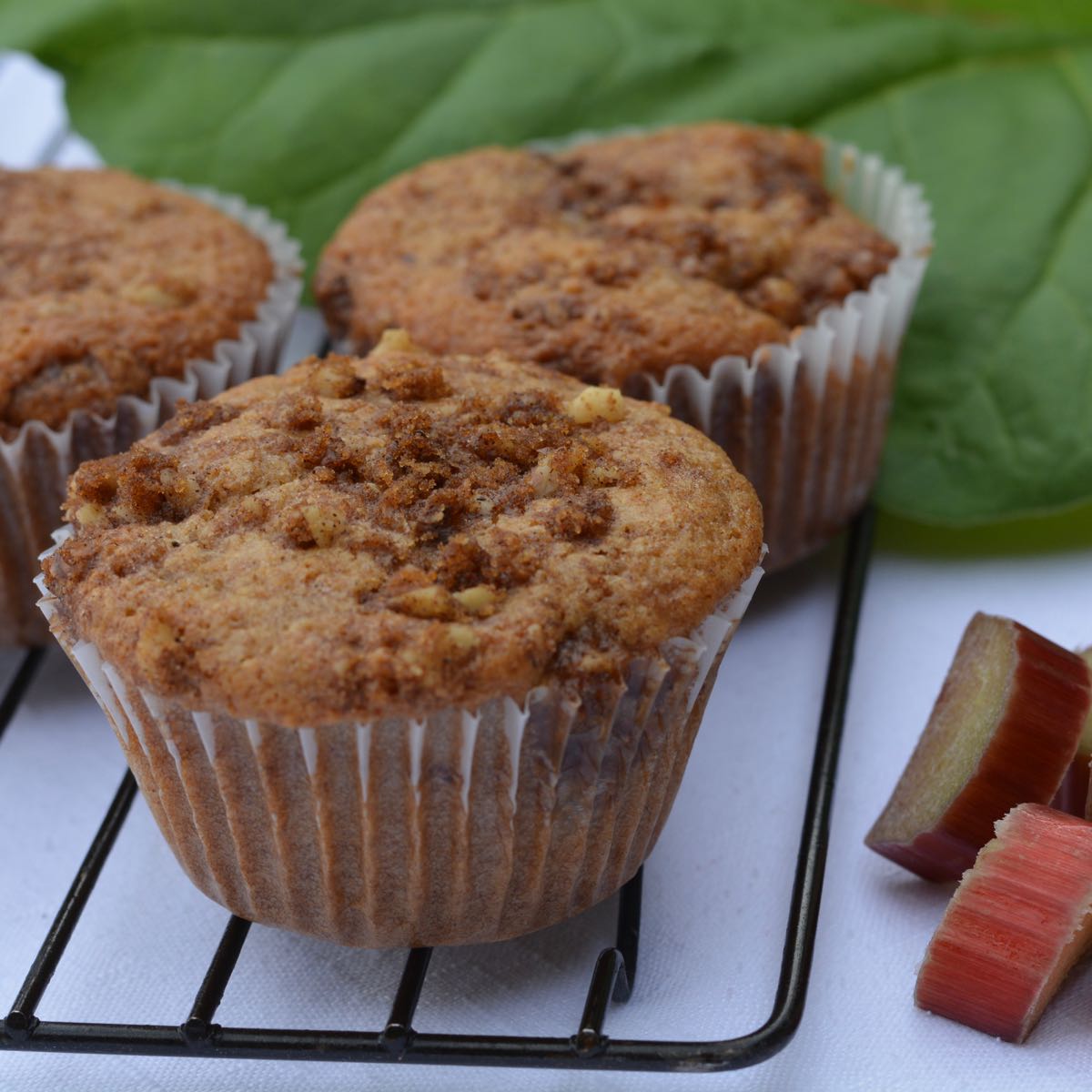 Rhubarb recipes reminds me of spring. That's when rhubarb starts to poke out of the ground, most often around the snow. It's a miraculous sign of life that amazes gardeners year after year.
In my Canadian garden the ground is frozen well into April, my rhubarb slowly grows in May and thrives all summer. If I want to make rhubarb recipes in spring I get rhubarb from my freezer. It's already chopped and ready to use.
Where To Find Free Rhubarb
There's something Canadian about rhubarb. In the summer I pick a few stalks from my rhubarb patch here and there. I give some away and I chop some for the freezer. I never pick all of it because I love the crazy look of those gigantic rhubarb leaves all summer long, some leaves grow to be three feet across.
Those giant leaves remind me of us kids running around the yard wearing rhubarb leaves on our heads. Our neighbours dipped the long stalks in small dishes of white sugar and ate it like that. (I didn't.) My mom stewed rhubarb plus baked pies, crisps and cakes. Sometimes I wonder if anyone even likes rhubarb, it's just a weed growing in gardens and back alleys everywhere. But now that farm-to-table and grow-your-own are catching on it's food for the picking.
My go-to rhubarb recipes are these muffins, my Strawberry Rhubarb Crisp and Rhubarb Coffee Cake. I might try a new rhubarb recipe, sometimes something weird, but I definitely make these ones every spring and summer. My rhubarb patch is prolific so if you're ever in the neighbourhood just come by and ask for some. I'm happy to give it away.
Can I Freeze Rhubarb
Yes! Rhubarb can easily be frozen, just wash the stalks then chop it up. Freeze it in a bag or container in the amount you would use for a recipe. I prefer to freeze it in a single layer and portion it into containers after it's frozen.
To bake simply take the rhubarb out of the freezer when you start the recipe. Fold it into the batter frozen or partially thawed and it will cook to perfection.
What is a Streusel Topping
A streusel topping is that delicious, sweet crumble you see on coffee cake, muffins and pies. It's often made with wheat flour but it doesn't need to be.
Brown sugar and cinnamon are key to a good streusel but you can experiment to see what you like best. My recipes also use oats, nuts, citrus zest or gluten free flour but when I find some in the freezer any of them can go on any recipe.
How To Make Moist Gluten Free Muffins
Like bananas, applesauce and pumpkin; rhubarb adds lots of moisture to baking. This is ideal for gluten free flours that don't absorb moisture the way wheat flour does.
Kitchen Tip: Let the batter sit for 15 minutes if you find your muffins are gritty. There's more than one reason this might happen but often the gluten free flours haven't had enough time to absorb the liquid in the recipe.
Basic Baking Pans for Gluten Free Muffins
Many people struggle with baking. Every oven is different and even standard baking pans vary in size slightly. Then there is the oven temperature and many more factors that challenge us everyday home cooks.
Buying quality bakeware is a good place to start. Some of these pans will last for decades so slowly buy exactly the pans you want. Then it's up to you to make notes about how long a particular recipe takes to bake in your pan and your oven.
Here's a list of options, some I'd love to buy but there's absolutely nothing wrong with the metal pans I have.
If you're lucky enough to grow rhubarb, or be given some, try these Rhubarb Streusel Muffins right away. In the comments below I'd love to hear your rhubarb story or how your muffins turned out.
__________________________________________________________________________
New here? Join our community and get your FREE resource, the tips I wish I knew when I started cooking gluten free.
Yes, I need 29 Tips For Cooking with Gluten Free Flour.
Still haven't mastered gluten free cooking? Check out our online Cooking Classes.
_________________________________________________________________________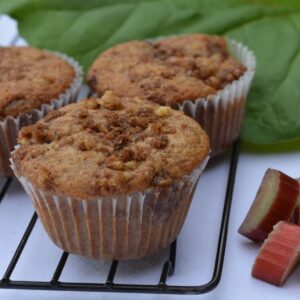 Rhubarb Streusel Muffins
Muffins are the easiest thing to make when you're new to gluten free. Make the same recipes over and over trying different gluten free flour blends until you know what you like. I use my homemade blend for these muffins and you can see the recipe in the notes.
Ingredients
DRY INGREDIENTS
1⅓

cups

EGFG gluten free flour blend*

(175 g)

1

cup

chopped rhubarb

⅔

cup

brown sugar

½

teaspoon

baking soda

½

teaspoon

cinnamon

¼

teaspoon

xanthan gum

¼

teaspoon

salt
WET INGREDIENTS
½

cup

yogurt

(or sour cream)

¼

cup

vegetable oil

1

egg
STREUSEL TOPPING
¼

cup

brown sugar

¼

cup

chopped walnuts

1

tablespoon

EGFG gluten free flour blend*

(9 g)

1

teaspoon

cinnamon

2

teaspoon

melted butter
Instructions
DRY INGREDIENTS
In a large bowl combine flour, rhubarb, sugar, baking soda, cinnamon, salt and xanthan gum. Stir to combine.
WET INGREDIENTS
In a 2-cup measuring cup combine yogurt, oil and egg. Add to dry ingredients and stir to combine.

Use a portion scoop to fill 12 paper-lined muffin tins.
STREUSEL TOPPING
In a small bowl combine sugar, walnuts, cinnamon and butter. Stir with a fork until well combined. Top each muffin with a spoonful of streusel topping.

Bake muffins in preheated oven for 25-30 minutes until browned around the edges.

Cool on baking rack for 2 minutes then remove muffins from pan and cool completely. Store in airtight container or freeze.
Notes
*EGFG flour blend: 300g sweet rice flour, 300g potato starch, 200g sorghum flour, 200g millet flour (makes ~8 cups)
STREUSEL TOPPING
Store extra streusel in the fridge or freezer.

Streusel can be folded into the muffin batter instead of putting it on top of each muffin.