Gluten free cornbread is one of the first recipes I wanted to master. It's a basic recipe that I turn into Cornmeal Raspberry Muffins, Cornbread Stuffing and so much more.
Cornmeal has a specific texture that people seem to love (or not). When combined with wheat flour, corn flour or a gluten free flour blend it can be baked into any number of recipes.
Buying Gluten Free Cornmeal and Corn Flour
I made the original recipe with cornmeal and corn flour yet they both seem increasingly difficult to find with a gluten free symbol.
Now I've included the option to make this recipe using cornmeal and a flour blend. I substitute my EGFG gluten free flour blend for both the corn flour and the tapioca starch.
A head to head comparison is really the best way to compare but that taste test hasn't happened in my kitchen yet. If you do it please let me know what you learn.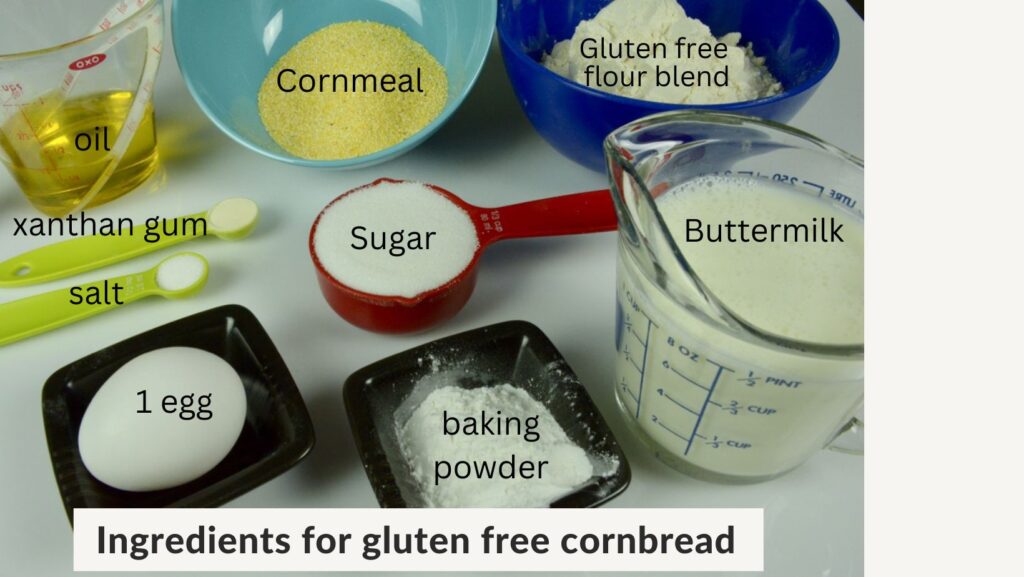 Combining Wet and Dry Ingredients
If you've been around the kitchen a few times you're probably familiar with the common steps of making one bowl of dry ingredients and one bowl of wet ingredients. In muffins we just mix those together and that's it!
With gluten free flours this is still a common process and that's how I make all of my muffins except the cornmeal muffins. To get the light, airy crumb you want in this recipe it's necessary to beat wet ingredients first, and then beat the whole mixture again once it's combined.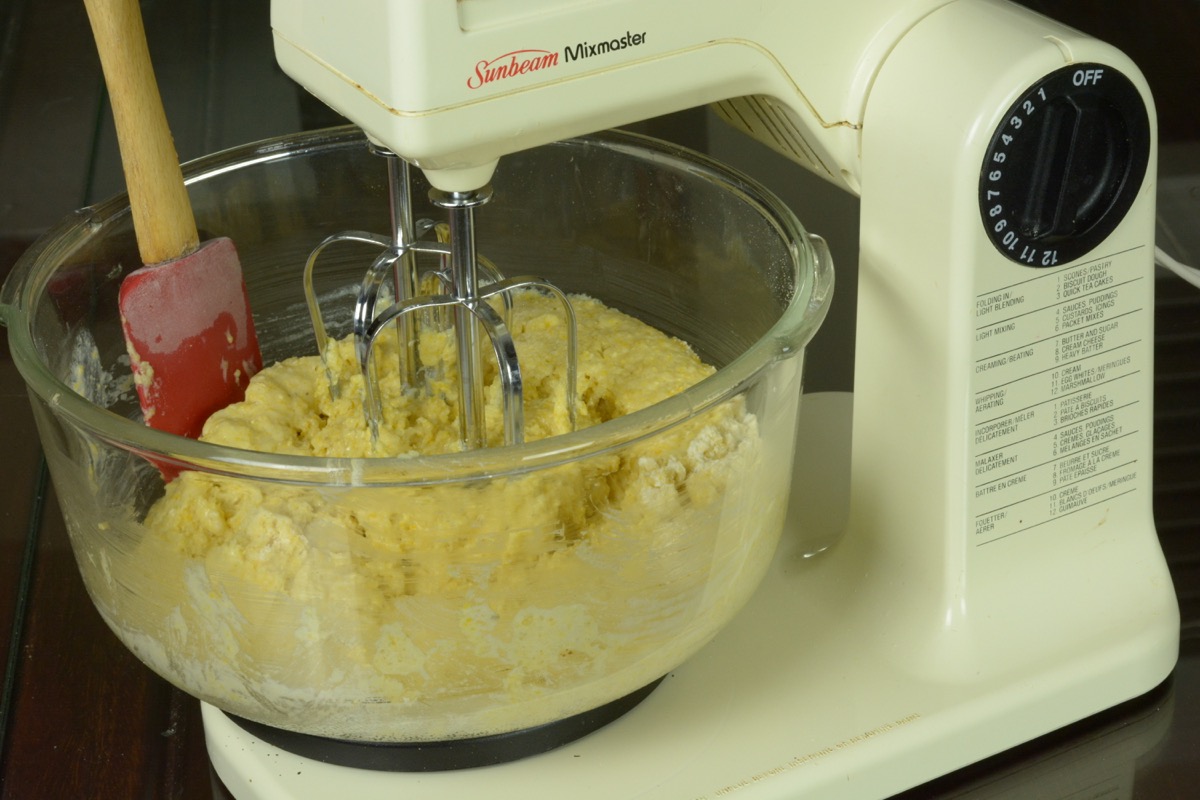 Confessions from my kitchen: I've made the mistake of not beating the batter (more than once). I just glance at the ingredient amounts and start mixing. A dry bowl, a wet bowl and I'm stirring it all together before I notice that important step.
Try not to make that mistake.
PIN for later...
What is a Basic Gluten Free Recipe
You get to decide what a basic recipe is for you. To me, a basic recipe must meet these criteria:
I can find the recipe in 30 seconds or less.
It works in my kitchen every time and I'm confident making tweaks and variations.
I can confirm I have the ingredients (or know what to buy) in less than a minute.
This strategy is perfect for gluten free cooks. Saving a handful of recipes you've mastered can give you lots of options for cooking in every category.
9 Ways To Vary Gluten Free Cornbread
Cornbread can be made sweet or savoury and cooked in any shape of pan you have. Here are nine different ways I vary this basic recipe.
Made in an 8-inch square pan, cut into squares and served warm with corn syrup for breakfast.
Portioned into a regular or mini size muffin pan, usually with berries as Cornmeal Muffins.
Baked as cute little corn sticks in a cast iron molded corn-stick pan because there was a time when I bought every unique pan to make every recipe I saw in a glossy, food magazine.
A cheesy version with shredded cheddar cheese in the batter baked anyway you like. You could add herbs, I might even add a blob of store bought pesto sauce just because I love pesto.
Bacon lovers add bacon (and maybe bacon grease) to cornbread and need no tips on how to do that.
I've even made cornbread in a round cast iron pan over a campfire.
Make a cornbread loaf in regular or mini loaf pans. Fill a loaf pan half way with the batter and top with blobs of jalapeño jelly on top. Draw swirls through the batter with a knife. Top with the remaining batter and bake. This is also excellent with cheddar cheese in the batter and finely chopped jalapeños if you like it hot!
As Cornbread Chorizo Stuffing, like I make for my traditional turkey dinner.
More recently made into Cornbread Sausage Stuffing Balls (which I made immediately upon hearing of this invention).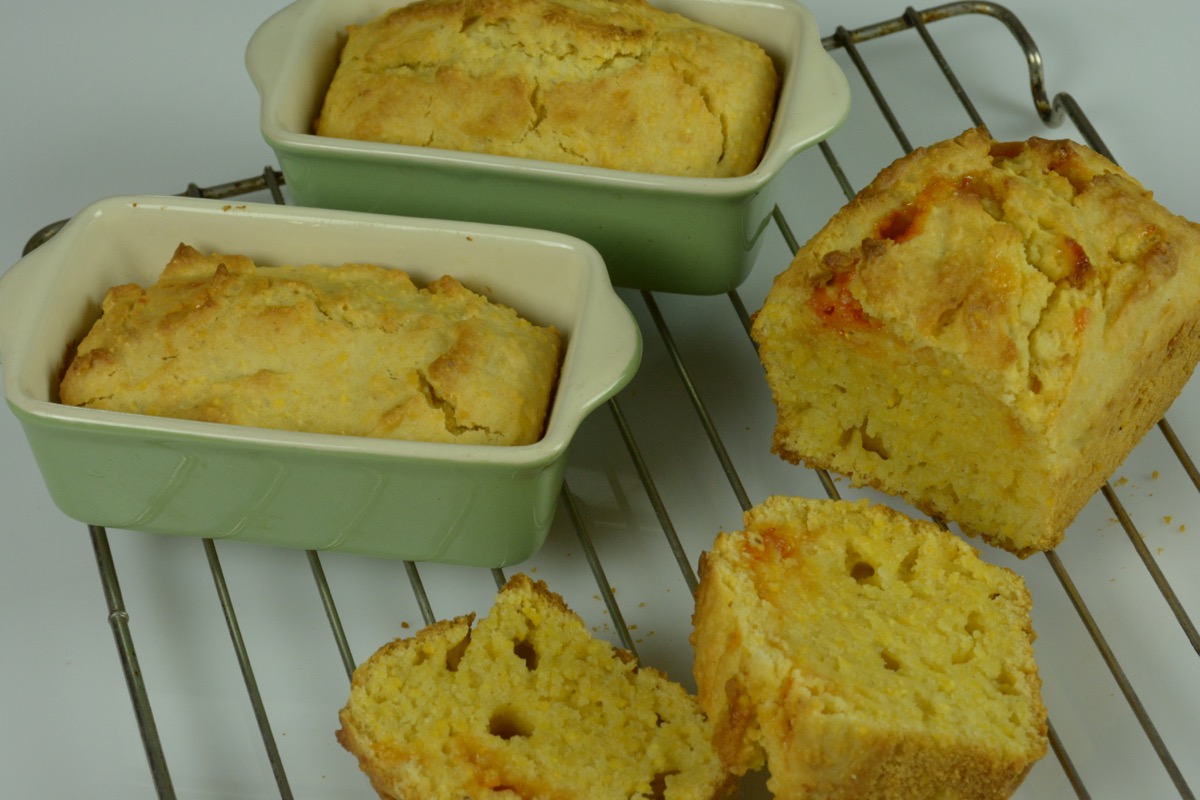 I'd love to hear about your favourite variation for gluten free cornbread in the comments below.
__________________________________________________________________________________________
New here? Join our community and get your FREE resource, the tips I wish I knew when I started cooking gluten free.
Yes, I need 29 Tips For Cooking with Gluten Free Flour.
Still haven't mastered gluten free cooking? Check out our online Cooking Classes.
Originally posted September 2015, updated October 2022.
Recipes to Serve with Cornbread
For a deep dive into corn products check out number four in my 12-part blog post series, How To Use Corn Flour, Cornmeal and Masa Harina. (The updated version will be reposted on Monday!)
Gluten Free Cornbread
This basic recipe for cornbread can be varied to make sweet or savoury muffins, cornbread sticks or a loaf, turkey stuffing and even cornbread stuffing balls.
Ingredients
DRY INGREDIENTS
1

cup

cornmeal

¾

cup

corn flour*

(or substitute EGFG gluten free flour blend*)

½

cup

tapioca starch*

(or substitute EGFG gluten free flour blend*)

⅓

cup

sugar

1½

tablespoon

baking powder

½

teaspoon

xanthan gum

½

teaspoon

salt
WET INGREDIENTS
1

egg

⅓

cup

vegetable oil

1

cup

buttermilk

(substitute regular milk or sour milk)
Instructions
Preheat oven to 400°F. Lightly grease your pan of choice.**

Mix dry ingredients in a bowl. Set aside.

Combine wet ingredients in a mixing bowl and beat with electric mixer until frothy.

Slowly add dry ingredients mixing until combined. Increase to high speed and mix for 1 minute.

Stir in optional ingredients if using.

Pour into prepared pan. Bake 20-25 minutes depending on the size of your pan. Cool 5-10 minutes before cutting to eat warm.

Cut in cubes and cool completely for stuffing. Store all cornbread in an airtight container for maximum freshness.
Notes
*Substitute the total amount of both corn flour and tapioca starch (1

¼

cups), with your favourite gluten free flour blend. Results will vary depending on the blend you use. I use my

EGFG flour blend: 300g sweet rice flour, 300g potato starch, 200g sorghum flour, 200g millet flour. Makes ~ 8 cups.
**Baking time will vary depending on the pan you use. Think of the thickness and remember gluten free baking takes a little longer than baking with wheat flour. 
8-inch square baking pan for everyday

A regular loaf pan or mini loaf pans

Regular or mini muffins

Cast iron frying pan
Cast iron corn stick mold