Gluten free tourtiere, properly spelled with an accent on the first e, tourtière, is a version of the traditional French Canadian meat pie. It's not something my family ever made but it's a holiday tradition for my friends with roots in and near the province of Quebec.
A few years ago we were invited to a Christmas Eve dinner party and asked to bring a dish representing our heritage. I took Bubble and Squeak Patties showing my Scottish roots and two people brought tourtiere.
Everyone loved this simple meat pie so it inspired me to post my gluten free version.
French Canadian Meat Pie
Tourtiere is often served on Christmas Eve after late night mass. In modern times it's popular on Christmas Eve and New Year's Eve buffets as well as any holiday meal.
Naturally there are variations from region to region and family to family. Some recipes use breadcrumbs to bind the meat together while others use mashed potatoes. For my gluten free vrsion I used potatoes and my favourite recipe for flaky pastry.
PIN for later...
This post contains affiliate links. When you purchase using these links your cost is the same, but I receive a few cents for every dollar spent. I appreciate your support for this website.
How To Make Gluten Free Pastry for Tourtiere
The secret to loving a gluten free lifestyle is being able to make anything you want. So for the day you suddenly decide you want to learn to make quiche (or pot pie or pumpkin pie) you can.
Not so many years ago I would have said I don't make pastry often. Now I'm always teaching people the tricks to make gluten free pastry and it's easy.
To use up the last bits of the pastry I make hand pies, little half moon shaped pies that you eat with your hands. They're cute and easy to make plus they cook in less time that a whole pie. That's what I need for a cooking class.
If you're a little intimidated about learning the technique of rolling out a big pastry circle for a whole pie then try hand pies.
Both the whole pie and the small hand pies freeze well. I love finding that in the freezer for my lunch.
Best Tools for Making Meat Pie
Every kitchen needs at least one 9-inch pyrex pie plate (but buy two, always buy two). Pie plates can get fancy with recipes and designs printed onto them but then recipe adjustments need to be made. This recipe is written for the old fashioned basic pie plate with a low profile and you get plenty of filling in each piece.
One of the best resources I have in my kitchen is the two gluten free cookbooks from America's Test Kitchen. They do more testing than any home cook could ever do and I thank them for that. These two books would be a fabulous gift for anyone new to gluten free cooking including yourself.
A Seasonal Strategy
Cooking with a seasonal strategy is the best way I know to enjoy produce at its' peak while adding variety to your meal rotation. But don't limit your seasonal strategy to the produce calendar. Holidays are all associated with traditional dishes plus families have their own quirky traditions around food. Does your family have one?
I'd love to hear about one of your family traditions in the comments below.
---
__________________________________________________________________________________________
New here? Join our community and get your FREE resource, the tips I wish I knew when I started cooking gluten free.
Yes, I need 29 Tips For Cooking with Gluten Free Flour.
Still haven't mastered gluten free cooking? Check out our online Cooking Classes.
More Pastry Recipes
Click on the text on the image(s) to go to the recipe/blog post.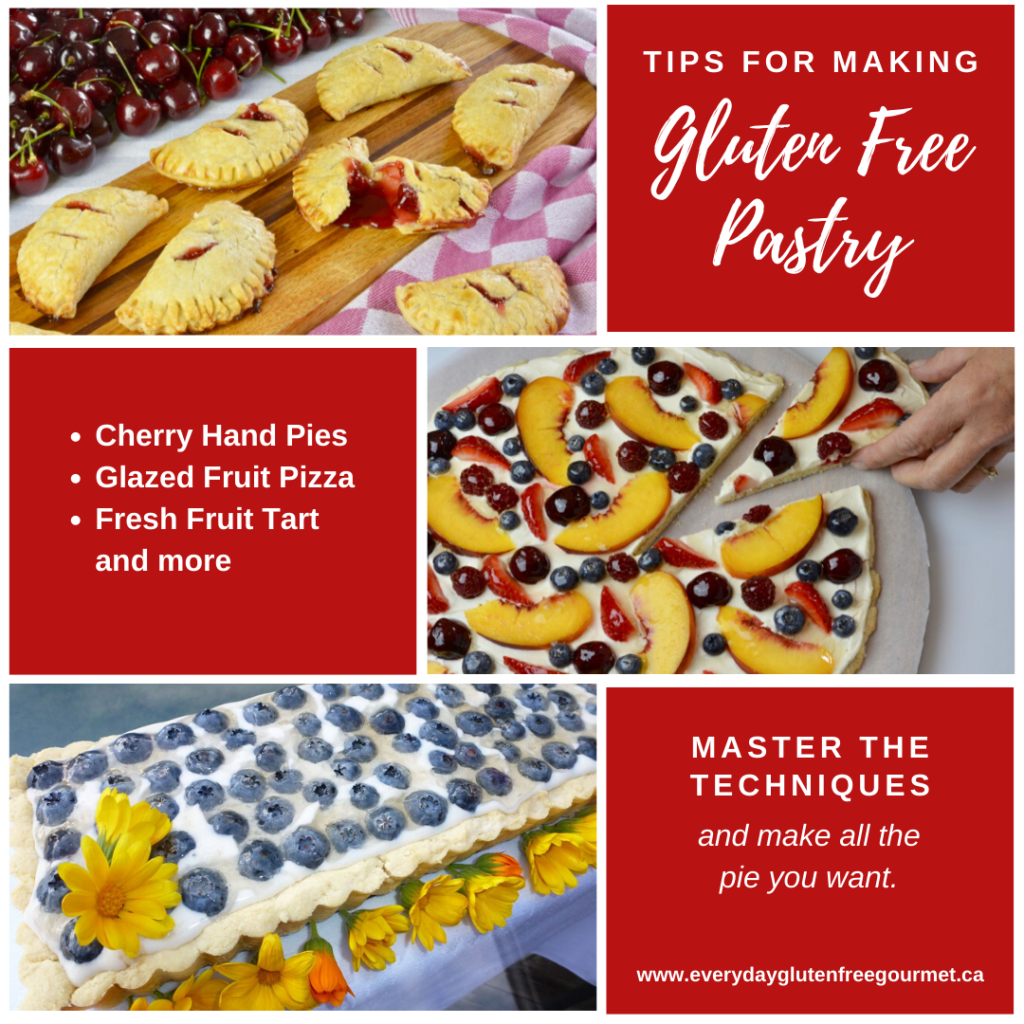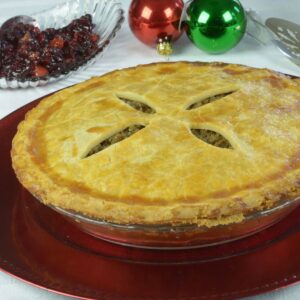 Tourtiere: French Canadian Meat Pie
French Canadian tourtiere is a Christmas specialty but some families make a whole pie or smaller hand pies all year long. I serve mine with cranberry chutney on the side, some people insist it needs ketchup, a throwback from their childhood.
Ingredients
1

double crust pastry recipe*

(enough to make a full top and bottom)
FILLING
1

lb

ground beef

1

lb

ground pork

½

cup

water

1

onion, finely chopped

1

garlic clove, minced

1

teaspoon

thyme

½

teaspoon

ground savoury

(optional)

½

teaspoon

salt

½

teaspoon

pepper

¼

teaspoon

ground cloves

⅛

teaspoon

cinnamon

1

cup

mashed potatoes
ACCOMPANIMENTS
Serve with cranberry chutney, cabbage slaw, pickles or pickled beets.
Instructions
In a large saucepan combine beef, pork, water, onion and garlic. Bring to a boil while stirring to break up meat. Turn down and simmer for 45 minutes (no lid), filling should be moist but not watery.

Add spices and stir to combine.

Remove from heat, mix in mashed potatoes and let cool.
ROLL OUT PASTRY
Roll chilled pastry into 2 large circles slightly bigger than the pie plate.

Transfer one piece to the pie plate pushing it into the sides of the pan.*

Fill pie shell with meat mixture.

Carefully add the second pastry circle on top of the pie. Create a pattern with a small knife. Use your thumb to press the bottom and top pastry into the edge of the pie plate creating a nice pattern. Trim excess dough with a knife.
EGG WASH
Beat egg and milk with fork. Brush the top of pie and bake in preheated oven for 45 – 60 minutes.

Let cool at least 15 minutes before cutting. Serve with desired accompaniments. Freezes well.
Notes
*Recipes calling for a double crust make enough pastry for the bottom shell and a full top. I make pie pastry using my EGFG gluten free flour blend. Here's a link to the recipe, Flaky Pie Pastry with full instructions and video.
EXTRA PASTRY can be u

sed to make hand pies so figure that out before you use up all the filling.