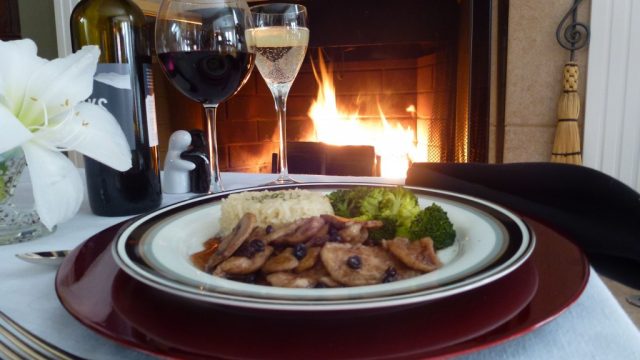 Description
If you're making a Valentine's Day dinner this Chicken Porto is perfect for a romantic dinner for two. With only a few ingredients it comes together quickly and cooking together can be part of the fun. Choosing a recipe with alcohol some how seems special and February 14th is a special day.
Cooking with Port
Port is a fortified wine having had brandy added during the fermentation process. Both ruby and tawny are port wines. Ruby is young and has a deep, ruby colour. Tawny is aged for as long as 20 years and is a brownish, tawny colour. It is less sweet and is often served with a cheese course after a meal.
Serve this Chicken Porto with a green salad and warm cranberry port vinaigrette. The salad has pistachio nuts and Cambozola cheese so is a nice complement to this chicken dish. Follow dinner with a cheese course and an aged tawny port and you will have yourself a 'port themed' dinner. Nice!
I keep a bottle of inexpensive ruby port in my pantry to make these two recipes, Chicken Porto and cranberry port vinaigrette. The salad has pistachio nuts and Cambozola cheese so although both recipes have port in them they complement each other so can be served at the same meal.
PIN Chicken Porto for later…
Accompaniments to Chicken Porto
With Chicken Porto I like to serve rice pilaf, a nice change from plain steamed rice and any green vegetable. This is a pretty simple dinner and could be prepared in thirty minutes if you're organized. That qualifies it for an everyday meal in my books but still, I make it once a year…so many recipes, so little time.
A Romantic Table
Sometimes I am inspired to create a beautiful table setting and plan a romantic evening thinking every step well in advance (although I can't honestly remember the last time I did that). But more often it seems Valentine's Day creeps up on me and I think…yeiks, we should have a nice dinner. So throw a white tablecloth on the coffee table, pull out the good dishes, open a nice bottle of wine and serve this delicious Chicken Porto. This year my dinner will be in front of the fireplace.
Happy Valentine's Day!
---
Valentine's Date Night Menu
Winter Greens with warm cranberry port vinaigrette
Chicken Porto
Steamed or Roasted Vegetable and Rice Pilaf
Ingredients
SAUCE
2 Tbsp currants
¾ cup ruby port
½ cup GF chicken stock
6 Tbsp red currant jelly (black currant jelly or crab apple jelly work too)
CHICKEN
1½ Tbsp butter
1½ Tbsp olive oil
2 small boneless, skinless chicken breasts
salt and pepper to taste
3 Tbsp sweet rice flour
6 large mushrooms, sliced thin
Directions
1

SAUCE

2

Combine currants, port, chicken stock and jelly in a small pan on medium heat and bring to a boil. Simmer for 15-20 minutes to reduce slightly while you prepare the chicken. Can be made a day in advance if desired.

3

CHICKEN

4

Cut chicken into thin slices and place in a wide, shallow bowl.

5

Sprinkle chicken slices generously with salt and pepper.

6

Sprinkle flour over chicken. Using 2 forks or your hands, toss the chicken so the slices are fairly evenly coated with flour.

7

Melt butter and oil in a large sauté pan on medium high heat.

8

Add chicken and sauté for 2-3 minutes per side until chicken is no longer pink.

9

Add mushrooms and sauté for another 2-4 minutes until most of the mushrooms are browned slightly. Pour sauce into the pan and bring to a boil. Cook for 2 minutes.

10

Taste and season with salt and pepper if needed.