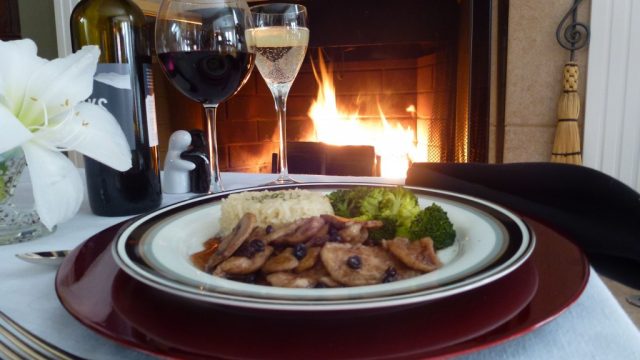 Description
Chicken Porto is an easy winter dish for having friends over but also perfect for a romantic dinner for two. With only a few ingredients it comes together quickly. Recipes with alcohol some how seem special and getting together with friends (or that someone special) is always a reason to celebrate.
Ruby Port vs Tawny Port
Port is a fortified wine having had brandy added during the fermentation process. Both ruby and tawny are port wines. Ruby is young and has a deep, ruby colour. Tawny is aged for as long as 20 years and is a brownish, tawny colour. It is less sweet and is often served with a cheese course after a meal.
I keep a bottle of inexpensive ruby port in my pantry to make these three recipes:
What To Serve with Chicken Porto
With Chicken Porto I like to serve rice pilaf, a step up from plain steamed rice, and any green vegetable. This is a pretty simple dinner and could be prepared in thirty minutes if you're organized.
If you want to follow the theme of port then serve a green salad with warm cranberry port vinaigrette. The salad has pistachio nuts and creamy Cambozola cheese making it a perfect complement to this sweet chicken dish. 
Follow dinner with a cheese course and an aged tawny port. I've served this with Poached Pears as well for a real gourmet dinner.
PIN for later…
This post contains affiliate links. When you purchase using these links your cost is the same, but I receive a few cents for every dollar spent. I appreciate your support for this website.
How To Create a Special Table (in 1 Minute)
Sometimes I'm inspired to create a beautiful table setting and other times it's casual in front of the fireplace. Create the feel you want but throwing a white tablecloth on the coffee table and using the good dishes makes anything feel special.
Whether you're celebrating the purchase of your port or having a quiet dinner, Chicken Porto is a great choice. Let me know in the comments below what you thought.
---
If you're new here join our community and get your FREE resource for baking and cooking, 29 Tips I wish I knew when I started.
Yes, I need 29 Tips For Cooking with Gluten Free Flour.
New to gluten free? Check out our virtual and in-person Cooking Classes or visit NEW TO GLUTEN FREE.
---
Yes, I need 29 Tips For Cooking with Gluten Free Flour.
New to gluten free? Ready to learn more? Check out our virtual and in-person Cooking Classes.
---
---
A Port Menu or a Romantic Dinner for Two
Winter Greens with warm cranberry port vinaigrette
★
Chicken Porto
Steamed Vegetables and Rice Pilaf
★
Pears Poached in Port with Cranberries
or
Ingredients
SAUCE
2 Tbsp currants
¾ cup ruby port
½ cup GF chicken stock
6 Tbsp red currant jelly (black currant jelly or crab apple jelly work too)
CHICKEN
1½ Tbsp butter
1½ Tbsp olive oil
2 small boneless, skinless chicken breasts
salt and pepper to taste
3 Tbsp sweet rice flour
6 large mushrooms, sliced thin
Directions
1

SAUCE

2

Combine currants, port, chicken stock and jelly in a small pan on medium heat and bring to a boil. Simmer for 15-20 minutes to reduce slightly while you prepare the chicken. Can be made a day in advance if desired.

3

CHICKEN

4

Cut chicken into thin slices and place in a wide, shallow bowl.

5

Sprinkle chicken slices generously with salt and pepper.

6

Sprinkle flour over chicken. Using 2 forks or your hands, toss the chicken so the slices are fairly evenly coated with flour.

7

Melt butter and oil in a large sauté pan on medium high heat.

8

Add chicken and sauté for 2-3 minutes per side until chicken is no longer pink.

9

Add mushrooms and sauté for another 2-4 minutes until most of the mushrooms are browned slightly. Pour sauce into the pan and bring to a boil. Cook for 2 minutes.

10

Taste and season with salt and pepper if needed.