Everyone needs a "go-to" Easy Bean Salad and this is my take on my mom's recipe. It's full of fibre and there's lots of room for variation depending on the beans you like and what's in your cupboard.
Green beans from the garden are always a favourite for me so I definitely make this bean salad in the summer. I'm sure my mom used canned beans and made it year round.
My mom's recipe called for beans in a 14-oz can but that size is now harder to find. The amount of dressing in this recipe is enough to make it using two 19-oz cans of beans so that's how I wrote it. Unlike baking, you don't need to be precise with your measurements here. If you have another recipe that needs half a can of beans just use up the rest of the can in this salad.
For this photo I wanted the traditional look with lots of kidney beans. When my son was young he loved kidney beans right out of the can so that's how I made it. Nowadays the full recipe with two cans of beans is too big for me so I most often make this salad with a single 19-oz can of mixed beans. I also portion it right into the Mason jars like you see here for the grab-and-go convenience.
PIN for later...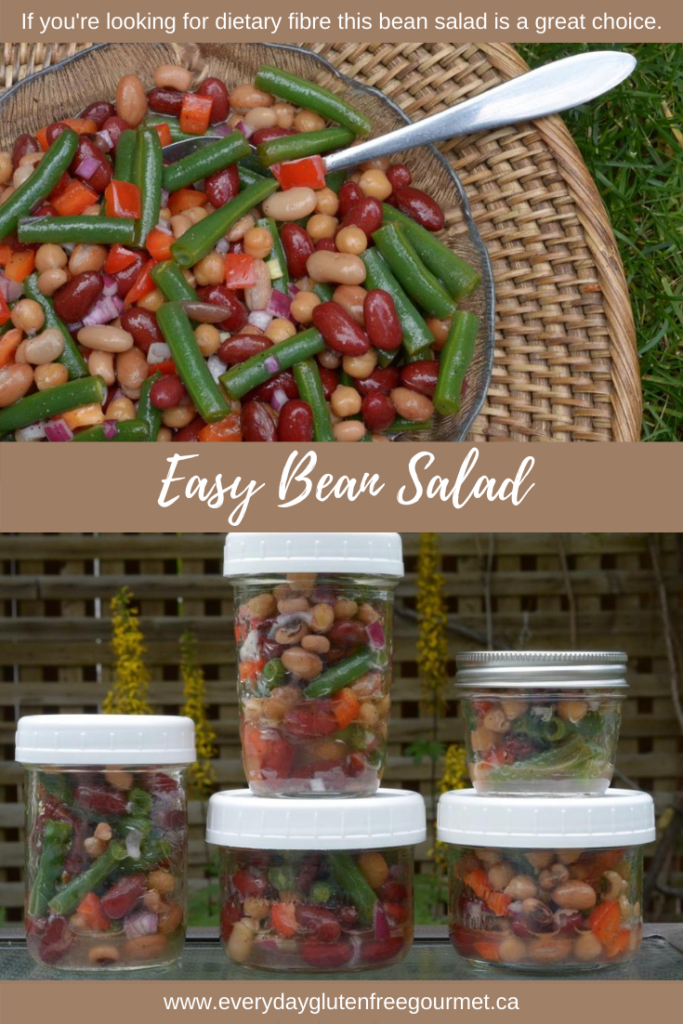 The F Word - Fibre
Back in the day my friend was a foods teacher in high school and she loved to talk about fibre calling it the F word. Fibre is important for everyone but especially for people on a gluten free diet.
A good place to start is knowing what foods are high in fibre and incorporating a good variety of them into your diet. Here's a list I found of the top 10 high fibre foods. Can you think of something you like to eat for every one of these foods?
Beans
Broccoli
Berries
Avocados
Popcorn
Whole Gluten Free Grains
Apples
Dried Fruit
Potatoes
Nuts and Seeds
Get The Tools - Organize For Success
I love clear Mason jars, also known as jam jars, and I have plenty of sizes. My simple two-lid system makes it easy to store the lids together and always find one that fits. Here are some of the ways I use my jars.
That's seven different sizes of jars that I use with just two lids! When someone gives me a jar that has a different size lid I be sure to return it. If I can't give it back then I'll fill the jar with something homemade and pass it on with a note, "don't return the jar."
I hope you'll give this recipe a try and see if your kids like it. Then tweak it to suit your taste and add the recipe to your list of healthy salad choices. Let me know in the comments below how it worked.
---
More Recipes with High Fibre Foods
Easy Bean Salad
Everyone needs a go-to Easy Bean Salad and this one is a take on my mom's recipe. It's full of fibre and there's lots of room for variation.
Ingredients
BEAN SALAD
1

can

mixed beans*, rinsed and drained

(19 oz/540 ml)

1

can

kidney beans**, rinsed and drained

(19 oz/540 ml)

1½

cups

cooked green beans

(or canned cut beans)

½

cup

chopped white or red onion

½

cup

chopped red, green, orange or yellow pepper
DRESSING
⅓

cup

vegetable oil

⅓

cup

sugar

⅓

cup

vinegar

(rice wine, white wine)

½

teaspoon

salt

½

tsp

pepper
Instructions
In a large bowl combine beans, onion and pepper.

Mix dressing ingredients in a jar or measuring cup. Pour dressing over the beans and stir. Refrigerate overnight.

Serve in a large serving bowl or divide into Mason jars for ready-to-eat portion sizes.
Notes
*The original recipe was 1 can of chickpeas and 1 can of kidney beans but I prefer to half the recipe and use any can of mixed beans.
**For the typical bean salad look I used 1 can of mixed beans and half a can of kidney beans.