Apple Quinoa Salad with feta is a high fibre salad that's perfect for any lunch bag. Pack it right into Mason jars so it's ready to grab and go. This is a healthy, year round salad! It's a welcome addition to a summer barbecue or any Pot Luck event.
The pasta salads and rice salads that used to show up at Pot Luck events have been replaced by quinoa salads for better nutrition. If you have an old favourite recipe then substitute quinoa and create a new favourite. If you see a recipe calling for gluten containing grains like bulgur or couscous simply substitute it with quinoa and you're sure to find some new favourites.
Fibre and the Gluten Free Diet
Have you integrated quinoa into your cooking repertoire? I'm sure you've heard all the benefits of this super food that has been around for over five thousand years. It seems like everyone wants to know why we have not been eating quinoa every day. I guess some of us are slower to change than others. Get some quinoa in your kitchen, that's the first step. Then make some salads and some hot quinoa dishes too.
Making Apple Quinoa Salad Out of Nothing
Obviously you can't make a salad out of nothing. On a day when it feels like there is nothing in my kitchen but a few apples on the counter I can make this recipe. I always have feta cheese in my fridge and a selection of nuts in my pantry so this Apple Quinoa Salad is the perfect choice.
Organize For Success - Cold Salads
Plan ahead and make extra quinoa when you are cooking dinner or even put a pot on while you are cleaning up. I put the cooked quinoa in the fridge and am one step closer to having that salad made. If you love quinoa check out this post that has tips for cooking the many varieties available.
In the comments below let me know what goes in your favourite quinoa salad.
---
More Recipes – Cold Salads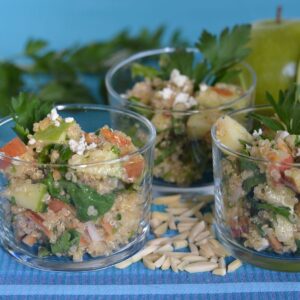 Apple Quinoa Salad with Feta
This high fibre salad is perfect for any lunch bag. Pack it right into Mason jars and it's ready to grab and go.
Ingredients
QUINOA
⅔

cup

uncooked quinoa

(or 2 cups cooked quinoa)

1⅓

cups

gluten free chicken stock

or water
SALAD
2

crisp apples, chopped

(1 red and 1 green)

2

cups

spinach, arugula or a combination

½

cup

red onion, diced

½

cup

slivered almonds, lightly toasted

½

cup

fresh parsley, chopped

(or add 2 tablespoon dried to the dressing)

½

cup

crumbled feta cheese

salt and pepper to taste
MUSTARD DRESSING
1

tablespoon

Dijon mustard

(or grainy mustard)

2

teaspoon

dried rosemary

1

garlic clove, finely chopped

3

tablespoon

apple cider vinegar

1½

tablespoon

lemon juice

2

teaspoon

maple syrup

½

teaspoon

black pepper

½

cup

olive oil
Instructions
Put quinoa and chicken stock in a saucepan. Bring to a boil, put the lid on and reduce heat to simmer for 10 minutes. Remove from heat and leave the lid on for a few minutes. Fluff with a fork then transfer to a large bowl to cool. Can be made in advance and refrigerated.
MUSTARD DRESSING
Combine all ingredients, except oil, in a tall container. Using an immersion blender slowly drizzle the oil in with the blender on. Set aside.

Combine quinoa with remaining ingredients. Pour dressing over everything and toss. Taste and adjust seasoning as needed.

Garnish with additional crumbled feta cheese if desired.