There's no end to ideas for gifts for a gluten free kitchen any time of year. Living with celiac disease is hard and a new diagnosis is often overwhelming. It affects the way you live, cook and eat so involves the whole family and even extended family. In this post I'm sharing my gift ideas so feel free to share it with all your family. (hint hint)
A gluten free lifestyle requires some level of culinary skill. Not like you see on TV, just the ability to cook the foods you love. A little curiosity and an open mind is all that's needed.
I've divided my ideas into five categories but there's lots of cross over so read the section for Celiac Kids too since we're all a kid at heart!
Organization and Cross Contamination
Kitchen Basics & Gadgets
Big Tools
Gluten Free Bakers
Gifts for Celiac Kids
This post contains affiliate links. When you purchase using these links your cost is the same, but I receive a few cents for every dollar spent. I appreciate your support for this website.
YouTube - Gifts for a Gluten Free Kitchen
I post a new video every week and this one is kitchen gift ideas.
Organization and Cross Contamination
One of my sayings is organize for success because organization is what makes difficult jobs easy and simple tasks quick. Cross contamination is the biggest challenge yet the most important consideration in every kitchen.
| | |
| --- | --- |
| Make it personal: | Include a redeemable card to spend an afternoon together organizing an area in the kitchen. Pop in a favourite beverage to be enjoyed with the task. |
| | Add tea towels or an apron with a funky pattern or the perfect saying. I've got tea towels from around the world and more than one with a saying about wine. |
Kitchen Basics and Gadgets
This list could go on forever so remember who you're giving to and what they like to do in the kitchen. Maybe you can embark on a new culinary adventure together.
Kitchen Gadgets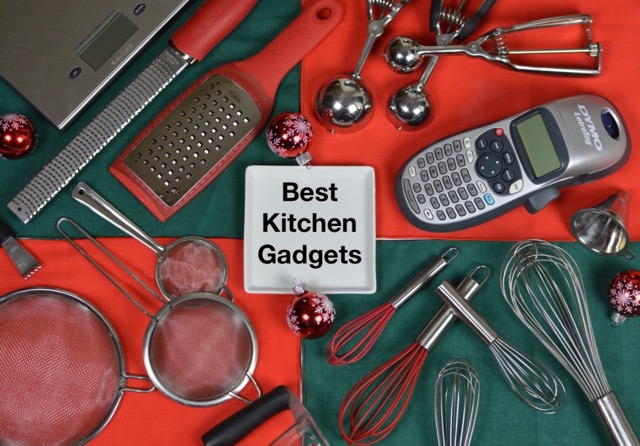 | | |
| --- | --- |
| Make it personal: | Families all have inside jokes so tie that into your gift and create a theme. Whether you have a fruit tree in your backyard or an annual ritual making salsa, every cook needs gadgets. |
| | If your person aspires to improve their culinary skills think of the items you see on TV like a kitchen blow torch or fancy Microplane graters. |
PIN for later...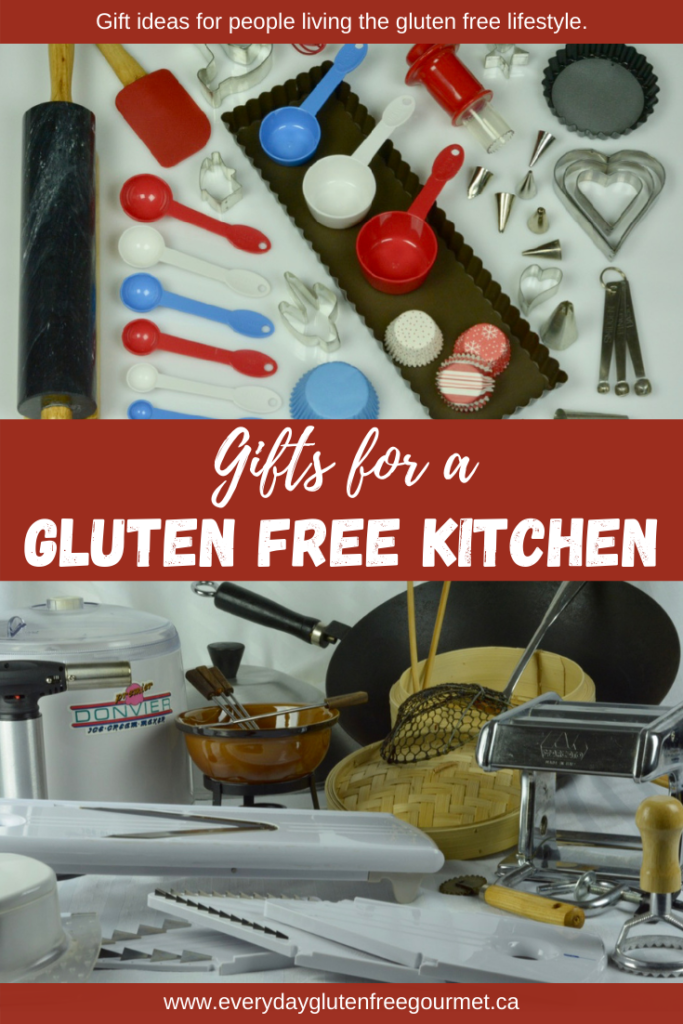 Big Tools
| | |
| --- | --- |
| Make it personal: | The old pancake griddle is not safe for a gluten free diet. Instead of making separate pancakes in a pan start a new tradition for the whole family with waffles. |
| | You can buy gluten free ice cream but when making it is part of the fun that becomes a lifestyle. Teach your kids to think like that and they'll always have a built in reward for their efforts. |
Gluten Free Bakers
There's no end to the baking supplies you can buy for the gluten free kitchen. An open mind is the only essential ingredient for gluten free baking.
Cookie Lovers
That old wooden rolling pin, even if you only used it once a year, will surely have wheat embedded into it. Start with a new rolling pin and include related items for pie aficionados or cookie monsters.
There's no end to unique cookie cutters and themed sets. I also love sets of mini cookie cutters to maximize the number of cookies I can cut when I roll out the dough. Plus everyone loves my gingerbread men with a heart cut out of the middle!
Gifts for Celiac Kids
Colourful sets of dishes and all types of to-go containers help everyone easily identify dishes that are designated gluten free. Wrap every container and lid separately, fill a gift box or useful container with them and finish it off with Christmas candy you know this person loves.
Chocolate Fondue Pot or a Cheese Fondue Pot because everyone likes dipping. Living gluten free usual means you won't eat anything that involves dipping unless you're at home and you made it. Fondue is the only time double dipping is allowed!
Kids love using portion scoops for ice cream, cookies, muffins, meatballs and more so buy a set of three. They make so many jobs easy they are a must in every kitchen.
| | |
| --- | --- |
| Make it personal: | For the chocolate theme add a pound of chocolate, for ice cream add sundae dishes and all the toppings you can think of. |
| | Gluten free kids often take on the task of making their own birthday cake. Include colourful paper liners, tools for icing, candy sprinkles and candles to personalize your gift. |
Did this get your creative juices flowing? I'd love to see or hear about the gifts you created. Whether your gift wrapping style is duct tape all the way or a stunning gift with beautiful ribbons and bows, I hope your gift makes someone happy to be on your Christmas list this year.
Happy Holiday and wishes for a New Year filled with thoughtful giving.
---
More Gift Ideas
This post, Best Kitchen Gadgets From My Kitchen will have repetition but give you more ideas to make thoughtful gifts for a gluten free kitchen all year round.