This Butternut Squash and Pancetta Penne is a simple pasta dish that's perfect for a weeknight dinner. We all have days when we're running out of fresh produce and don't want to go for groceries. This is a recipe for one of those days.
Butternut is a hard skinned, winter squash and will keep for weeks. I like to have one in my pantry all fall and winter. I buy it with no recipe in mind knowing I'll use it for something. They vary in size but one squash is usually more than enough for this recipe.
People are raving about delicata squash but butternut is still my favourite. It's versatile and in my opinion, it's also the best of the squash family.
What is the Best Gluten Free Pasta
Pasta can be a quick meal and so a handful of everyday pasta dishes is a lifesaver. There are so many gluten free pastas available that the challenge now is finding a family favourite.
If you're cooking two dinners for dinner, every time you make pasta, stop it. Get a tasting challenge going in your house and buy different pastas.
Make your go-to recipes with the different brands of pasta until you find a winner.
In case you haven't heard, Italy knows a thing or two about celiac disease and pasta. Include some Italian stores in your search to find your go-to pasta brand.
That's a time saving tip if you were looking for one!
Tips for Cooking Gluten Free Pasta
You still need to master cooking gluten free pasta and I've shared tips for that in many of my pasta recipes. Here it is in point form:
Pasta continues to cook while it cools and can quickly turn to mush. Read the package directions and taste it at the earliest time.
When cooked, rinse briefly in cold or lukewarm water to stop cooking and drain again.
Have the sauce and the people who want hot pasta ready.
Immediately add pasta to the sauce so it doesn't continue to cool.
Heat the bowls if it's convenient or for a special dinner.
Serve immediately.
How To Cut Butternut Squash
The tough outer skin of a butternut squash is hard so it's difficult to cut, even dangerous when you get a big knife stuck half way through it. To soften the skin simply microwave the whole squash on high for one or two minutes. It will then be easy, and safe, to cut in half.
I use my grapefruit knife with a serrated rim to remove the seeds. Place the squash cut side down on a cutting board. Now it can be roasted whole or cut into slices with the skin on.
For recipes like this one you need peeled squash. Remove the skin with a vegetable peeler or knife. Cut it into big chunks or smaller cubes.
This post contains affiliate links. When you purchase using these links your cost is the same, but I receive a few cents for every dollar spent. I appreciate your support for this website.
How To Cook Butternut Squash
Butternut squash can be steamed, microwaved or roasted.
Roast squash halves or pieces at 400°F for 20-30 minutes or 350°F for 40-50 minutes. Refer to my Roasted Root Vegetables for a more complete description.
I steam squash in the microwave and you can make this recipe more quickly by doing that. Place cubes in microwave safe dish with 1-2 tablespoons of water. Cover and microwave for 4-5 minutes. Cool or use immediately.
Squash can be made into a velvety puree whether it is steamed or roasted.
10 Ways To Use Butternut Squash
Appetizer: Butternut Squash Soup shooters or maybe use it instead of carrots in this recipe for Roasted Carrot Hummus.
Salad: Roasted butternut squash goes well with goat cheese and would be perfect instead of beets in this recipe, Salad with Beets, Goat Cheese and Pine Nuts. Try pumpkin seeds instead of pine nuts.
Soup: Smart cooks can make a simple Butternut Squash Soup and serve it in a bowl with a fancy pattern made with whipping cream or thinned yogurt. If you're trying to get your kids in the kitchen this is a fun job for any age. Make little hearts with a toothpick, blobs and swirls, random zigzags or even a spider web.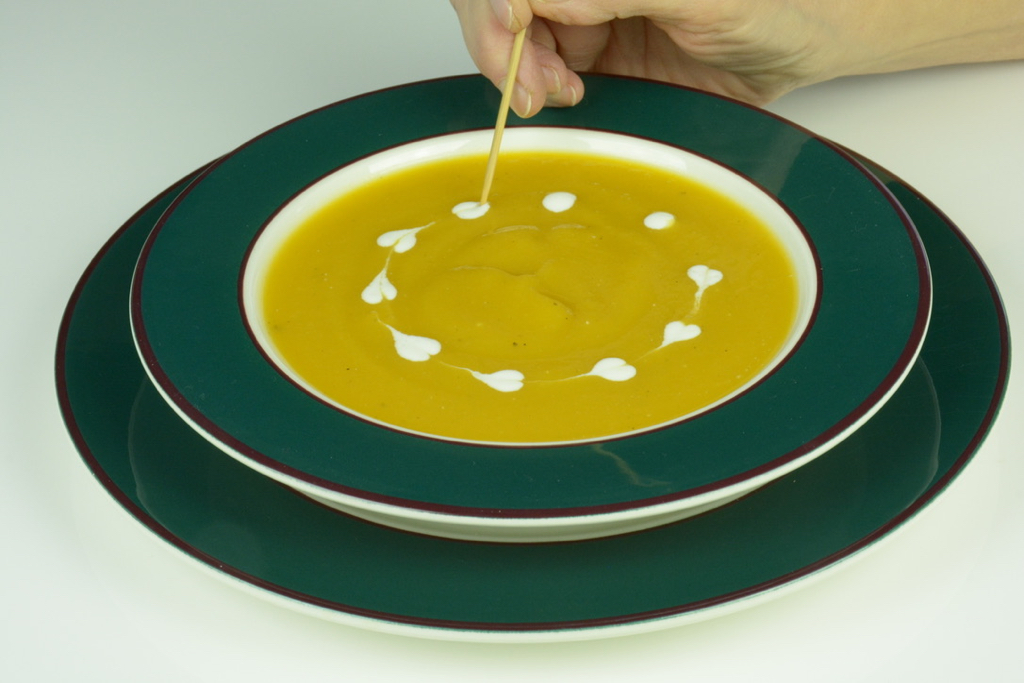 Sides: Include butternut in this recipe for Roasted Root Vegetables or roast butternut on it's own in any shape you like. If you've got a sweet tooth substitute butternut in this recipe for Maple Glazed Carrots.
Fancy sides: Make this Risotto recipe with butternut squash and serve it in a little pumpkin.
Main course: Add butternut to almost any lasagna recipe, Greek Moussaka or pasta.
Pancetta vs Bacon vs Prosciutto
Pancetta is cured pork belly and is considered raw but can be eaten out of the package. It is often cooked in dishes similar to how you would use bacon. Prosciutto is served right out of the package on a charcuterie board, wrapped around anything or topped on a pizza.
These three pork products taste quite different from each but are often used as substitutes. You can simply omit the meat in this recipe for a Meatless Monday meal.
Prepackaged pancetta, sliced or cut in tiny cubes, is readily available and labeled gluten free. It keeps like sandwich meat in the fridge so next time you see it give it a try.
This recipe is adapted from Gennaro Contaldo, an Italian restaurateur and partner on Jamie Oliver's Food Tube. If you enjoy documentaries, Two Greedy Italians who are passionate about food is fun to watch.
Let me know in the comments below if you have a favourite butternut squash recipe or if you tried something new.
Originally posted in 2016, updated October 2022.
---
More Pasta Recipes
Butternut Squash and Pancetta Penne
Butternut Squash and Pancetta Penne is an easy weeknight dinner when you've got a butternut waiting for you in your pantry and a favourite brand of pasta.
Ingredients
2

tablespoon

olive oil

4

oz

pancetta slices cut into strips

(or pancetta cubes)

½

onion, chopped fine

½

small red chile, sliced

1

lb

butternut squash, cubed*

1

teaspoon

dried rosemary

4

cups

gluten free chicken stock

1

lb

gluten free penne

(or pasta of your choice)

salt and freshly ground pepper to taste

grated Parmesan cheese to taste
Instructions
Heat olive oil in sauté pan over medium-high heat. Add pancetta, onion and chile. Cook stirring for about 3 minutes.

Add squash, chicken stock and rosemary, bring to a boil. Reduce heat and simmer for 20 minutes until squash is tender and liquid has reduced slightly. Add more chicken stock if needed.

Boil water and cook penne according to package directions.**

Cover with a generous amount of Parmesan cheese and freshly ground black pepper.
Notes
*Microwave butternut squash cubes if you want to speed up the cooking time. Place cubes in microwave safe dish with 1-2 tablespoons of water. Cover and microwave for 4-5 minutes. Cool or use immediately.
**Pasta continues to cook while it cools and gluten free pasta can quickly turn to mush. Rinse briefly in cold or lukewarm water. Immediately add it to the sauce so it doesn't get cold. Serve immediately.