In October I'm often drawn to serving something in little pumpkins, this time it's Pumpkin Risotto. The pumpkins look cute and when served on a black plate it creates a deliciously dramatic affect.
Since rice is naturally gluten free it makes sense that anyone on a gluten free diet would want to try 'all the dishes'. The list is long but for me it includes classic dishes like Spanish paella, Creole jambalaya, Thai coconut rice, French rice pilaf and of course Italian risotto.
PIN for later...
This post contains affiliate links. When you purchase using these links your cost is the same, but I receive a few cents for every dollar spent. I appreciate your support for this website.
Risotto - The Method
Risotto is made with short-grained Arborio rice, sometimes labeled risotto rice. The technique for making risotto involves stirring small amounts of hot stock into the rice during the entire cooking time. The liquid is absorbed slowly allowing the rice to release its starch creating the rich, creamy consistency desired.
Kitchen Tips For Risotto
Use the stopwatch setting on your

kitchen timer

Keep the stock warm and have extra in case you need it

Pay close attention at the beginning and adjust the heat as needed

Stir frequently
Once you're comfortable with the risotto method you can look for interesting recipes or create your own variation.
Sugar Pie and Jack-Be-Little Pumpkins
As the name implies, Sugar Pie pumpkins are often considered the ideal pumpkin for making pie. However, I like to find the smallest ones for serving whole filled with soup or a rice concoction. The tiny Jack-Be-Little pumpkins can also be used for a smaller portion. Although they are most often used as a decoration they are edible and make a gorgeous side dish for any autumn meal.
Pumpkin vs Butternut Squash
Butternut squash is hands-down my favourite squash. I often have one in my pantry and use it many different ways. This risotto can be made with butternut squash but I chose pumpkin because I wanted to serve it inside pumpkins. Either way it makes a delicious autumn side dish.
Tools and Techniques
Every kitchen needs some basic tools starting with a good knife (this 10 inch Chef's knife is my choice), a sturdy cutting board and a good quality set of pots and pans. To make risotto I use the large saucepan from my set.
Cutting Winter Squash – Squash that has hard skin like pumpkin and butternut can be difficult to cut. Microwave the whole squash for one minute to soften the exterior and it will be much easier to cut. Even one minute partially cooked the mini pumpkins but I was going to cook them right away so I didn't worry about that.
Removing Squash Seeds - I use my grapefruit knife and grapefruit spoon. to remove the seeds and string from inside winter squash. They both have a serrated edge that catches the sides of the squash better than any other tool I've tried. If you have a rarely used melon baller in your drawer you can try that too.
Let me know in the comments below if you have a favourite rice dish or if you tried this risotto.
---
More Rice Recipes
Click on the text on the image(s) to go to the recipe/blog post.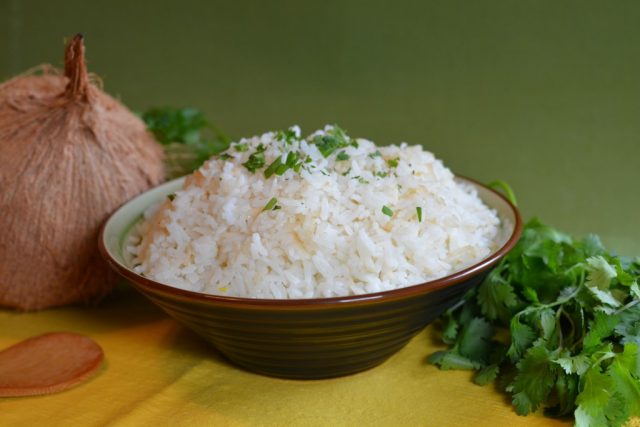 Pumpkin Risotto
Every fall I look for things to serve in little pumpkins. Here it's Pumpkin Risotto in sugar pumpkins, a beautiful fall dish with a stunning presentation.
Ingredients
5

small sugar pumpkins

(about 10 oz each)

4-5

cups

unsalted, gluten free chicken stock**

2

tablespoon

butter (first amount)

½

onion, finely chopped

½

cup

finely grated fresh pumpkin

1¼

cups

Arborio rice

2

tablespoon

butter (second amount)

¼

cup

grated Parmesan cheese

EXTRA – oil, salt and pepper
Instructions
Cut 1 pumpkin in half. Peel and grate ½ cup for risotto. The remainder of this pumpkin can be baked with the whole pumpkins or reserved for another use.

Cut tops off remaining 4 pumpkins, about 1-inch down from the stem. Remove seeds and string.

Rub pumpkins, including the top, with a bit of oil.

Generously salt and pepper the interior of each pumpkin.

Place empty pumpkins on baking sheet and bake in preheated oven 40-50 minutes until the flesh is soft.
RISOTTO
While pumpkins are cooking bring chicken stock to a simmer and leave on low heat.

In a sauté pan melt first 2 tablespoon butter.

Add onion and sauté until softened, about 5 minutes.

Add grated pumpkin and cook, stirring, for 1 minute.

Add rice and stir well until rice grains are coated with butter.

Add first ½ cup hot stock and set a stopwatch* to start timing. Stir the mixture until the liquid is absorbed.

Adjust the heat to a low simmer so each addition of liquid is absorbed in 2-3 minutes.

Continue adding stock ½ cup at a time, stirring frequently.

Taste for doneness at 18 minutes. Continue adding stock until the rice is done and has a nice, creamy texture. Al dente the Italians would say.

Remove from heat and stir in remaining 2 tablespoon butter and Parmesan cheese.

Taste and adjust seasoning with salt and pepper.

Spoon risotto into cooked pumpkins and add pumpkin lid. Reheat in oven if needed. Serve warm.
Notes
*I use a stopwatch setting to monitor the entire cooking time so the minutes continue counting up through the final tasting process. If it takes 30 or 35 minutes until it's done I know I wasn't paying close enough attention and adjusting the heat at the beginning of the process. Good luck!
**Using salted chicken stock may make the risotto overly salty. Get in the habit of tasting your food before you serve it.
Tiny Jack-Be-Little pumpkins are typically used as a decoration but they can also be filled with a smaller portion of risotto.