Butternut Squash Soup has a southwestern flare with blackened poblano chiles and cumin. Add more liquid and you've got elegant soup shooters! Omit the chiles and you can make this soup with roasted carrots or parsnips flavoured however you like.
Butternut squash will keep in the pantry for weeks so I like to keep one on hand all the time. The texture is velvety smooth making it perfect for soup and the taste is a cross between sweet potato and pumpkin. It is perfect for roasting and can be used in salads, pasta or as a side dish too.
KITCHEN TIP - Winter squash, like butternut, are very hard and cutting them can be tricky. You only have to get your knife stuck in a squash once to know what I'm talking about. The solution is the microwave. Simply cook on high for one minute to soften the squash enough to cut through.
Chile Know How
The world of chiles is exciting and they bring unique flavours to dishes from cuisines around the world. These are just a few of the chiles I cook with and have posted Mexican and southwestern dishes using them.
Fresh serranos, jalapeños and the dried jalapeños called chipotles (as powder or in adobo sauce).
Dried ancho chiles, called poblanos when they're fresh.
Mild Anaheim chiles.
So many recipes...so many chiles. Yum! (I can smell those Braised Beef Short Ribs with Coffee Ancho Chile Sauce.)
This soup uses roasted poblano chiles that are blackened and steamed. They're a large mild, dark green chile that is often stuffed and baked. Chiles are at their peak in the fall but they're readily available in the produce section right through the winter.
If you're the least bit intimidated about using chile peppers you're not familiar with, remember three things when choosing recipes and shopping.
The smaller the hotter.
The names sometimes change when they are fresh or dried.
Search Goggle images before you shop to make sure you know what the chile you want looks like. The signs aren't always accurate.
Butternut Squash Soup Shooters
Sometimes it's just fun to serve soup shooters and this Butternut Squash Soup with Poblano Chiles (or without) is perfect for this appetizer. So pull out those liqueur glasses in the back of the cupboard and do it. It's a perfect idea to serve a single soup recipe to a large crowd. Be sure to add the garnish for that gourmet presentation.
PIN for later...
This post contains affiliate links. When you purchase using these links your cost is the same, but I receive a few cents for every dollar spent. I appreciate your support for this website.
Get The Tools
Here are a few things I used to make this recipe.
Let me know in the comments below if you tried this soup and if you served the shooters.
Originally posted October 2017, updated February 2022.
More Recipes - A Year of Soup & Chile Recipes
Click on the text on the image(s) to go to the recipe/blog post.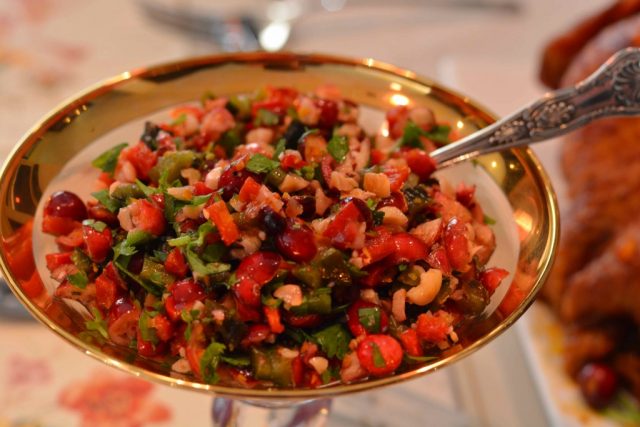 For my Year of Soup list I assigned this Butternut Squash Soup to October when squash is coming into season. On your list you can put it wherever you want. Here's my Year of Soup.
Butternut Squash Soup with Poblano Chiles
This Butternut Squash Soup has a southwestern flare with cumin and poblano chiles. It can also be made without chiles, see notes for variations and tips for serving soup shooters.
Ingredients
2

lb

butternut squash

(about 4 cups cubed squash)

2

poblano chile peppers

(optional)

1

tablespoon

olive oil

1

small onion, chopped

1

large garlic clove, finely minced

t

teaspoon

cumin

5-6

cups

gluten free chicken stock

1

teaspoon

salt

½

teaspoon

pepper

GARNISH - sour cream, toasted pumpkin seeds and fresh cilantro. For a cream drizzle or heart pattern use thickened whipping cream or yogurt thinned with cream.
Instructions
Cut squash in half and remove seeds. Place cut side down on a parchment lined baking sheet. (For cubed squash toss with olive oil and place on baking sheet.)

Bake in 350°F oven for 45-60 minutes until cooked through. Allow to cool slightly then spoon squash out of skin. Set aside.

Blacken poblano chiles over a gas flame or under the broiler, turning to blacken on all sides. Place chiles in plastic bag and steam for 10 minutes. Pull as much blackened skin away from chile as possible. Remove seeds and roughly chop. Set aside.

Heat oil in a large pot over medium heat.

Sauté onion and garlic until translucent, 4-5 minutes.

Add chopped poblano chiles and cumin. Sauté stirring until fragrant, 2-3 minutes.

Add squash and chicken stock, bring to a boil and simmer 15 minutes. Cool slightly then puree in batches using a food processor, hand blender or food mill. Return to pot, taste and season with salt and pepper.

To serve as soup shooters - Add additional chicken stock to get the desired consistency. Garnish each shooter with sour cream, toasted pumpkin seeds and fresh cilantro.

To serve in bowls - Make a ring of tiny dots using slightly thickened whipping cream or yogurt thinned with cream. Use a toothpick or skewer to draw a line through the dots creating a heart pattern. Add toasted pumpkin seeds and cilantro if desired.
Notes
Kitchen Tip for Cutting Winter Squash - Microwave a whole butternut squash for 1 minute to soften the hard skin and more easily cut it in half. Soup Shooters – Use a small funnel to pour hot soup into the glasses without getting the sides all messy.  A slightly thinner soup is easier to drink in one or two shots. Garnish as desired. Variations - Omit the poblano chiles and cumin for a plain Butternut Squash Soup. Substitute carrots for squash and make Roasted Carrot Soup.