Everyone needs a recipe for Granola Bars! We all like bars for grab-and-go snacks, lunches, when travelling or a quick bite between meals. You likely have some favourite store-bought bars but having a few homemade favourites is a great strategy for adding more variety. If you've got young people in your house who like bars get them in the kitchen making them!
Bars can be expensive to buy but dried fruit and nuts are expensive too. Buy the ingredients in larger quantities and the price sometimes drops by half. Then you can make two pans of granola bars at a time like I do. This keeps things moving in the pantry and you can stock up the freezer with enough granola bars to last for weeks.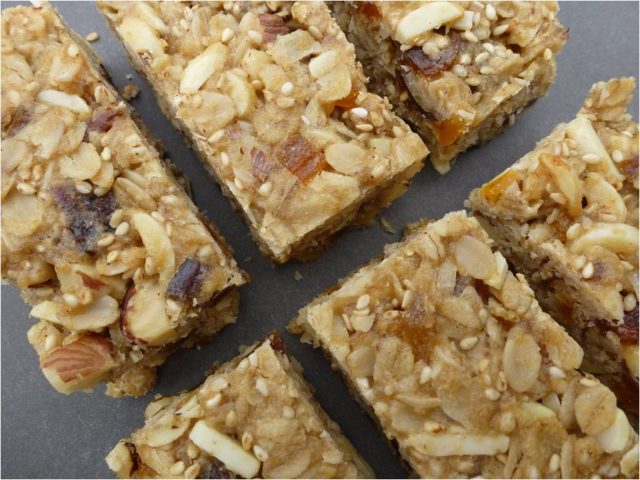 Experibaking
An adventurous attitude in the kitchen is good for everyone but especially for gluten free bakers. Sue Jennett, of a Canadian Celiac Podcast, uses the term experibaking. I think it captures the perfect mindset for having fun in the kitchen and for this recipe. I vary almost every ingredient to compare and to use up ingredients that I have on hand.
The trick is to not double the recipe but to simply make two batches at the same time. This way you can compare the results and you end up with lots of bars. Using different flours and blends I learned the difference is usually in how well the bars stay together. I also know that even if they're crumbling apart in your hands they still taste delicious.
PIN Granola Bars for later...
Organize For Success
This is how I organize myself. I print the recipe, draw a line down the middle of the white space and set it in front of me. Then I set out two pans and two bowls, one on each side of me. I pull out nuts, fruit and those odd bits I want to use up and start measuring. There's no pre planning, just making it up as I go and recording what I put in the bowls.
Be sure to use at least one ingredient in one batch only to make your experiment easy. I usually cut them the day after I baked them and they look pretty similar. To make my taste comparison easy I make sure to have one batch with a recognizable ingredient like pumpkin seeds. Then I can easily see which recipe is which. Lastly, be sure to note what you liked or didn't like and rate one as BEST.
Save that recipe page and repeat using a different colour pen the next time you experibake.
Get The Tools for Granola Bars
Every kitchen needs some tools and baking pans always get a lot of use. I've got baking pans that are more than twenty years old so buy decent quality, buy the sizes you like and be nice to them. Using a knife to cut in a metal pan is not being nice to them.
Buy them in sets of two to make layer cakes, double recipes and experibaking!
Let me know in the comments below if you tried this recipe and what you learned.
Originally posted September 2015, updated April 2021
---
More Recipes for Bars & Balls
Click on the text to go to the recipe/blog post.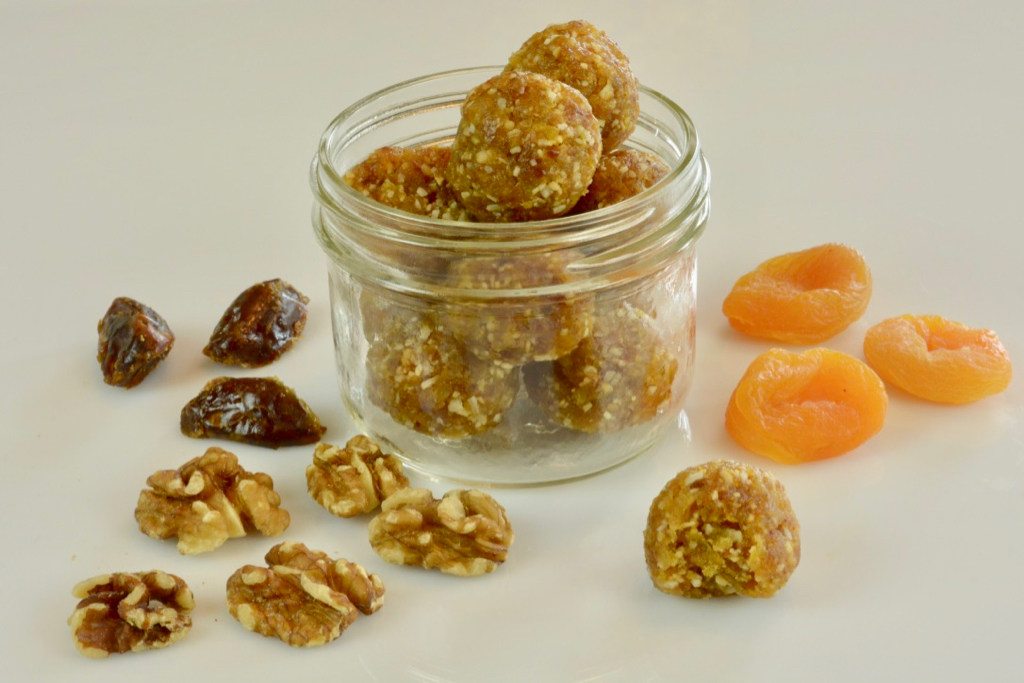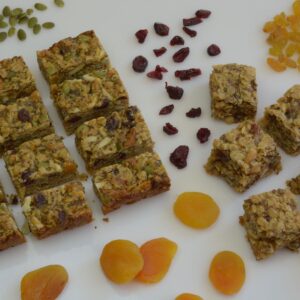 Granola Bars
Granola Bars are a must for grab-and-go snacks. Mix and match the ingredients, including the flour, so they're different every time.
Ingredients
1¾

cups

gluten free oats

⅓

cup

brown sugar

⅓

cup

gluten free flour

(brown rice flour, oat flour, teff flour or a blend)

½

teaspoon

salt

¼

teaspoon

cinnamon
FRUIT, NUTS & SEEDS
1

cup

nuts

(almonds, walnuts, pecans, hazelnuts, cashews or pistachios)

1

cup

dried fruit

(raisins, cranberries, apricots or dates)

½

cup

seeds

(sesame, sunflower, flax or pumpkin)
WET INGREDIENTS
⅓

cup

vegetable oil

⅓

cup

peanut butter

⅓

cup

honey

(or maple syrup)

1

egg

2

teaspoon

vanilla
Instructions
Preheat oven to 350°F. Line 8-inch square baking pan with parchment paper.

In a large bowl mix together oats, sugar, flour, salt and cinnamon.

Add nuts, fruit and seeds to the above, stir to combine.

In a 2-cup liquid measuring cup combine oil, peanut butter and honey. Microwave for 30-60 seconds, whisk until smooth.

Add egg and vanilla to liquid and whisk again.

Pour liquid into dry ingredients and stir until combined. Press firmly into prepared pan and bake in 350°F oven for 25-30 minutes.

Cool completely on wire rack. These are easiest to cut if they have been refrigerated. Cut into 16 bars and store in airtight container or freeze.
Notes
Gluten free flour - All flours, starches and blends have slightly different properties. I use this recipe to keep learning more and to use up bits of flour or blends I have from other recipes. Sometimes my bars crumble because they don't have enough structure and sometimes they're perfect.