Initially posted 2016 for the International Year of Pulses, updated January 2022
This high fibre Leek and Split Pea Soup is delicious on it's own but the pistou sauce is what makes me repeat this recipe year after year.
This soup is hearty, full of flavour and uses split peas making it a high fibre recipe. All things I'm looking for in a winter soup.
Split peas, along with other legumes and pulses, can sit in my cupboard without being touched for a long time. Every January I tell myself I should use them more often.
In this Leek and Split Pea Soup the split peas are the pulse and the fresh green beans are the legume. In January you can use frozen green beans or just substitute with extra split peas. Either way it's a high fibre soup.
The Difference Between Legumes and Pulses
It's not that hard but I can't seem to remember the difference between legumes and pulses. I know they're both high in fibre and excellent for a gluten free diet. I know I should eat more and I know I do eat some of them.
Yet I refer back to this explanation whenever the topic comes up. This falls into the category of, "The more I know, the more I realize I don't know." I'm happy just knowing this much.
Legumes refer to plants whose fruit is enclosed in a pod. Fresh beans, including soybeans, peas and peanuts are all legumes. Alfalfa and clover are also legumes. (I cannot picture alfalfa or clover in my mind.)
Pulses are in the legume family and refer to the dried seed of the legume plant. Dried peas (like split peas), edible beans (kidney beans and black beans), lentils and chickpeas (also called garbanzo beans) are all pulses.
You probably cook with legumes and pulses but to increase fibre on a gluten free diet it doesn't hurt to eat more. That's why you should make this soup.
PIN for later...
This post contains affiliate links. When you purchase using these links your cost is the same, but I receive a few cents for every dollar spent. I appreciate your support for this website.
What is Pistou Sauce?
Pistou is a French sauce similar to Italian pesto but without nuts. Not all recipes use tomato but mine does. I first made this simple recipe in winter with canned tomato paste and dried basil and have never looked back.
The pistou is to be dolloped right into the soup as you serve it. This is so the diner can swirl the sauce into their hot soup, watch it melt and anticipate the flavours as the aroma wafts up to their nose.
That only happens once when I make my soup. Then I stir the rest of the sauce into the soup and portion it up for lunches and the freezer.
Soup and Salad Dinners
I love soup and salad dinners but I know many of you are interested in soup and hot biscuits or dinner rolls right from the oven. Here are a few recipes to choose from.
Soft buttery dinner rolls
Get The Tools
You don't need the most expensive set of pots available but buy what you like because it will probably last for decades.
For the everyday home cook like me the largest pot in a typical set of pots is perfect for making soup. Recipes sometimes refer to a Dutch oven or soup pot but you don't need either. A modern Dutch oven is the gorgeous Le Creuset enamelled cast iron pot. They're heavy and expensive and they'll last you a lifetime. For a fraction of the cost you can buy a lesser quality enamelled cast iron Dutch oven and I'm pretty sure it would last half a lifetime.
A real soup pot, also called a stockpot, is extra large. They're ideal for salsa-making parties, your summer lobster boil or that annual jam making session. I have one so my husband uses it to make his post holiday Turkey Soup. It's a luxury that takes up space so if you don't do any of those things then you don't need one.
I'd love to hear if you tried this soup and what you thought of the pistou. Let me know in the comments below.
---
__________________________________________________________________________________________
New here? Join our community and get your FREE resource, the tips I wish I knew when I started cooking gluten free.
Yes, I need 29 Tips For Cooking with Gluten Free Flour.
Still haven't mastered gluten free cooking? Check out our online Cooking Classes.
More Soup Recipes
Check out my Recipe Roundup of Homemade Soups, 12 recipes to try. Some healthy, some hearty and something for every season. I hope you'll try a new homemade soup and create your own list.
This is a great strategy to build variety into your regular meal rotation and you need variety for a healthy, gluten free diet.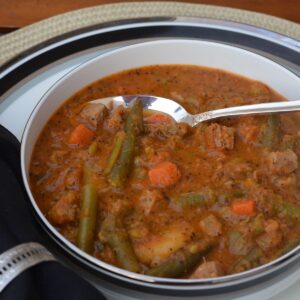 Leek and Split Pea Soup with Pistou
A healthy, high fibre soup taken to new heights with pistou sauce!
Ingredients
3

leeks

8

oz

Italian sausage

1

cup

chopped carrots

1½

cups

thinly sliced potatoes

4

cups

GF chicken broth

2

cups

water

½

cup

split peas, rinsed

(or lentils)

8

oz

green beans, cut into 1" pieces

(or substitute another ½ cup split peas)
PISTOU SAUCE
4

cloves

garlic, minced

1

can

tomato paste

(6 oz/156 ml)

¾

cup

Parmesan cheese

4

teaspoon

dried parsley

1½

tablespoon

dried basil

⅓

cup

olive oil
Instructions
Cut root and green top off leeks. Cut lengthwise and rinse under water to remove dirt. Slice thinly.

Heat oil in a large pot over medium high heat. Cook sausage turning, until browned on all sides. Remove sausage and cut in half lengthwise, then slice to desired thickness. Return sausage to the pot and add leeks and carrots. Cook stirring for 5 minutes until leeks are limp.

Add potato, chicken stock, water and split peas. Simmer covered until split peas are soft, about 40 minutes.

Add green beans to soup, simmer covered for 10 minutes until beans are cooked.

Mix all the pistou into the soup, stir until combined and serve. Alternately, top each bowl of soup with a generous dollop of pistou and serve.
Pistou Sauce
In a small bowl mix together all the pistou sauce ingredients. Add to soup as directed above.
Notes
Similar to the Italian pesto sauce we are all familiar with, my research tells me the original French pistou is bright green and made with fresh basil. One day I'll give it a try!