I make this easy Vegetable Stir Fry in twenty minutes while my rice is cooking. It's a clean-out-the-fridge recipe that's a little bit different every time and I can have dinner on the table in thirty minutes.
What is Stir Fry
Stir frying is simply a Chinese cooking technique using high heat and a small amount of oil. The food is typically cut into small, uniform pieces that become crispy as you stir them.
I love firm stir fry vegetables but some people like them a little softer. If that sounds like you I added an instruction in the recipe notes of how to steam them for a few minutes.
Gluten Free Stir Fry Sauce Ingredients
There are endless sauce recipes for a simple stir fry but this is the one that has stood the test of time in my kitchen.
When you're new to gluten free you've got to upgrade your pantry to include the ingredients you need to make the dishes you want. Here are a few tips specific to the ingredients in this recipe.
GINGER ROOT: Keep a knob of fresh ginger root in the freezer. I buy and use fresh ginger but it dries up when left open to the air and goes slimy in an airtight container. By keeping a piece in the freezer I always have that ingredient on hand.
SAUCES: Gluten free oyster sauce and hoisin sauce are two ingredients commonly used in Asian cooking. For me hoisin is easy to find but oyster sauce takes effort. Lee Kum Kee Panda Brand Oyster Sauce with the GREEN label is the one that's gluten-free. They also sell a gluten-filled version so look for the GREEN label.
CHINESE BLACK BEANS: This is a unique ingredient. The beans can be used right out of the container or rinsed and chopped to go into a sauce. It isn't essential for this vegetable stir fry but I often have a jar of my homemade black bean sauce in the fridge.
SHERRY: I buy W&H Dry Sack Sherry at any liquor store and use it in recipes calling for Chinese cooking wine, cooking sherry or sherry.
For a detailed list of ingredients I use for many Asian dishes and every fusion combination you can think of, check out this post, Gluten Free Asian Pantry. It has recipe links for each individual ingredient.
Best Vegetables For Stir Fry
Fresh vegetables are loaded with vitamins and nutrients and are important for every diet. At the same time it's a juggling act to keep them in the fridge and use them before they spoil.
Keep some canned and frozen vegetables on hand so you can supplement when you don't quite have enough fresh veggies. Here's a list to choose from and you can probably think of a few more to add to it.
| Firm Vegetables | Soft Vegetables | Canned, Frozen & Dried Vegetables | Finishing |
| --- | --- | --- | --- |
| onion | green onions | canned baby corn | salted peanuts |
| peppers | cherry tomatoes | canned water chestnuts | sesame seeds |
| carrot | mushrooms | frozen edamame beans | cilantro or Thai basil |
| celery | snow peas | frozen snow peas | |
| cabbage / coleslaw mix | bok choy | rehydrated dried mushrooms | PROTEIN: leftover cooked meat or tofu |
| cauliflower | zucchini | frozen mixed vegetables | |
| broccoli | fresh spinach | | |
I could make this recipe once a week and it would be different every time.
How Can I Make Dinner Faster
People always want to know what they can cook in less than thirty minutes. My first answer is stir fry!
I put rice on the stove, set the timer for twenty minutes then open the fridge and start chopping. As I chop I have that list above in my head. With over twenty vegetables to choose from I think of what I need to use up and how to get variety.
Quick cooking recipes are a good place to start but there's more to cooking dinner fast. Here are my best tips.
Put some effort into organizing your kitchen. Notice what trips you up and focus on fixing it.
Life in the kitchen is always about juggling food; fresh, frozen and canned. A well stocked pantry is key.
Collect a handful of reliable recipes and keep the list handy. Eventually they'll be in your head but start with a small list and add to it. When the list is long you'll be glad you can refer to it.
Save recipes and learn to vary them. I have this basic stir fry recipe written on a recipe card taped to the inside of the cupboard door beside the stove. It's called Anything Stir Fry.
Make any recipe three times and notice how it suddenly seems a bit easier. I still refer to the recipe to cook but I can start cooking without looking at it.
PIN for later...
This post contains affiliate links. When you purchase using these links your cost is the same, but I receive a few cents for every dollar spent. I appreciate your support for this website.
Is It Better to Cook in a Wok
Yes, it's better to cook in a wok! If you don't have one these are my top reasons why you should buy one today.
A basic flat-bottom wok is inexpensive and can be used for stir fries, curries, non-Asian recipes and even as a deep-fryer.
The high sides of a wok increase the cooking surface which is perfect for a stir fry.
The shape makes it easy to stir food without flipping onto the stove or floor.
My wok is also my deep fryer. The large surface area at the top makes it easy to flip Chinese Chicken Balls or Cinnamon churros when they're bobbing in oil. The smaller base means you use less oil than you would in a pot with straight sides.
Buy a wok and find a place to store it. Mine is in the cupboard above the fridge where it's easy to grab and easy to put away.
Let me know in the comments below if you tried this stir fry or bought a wok.
Originally published 2015, revised February 2023.
---
__________________________________________________________________________________________
New here? Join our community and get your FREE resource, the tips I wish I knew when I started cooking gluten free.
Yes, I need 29 Tips For Cooking with Gluten Free Flour.
Still haven't mastered gluten free cooking? Check out our online Cooking Classes.
More Wok Recipes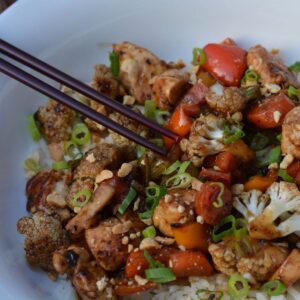 Vegetable Stir Fry (Gluten Free)
Make this easy Vegetable Stir Fry and have a healthy dinner on the table in 30 minutes. It's a clean-out-the-fridge recipe that's fast, healthy and different every time.
Ingredients
1

tablespoon

cooking oil

1

garlic clove, chopped

1

tablespoon

ginger, finely chopped

1

tablespoon

gluten free Chinese black bean sauce*

(substitute hoisin or oyster sauce)
VEGETABLES: 8-10 cups total
firm vegetables: carrot, celery, onion, peppers, cauliflower or broccoli

soft vegetables: zucchini, mushrooms, bok choy, snow peas, spinach or tomato

canned vegetables: baby corn or water chestnuts

frozen vegetables: snow peas, edamame beans or mixed vegetables
SAUCE
¼

cup

Sherry

2

tablespoon

gluten free oyster sauce

(or more black bean sauce or hoisin sauce)

1

teaspoon

sesame oil

½

teaspoon

sugar

¼

teaspoon

pepper
THICKENING
1

tablespoon

cornstarch

1

tablespoon

water
GARNISH: any or all of the following
1

green onion, chopped

2

tablespoon

chopped cilantro

1

tablespoon

sesame seeds

2

tablespoon

chopped peanuts
Instructions
In a measuring cup combine Sherry, oyster sauce, sesame oil, sugar and pepper. Set aside.

Combine cornstarch and water in a small bowl and whisk until smooth. Set aside.

Place wok on medium-high heat for 1-2 minutes.

Add the oil, garlic, ginger and black bean sauce. Stir-fry for 30 seconds.

Add the firm vegetables and stir-fry for 3-4 minutes.

Add the softer vegetables and stir-fry for 2-3 minutes.**

Pour sauce over vegetables, stir to coat and cook 2-3 minutes.

Pour cornstarch-water mixture into wok and immediately stir as the sauce thickens, 1-2 minutes.

Serve on rice or toss with softened rice noodles.

Sprinkle with garnishes of your choice. Serve.
Notes
*Chinese black bean sauce: Click to see my recipe for Chinese black bean sauce.
**

If you prefer your vegetables softer add 1 tablespoon water and put the lid on to steam vegetables for a few minutes.
Black bean sauce, hoisin sauce and oyster sauce are all very different yet any combination will work in this recipe. Find you favourite!
Protein options: Of course you can add meat or tofu. Cook the protein of your choice in the wok after cooking the garlic and ginger or add leftover cooked meat just before adding the sauce.