I love a good Greek Summer Salad any time of year. Many salads are naturally gluten free, healthy and delicious. If you're like me I'm always striving to eat more veggies and salads is the main way I do that. I'd be happy to have a Greek Salad fill half my plate anytime.
To me a good Greek Summer Salad is one filled with that classic combination of crunchy, fresh vegetables. It's versatile and can modified in many ways plus seems appropriate year round. That's why it's on my Top 10 list of Homemade Salads.
PIN Greek Salad for later...
This post contains affiliate links. When you purchase using these links your cost is the same, but I receive a few cents for every dollar spent. I appreciate your support for this website.
Does Greek Salad Need Kalamata Olives
I know some of you are thinking, 'I don't like olives'. Of course you can skip them but hear me out.
I never grew up eating olives and never liked them...until I spent six weeks travelling around Spain. While on vacation there I tasted so many different olives (every single day) that I not only learned to love them, I began to have favourites. The Kalamata olive is now my favourite and the only one I keep in my fridge. So even if you think you don't like them today, I encourage you to try them from time to time. With an open mind, and a glass of wine, you never know when your taste might change.
A nice Mediterranean vacation might help too.
No Recipe Recipes
Everyone is busy so a recipe you can make off the top of your head in invaluable. For me this salad is one of those recipes.
As I pull out the salad bowl I count on my hand the four vegetables I need: cucumber, pepper, onion and tomato. Almost always on hand. The last two ingredients: Kalamata olives and feta cheese are staples in my fridge.
The amounts in this recipe are just a guide. Adjust them to suit your taste. Sometimes I add lettuce or maybe artichoke hearts. When tomatoes are in season I might just serve them on a bed of lettuce with the feta, dressing and oregano. If I'm out of two ingredients, or if I'm trying for something different, I call it a quasi Greek salad.
This sort of cooking, using what's in your fridge to experiment, takes a bit of confidence but the more you do it the more you will think to do it. This makes preparing meals at home easier. Less stress about missing ingredients. Simply try something that appeals to you and you just might create a new favourite combination.
Homemade Salad Dressing
Greek salad is generally made with a basic vinaigrette dressing. According to the tiny book of Greek Cookery I bought on the island of Mykonos many years ago, that means olive oil, wine vinegar, salt and pepper. Simple!
I hope you'll try a Greek Summer Salad with souvlaki for a week night dinner soon. it's a favourite meal in my house. Whether your salad is perfectly composed on a platter, lovingly arranged on two plates, or tossed together in that everyday 'get this on the table ASAP' style, I hope you enjoy it.
Let me know in the comments below if you have a story from Greece or a strong opinion about olives.
---
Dinner Club Menu, A Travel Tale and a Round Up of Summer Salads
Click on the text on the image(s) to go to the recipe/blog post.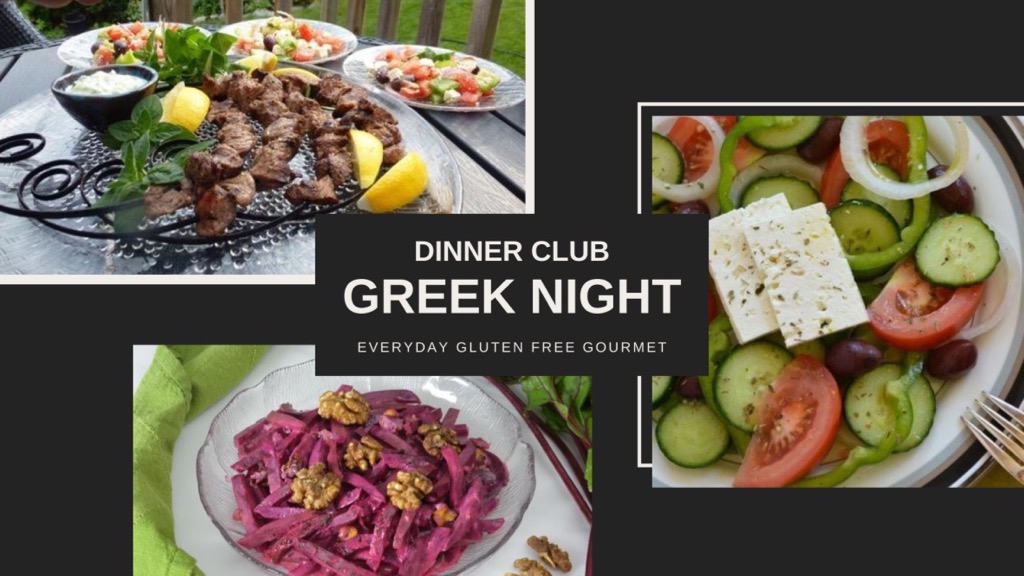 A Travel Tale from Mykonos
From time to time I write a guest post for my friend Sue over at Travel Tales of Life. Here's a link to the story I wrote about our trip to Mykonos (be sure you read the nude beach story).
Greek Souvlaki - An Authentic Greek Food Recipe
Greek Summer Salad
A Greek Summer Salad is perfect any time of year but when tomatoes are in season this salad can take you right back to the Greek Islands in the first bite.
Ingredients
SALAD DRESSING
6

tablespoon

olive oil

2

tablespoon

white wine vinegar

salt and pepper
GREEK SALAD
3

tomatoes, cut in wedges, slices or chunks

1

cucumber, cut in chunks or sliced

1

white or red onion, cut in rings, chunks or slices

2

bell peppers (green or red), sliced in rings or cut in chunks

24

Kalamata olives

1

cup

feta cheese sliced, cubed or crumbled

1

teaspoon

dried oregano
Instructions
MAKE DRESSING
Combine oil, vinegar, salt and pepper in a jar and shake. Set aside. (Can be prepared in advance.)
SALAD
Combine tomatoes, cucumber, onion, peppers and olive in a large bowl.

Pour dressing over salad and gently toss.

Divide salad onto plates then top with feta cheese and sprinkle with oregano.
Notes
COMPOSED SALAD - 
This makes a beautiful composed salad for a buffet. Artfully arrange all the ingredients on a platter. Sprinkle with dried oregano and drizzle with some of the dressing. Serve the remaining
 salad dressing in the center of the platter or on the side.