Are you familiar with some of the Greek specialties? Well here's a menu for Greek Night that brings back memories of my trip to Greece many years ago. Cuisines from around the world offer an endless array of options that are gluten free or can be adapted with a bit of skill in the kitchen.
I've written about my Gourmet Dinner Club in several posts (see the list at the bottom of this post). It has evolved over thirty years to now be a ladies only group where the host can do anything they want. People are busy but are also comfortable to ask for the easiest recipe when just arriving will be enough of a challenge on the agreed date.
3 Reasons to Start a Dinner Club
Over the years my friends and I have prepared amazing meals with plenty of epic fails. Yet we've created wonderful memories and shared lots of laughs together at the dinner table.
Here are three reasons I think people living with food restrictions should start a Dinner Club.
You set the rules so can ensure everything is safe to eat.
It will challenge your culinary skills and introduce you to foods that you would never have tried on your own.
It's fun, you get to eat and you'll all learn from each other.
It's 2020. If your friends don't know about cross contamination, food intolerances and food preferences then you definitely need to start a Dinner Club. If you don't teach them how are they going to learn?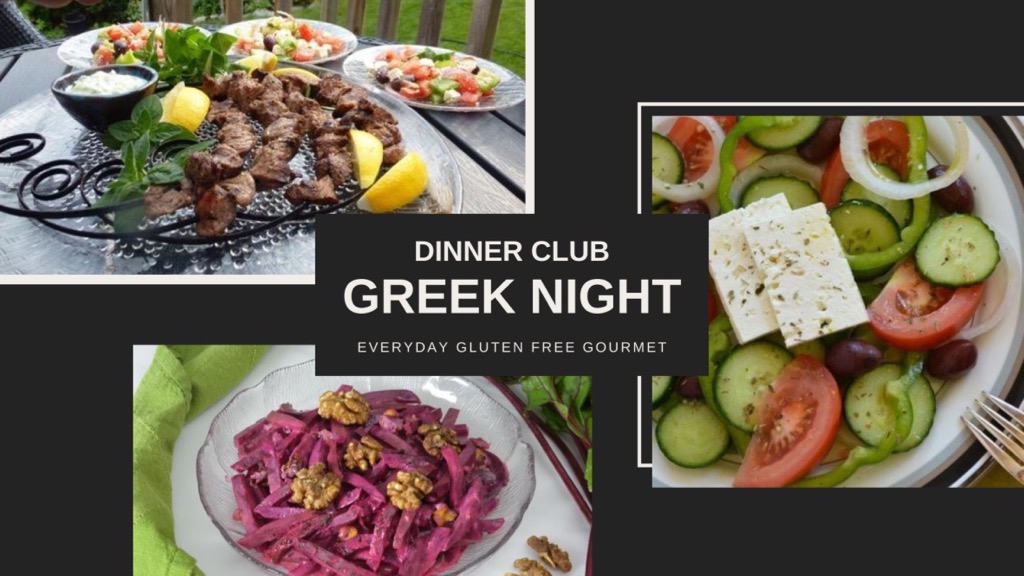 Greek Night Inspired By Memories on the Island of Mykonos
I'm often inspired to cook from my own travels and I have wonderful memories from a trip to Greece in 1982. From time to time I have written about my travels on my friend's blog, Travel Tales of Life. If you're interested in reading about my adventure on the Greece Island of Mykonos (including the famous Nude Beach story), hop over there and read this post Greek Souvlaki – An Authentic Greek Food Recipe.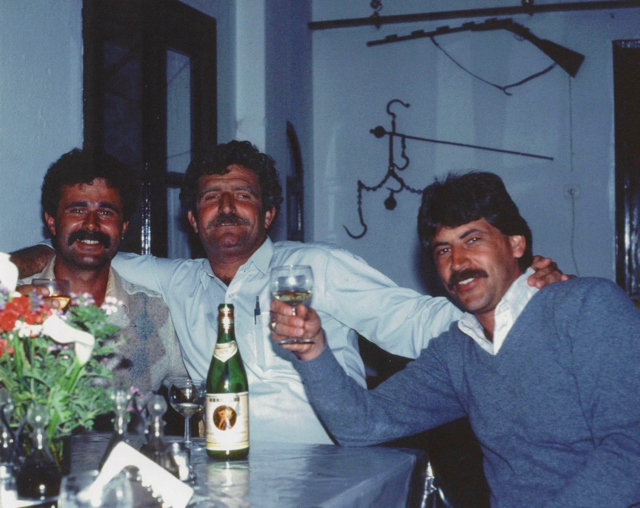 Greek Night – The Menu
Calamari with Tadziki
Beet Yogurt Salad with Walnuts
Vegetable Skewers or Stuffed Eggplant
Rice Pilaf
Naturally gluten free Greek Honey Almond Cake or
Grilled Fruit Skewers with Honey-Cinnamon Glaze
Ouzo
Gourmet vs Everyday
There's a lot of room between gourmet and everyday. My group started our Dinner Club eager to learn new culinary skills and experiment with dishes from cuisines we had never tried.
I encourage you to look at where you're at and what appeals to you. What about reinventing Beer and Wing Night, Pizza Friday or Gourmet Junk Food? Whether it's a long time friend group or new families you've met through your celiac children just organize something.
As they say, "You do you."
Pandemic Possibilities
A global pandemic obviously presents a few problems for Dinner Club but people are being creative. We had a Zoom dinner with the loose criteria to make a quesadilla. We met in the kitchen at 6:00 and chatted while we cooked then all sat down to eat at 7:00. It's not the same but we had fun.
I'd love to hear if you're eating with friends virtually. Let me know in the comments below.
---
More Dinner Club Menus