Grilled Lamb Souvlaki, or pork souvlaki, is simple to make and naturally gluten free. Souvlaki reminds me of my trip to Greece a long time ago when I was first introduced to so many new flavours. I'm often inspired to cook from my memories of my travels and I have many of them from that first trip visiting Athens and the beautiful Greek island of Mykonos. It was a culinary adventure I will never forget.
At that time I was introduced to traditional Greek dishes I had never heard of thanks to our tiny book, a Berlitz Eurpoean Menu Reader. We tried moussaka, souvlaki and calamari in outdoor cafes listening to live music. We devoured Greek summer salads with creamy feta cheese and learned to love those salty kalamata olives. I remember being shocked as a ladle of olive oil was poured over my souvlaki before being handed to me; and then pleasantly surprised at how delicious it was. And I vaguely remember the ouzo.
Everyday to Gourmet - Souvlaki
People often give me food related gifts and the unique skewers in this photo are one of those gifts. You can make a gorgeous platter using straight metal skewers or bamboo skewers but if you have something more interesting this is the time to use them.
No matter what meat you choose, go for quality. With only a few ingredients in this recipe you want to make them all count. For an everyday meal I might use bottled lemon juice (I live in the north, what can I say). For company, fresh lemon wedges are essential as is the dried oregano. In the summer I like to garnish the platter with fresh oregano since I have it growing in my garden, but the classic taste comes from dried oregano.
More Greek Recipes - Dinner Club Menu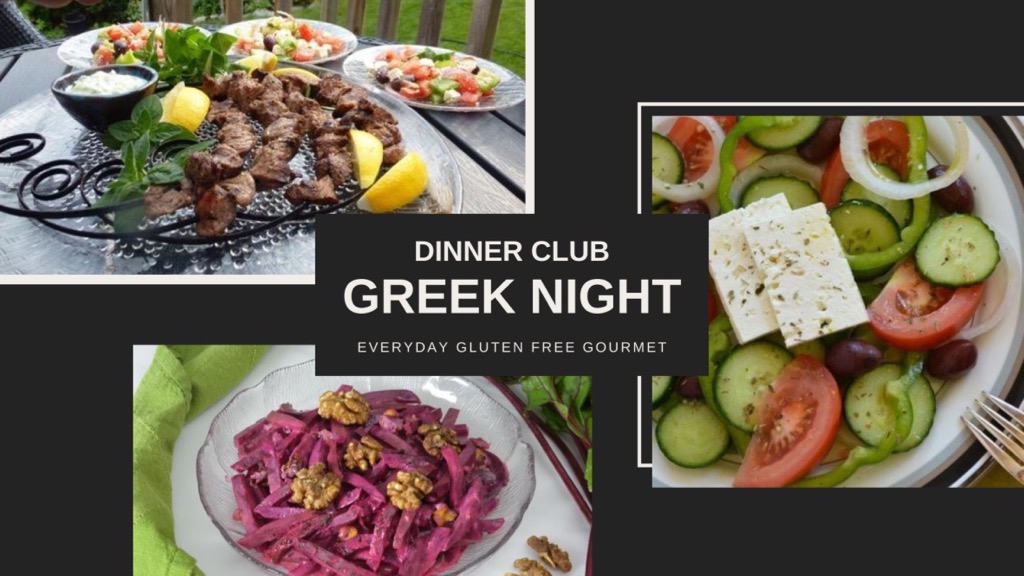 Host a fun Greek night and include a platter of skewered meat garnished with lots of fresh lemon. Serve calamari, homemade tadziki and lemony hummus, a big Greek Summer Salad and your favourite vegetables. The ouzo is optional.
I usually drink wine but when in Greece you must do as the Greeks! Yes, I drank ouzo out of a highball glass with water as instructed. We would bang the bottom of the glass on the table then shout "yamas" and drink up. I probably just sipped my ouzo but those memories are now a bit vague.
Let me know in the comments below what you served at your Greek dinner.
---
A Travel Tale - Mykonos
From time to time I write a guest post for my friend Sue over at Travel Tales of Life. Here's a link to the one I wrote about our trip to Mykonos and it includes the nude beach story.
Greek Souvlaki - An Authentic Greek Food Recipe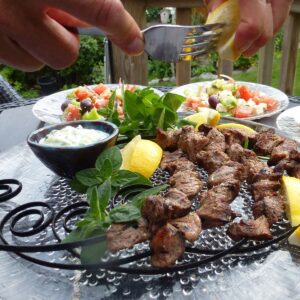 Grilled Lamb Souvlaki
Whether you make souvlaki with lamb or pork, it's a simple traditional Greek recipe. The secret is in the simplicity so use the best quality olive oil and fresh lemon.
Ingredients
2

lb

lamb or pork,

cut into cubes

½

cup

olive oil

¼

cup

lemon juice

1

teaspoon

salt

½

teaspoon

pepper
SERVING
1

teaspoon

dried oregano

1

lemon,

cut into 8 wedges
Instructions
Combine oil, lemon juice, salt and pepper. Pour over meat and marinate for 1 hour or overnight.

Thread meat onto metal skewers. Grill until cooked through, approximately 8-10 minutes, turning once.

Sprinkle with dried oregano and serve with lemon wedges.