Fish Tacos are a popular dish that can be served as a fun, casual dinner with everyone pitching in. If you make your own soft tacos and deep-fry the fish there will be a job for everyone. For parents of teenagers, if you can teach your kids to make tacos from scratch (and have fun doing it), you will be rewarded with fresh tacos many times over.
Battered Fish vs Pan Fried
There is no right answer but my husband voted for deep-fried fish the day we took this photo so that's what I made. Yes, it's more work, there's no doubt about that. But at some point home cooks need to make deep-fried recipes.
Whether it's calamari, french fries, corn dogs or fish and chips people living gluten free often take up deep frying at home. If you want to make battered fish for these tacos check out this post, Battered Fish and Chips, for the recipe and all the steps.
Someone is probably doing this is an air fryer but I don't have one of those. I deep fry everything in my wok.
Sautéed or grilled fish is no compromise and may even be your preference. Fish Tacos is sort of like pizza, it can be a fun DIY kind of Friday night dinner so don't make it a chore. Offer the basic toppings you like and repeat the dinner a few times. Then you'll know what your favourite toppings are and it will be a dinner to look forward to.
Homemade Soft Tacos
The first gluten free tortillas I bought were all disappointing so I went to homemade. They are made of masa harina, water and salt but it's still another step. So use whatever wraps you like but I recommend you add fresh corn tacos to your list of MUST TRY soon.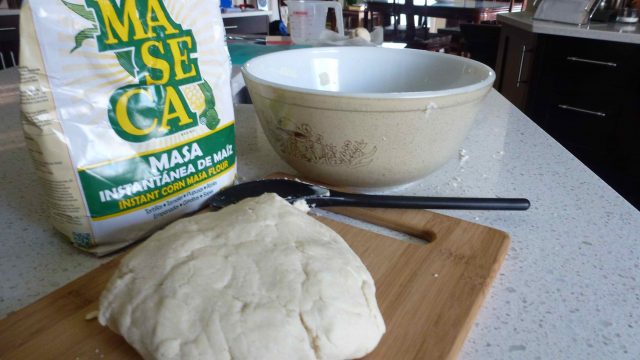 Taco shells can be soft or hard but kids will definitely think of them as hard shells you hold in your hand. These are a bit softer but can be shaped like a taco, especially if you have some taco holders.
BEST KITCHEN TIP - Whether you're making homemade tacos or deep-frying fish the secret to making any recipe easy is to make it at least three times. You'll be a little more organized and familiar with the steps, that's most of what makes any recipe easy.
Organize for Success
Over time I organized what I needed to make soft tacos into an easily accessible bucket. The recipe is taped to the side of the container and this is what's in it.
The bag of masa harina
Two freezer strength plastic bags to use on the tortilla press to prevent the dough from sticking
Cut sheets of wax paper to separate the pressed tacos
A set of taco holders for serving
Toppings For Fish Tacos
There are no rules so decide what you like. My best tip is to prepare all the topping in advance arranged in a large tray or plastic container. It's a bit of work but it makes the Taco Party more fun.
Best Sauces for Fish Tacos
I like my tacos to be a little juicy so I need sauce. Anything available in a squeeze bottle in the fridge is fair game and in my house that is often chipotle mayo. Crema is a Mexican favourite and these days any variation of crema mixed with avocado, avo crema, is popular so that is what I squeezed on these Fish Tacos. Don't forget the hot sauce.
So there you have it, the science of making Fish Tacos your way. Let me know in the comments below how you like to eat your fish tacos.
---
__________________________________________________________________________
New here? Join our community and get your FREE resource, the tips I wish I knew when I started cooking gluten free.
Yes, I need 29 Tips For Cooking with Gluten Free Flour.
Still haven't mastered gluten free cooking? Check out our online Cooking Classes.
_________________________________________________________________________
More Recipes with Mexican Flavours
Fish Tacos
Fish Tacos are a popular dish that can be served as a fun, casual dinner with everyone pitching in to make homemade soft tacos.
Ingredients
FISH
8

oz

halibut or mahimahi

cod or pollock for deep frying - follow link in recipe description
FISH MARINADE
¼

cup

lime juice

1

tablespoon

olive oil

3

tablespoon

chopped cilantro

½

teaspoon

salt

6

oz

halibut or mahimahi
TACOS
12

soft tacos (store bought or follow link in recipe description)
TOPPINGS
finely shredded cabbage or premade coleslaw

raw or pickled red onion

thinly sliced radishes

sliced avocado or avocado crema

crema or chipotle mayo

chopped cilantro

fresh lime wedges

hot sauce
EASY CREMA
½

cup

mayo or Miracle Whip

½

cup

sour cream

2

tablespoon

lime juice

¼

teaspoon

salt
AVO CREMA
1

avocado

½

cup

sour cream

2

tablespoon

lime juice

3 Tbsp

chopped cilantro

¼

teaspoon

salt