Homemade gluten free kecap manis, also spelled ketcap or kejap, is a common ingredient in Indonesian cuisine. It's a sweet, thick soy sauce often used as a condiment or dipping sauce by itself or as an ingredient in many sauces.
When I first started gluten free cooking I looked for safe versions of all the ingredients I typically used for Asian cuisine. Although kecap manis can be bought in Asian grocery stores I never found a gluten free version.
What is a gluten free cook to do? Make it!
Some days it feels like every ingredient is a challenge but of course that isn't true. I try to remind myself how lucky I am that the solution is pretty simple. When I started cooking in the 1980's many specialty ingredients were hard or impossible to find but recipes were always available.
Kecap Manis vs Kecap Asin
Indonesian cuisine traditionally uses two types of soy sauce, kecap manis and kecap asin. The second is a thinner, saltier light soy sauce. I just use my regular gluten free soy sauce rather than kecap asin. But I do love the thick, sweet kecap manis in certain recipes so I make it from scratch and keep it in my pantry.
PIN for later...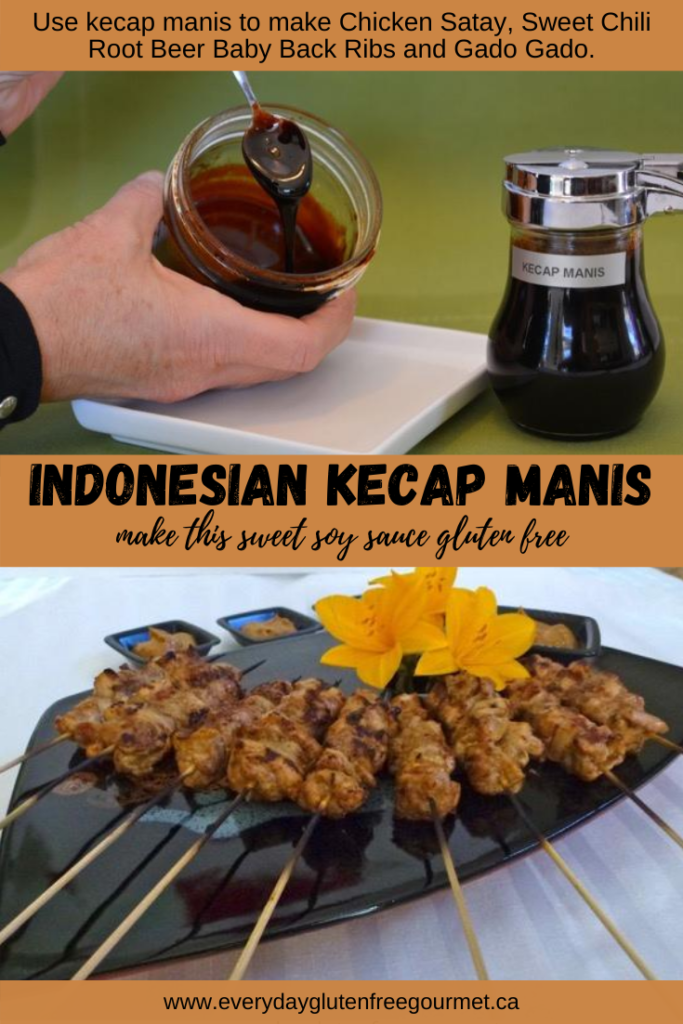 This post contains affiliate links. When you purchase using these links your cost is the same, but I receive a few cents for every dollar spent. I appreciate your support for this website.
Gluten Free Specialty Ingredients
Kecap manis is made with soy sauce, sugar, star anise, garlic and lemon.
If you still don't have a favourite gluten free soy sauce have a tasting and pick one…or two because you might not always be able to find the one you thought was your favourite.
I use my readily available white or brown sugar but if you have palm sugar you can use that.
Star anise is an eight-pointed star-shaped spice with a licorice flavour. Omit it if you can't find it but at some point I suggest you try it. It's a mindset, just put it on a list and plan to buy it. Go the extra mile and it will last for years. (Yes, I'll use five year old star anise from the back of my pantry and I'd be happy to share it with anyone who wants some.)
Kecap manis will keep indefinitely in a cool, dark place providing you always use a clean utensil when dipping into the jar. I generally make it once a year and store it in a Mason jar with a plastic lid. The pouring jar you see in the photo is new idea for me.
Recipes Using Kecap Manis
People debate what country invented satay but Indonesia is top of the list. I have at least six recipes for peanut sauce but this chicken satay with peanut sauce is my all time favourite. For me it feels the most authentic and brings me right back to eating satay from a street vendor in Bali.
The famous Indonesian composed salad called Gado Gado is served with a peanut dressing that I love. For me it's just a healthy way to eat more peanut sauce.
This 4-ingredient rib recipe is a North American interpretation perfect for summer barbecuing, Sweet Chili Root Beer Baby Back Ribs.
I'd love to hear if you made this kecap manis and what recipe you used it in. Let me know in the comments below.
If you'd like to explore more Indonesian recipes, especially using an Instant Pot, visit my friends, Rose and Jim, over at One Pot Dish. Beautiful pictures and delicious food. Tell them I sent you.
A Travel Tale - Bali
From time to time I write a guest post for my friend Sue over at Travel Tales of Life. This is my travel story, memories from our amazing vacation in Bali many years ago, Indonesian Chicken Satay Recipe - Bali.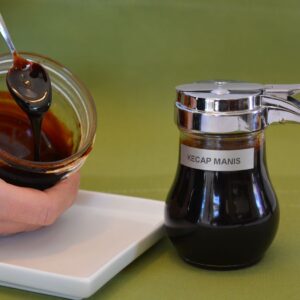 Kecap Manis
Homemade gluten free kecap manis is a sweet, thick soy sauce that makes the amazing flavours of Indonesian cuisine possible.
Ingredients
¾

cup

sugar (white, brown or palm)

1

cup

gluten free soy sauce

2

tablespoon

water

1

tablespoon

lemon zest

(or 1 thick strip)

3

garlic cloves, minced

1

star anise
Instructions
Put sugar in a medium sauce pan on low heat. After several minutes the sugar will begin to melt and turn brown around the edge of the pan. Stir occasionally allowing the sugar to continue to caramelize. This will take several more minutes.

Add the remaining ingredients, stirring continually.

Bring to a boil, lower heat and simmer for 10 minutes.

Allow to cool slightly then strain into a glass jar.

Label and store at room temperature. Keeps indefinitely.