Gado Gado is the signature salad of Indonesia. There is no better way to expand your culinary taste buds than exploring cuisines from around the world and this Indonesian salad is a feast for the senses. A combination of fresh and cooked vegetables served with a delicious Peanut Sauce Dressing.
The original recipe came from one of my favourite food magazines back in the day; Bon Appetit, Food & Wine or Gourmet. I don't remember which one. The recipe made its' way into my collection of ethnic specialties but it isn't an everyday salad. You can simplify it by using less ingredients but making the complete salad is definitely worth the effort. And if you are lucky there will be enough leftovers to make a nice lunch.
Don't be intimidated by the long list of ingredients in my Gado Gado. Many of the ingredients may already be in your fridge. Cooking the eggs and potatoes a day or two in advance also decreases the number of steps when you actually prepare this salad.
Kecap Manis for Gado Gado
This is a North American adaptation and that usually means the ingredients are readily available. So let me clarify readily available. Of course the vegetable are all naturally gluten free and available. The only ingredient with gluten would be kecap manis in the dressing.
Kecap manis is a sweet Indonesian soy sauce commonly made with wheat. Although someone on Instagram shared a picture of a gluten free version of kecap manis made from sorghum, I've not been able to find a gluten free version.
Many years ago I learned to make kecap manis because it was a specialty ingredient that wasn't readily available. Check out my post with the recipe for Kecap Manis if you want to make it. For me it's an Asian pantry staple you just need to make and it isn't difficult.
PIN for later...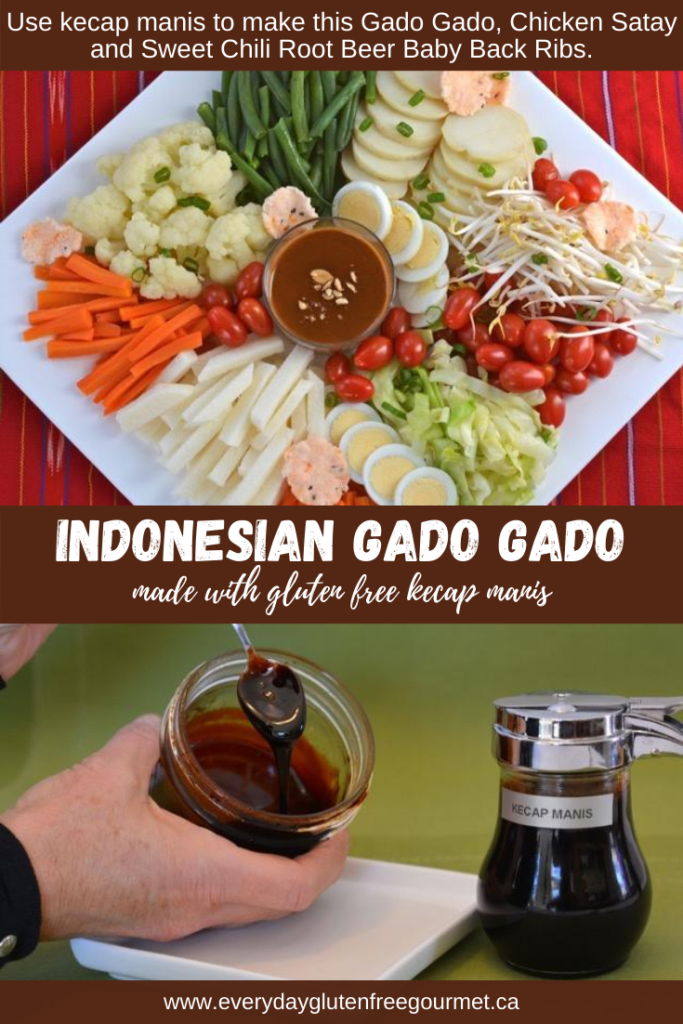 Gado Gado Your Way
Gado Gado literally means mix mix. As with any salad the ingredients are just a guide so mix it up any way you like. Vary the ingredients, cooked or raw, cut the vegetables in the size you prefer and use any amounts.
This salad can be served layered salad or tossed, right at your table in Indonesia. For entertaining I love this presentation of a composed salad. The colourful ingredients can be beautifully presented on a large tray showcasing each of the individual components. This makes it ideal for the centerpiece of an Indonesian feast but consider taking it to a Pot Luck as well. It is still a salad!
More Recipes Using Kecap Manis
Click on the text to go to the recipe.
A Travel Tale from Bali
From time to time I write a guest post for my friend Sue over at Travel Tales of Life. This is one I wrote about our trip to Bali - Indonesian Chicken Satay Recipe - Bali.
Gado Gado Salad
Gado Gado is the signature salad of Indonesia served with a peanut dressing using kecap manis, it will expand your culinary taste buds.
Ingredients
SALAD
8

oz

red potatoes

2

cups

cauliflower florets

2

carrots, julienned

4

oz

green beans, trimmed and cut in half

2

cups

shredded green cabbage

1

cup

jicama sticks

1

cup

bean sprouts

1

cup

firm tofu cut in cubes

12

cherry tomatoes

2

hard cooked eggs, sliced

2

green onions, sliced
PEANUT SAUCE DRESSING
1

cup

coconut milk

⅓

cup

peanut butter

1

large garlic clove, minced

3

tablespoon

GF kecap manis

(sweet Indonesian soy sauce)

3

tablespoon

lemon juice

2

tablespoon

water

2

tablespoon

brown sugar

½

teaspoon

lemon zest

½

teaspoon

crushed red pepper flakes

½

teaspoon

salt
Instructions
SALAD
Put potatoes in medium saucepan and bring to a boil. Simmer covered for 15-20 minutes depending on the size of the potatoes. Cool and peel the skins off. Slice to desired thickness.

In another saucepan steam or boil vegetables one at a time using the same water. As they are cooked remove them with the steamer handle or a slotted spoon. Rinse each vegetable under cold water to stop the cooking process then place on a towel to dry. Add more water as needed.

Cauliflower – 8-10 minutes

Green beans – 5-7 minutes

Once vegetables are cooked and cooled arrange all salad ingredients on a platter or layer in a large glass bowl. Refrigerate if not serving within one hour. Allow vegetables to come to room temperature before serving.

Sprinkle with chopped green onion and shrimp chips. Serve Peanut Sauce Dressing on the side.
PEANUT SAUCE DRESSING
Combine all ingredients in a small saucepan and bring to a boil over medium heat. Reduce heat and simmer, stirring frequently until slightly thickened, about 10 minutes. Serve warm.