These Sweet Chili Root Beer Baby Back Ribs have only four ingredients in the sauce yet the combination of sweet and hot is complex and delicious. The ribs are cooked in the oven then finished on the barbecue making them ideal for entertaining. That advance prep, early in the day or even the day before, is what makes you look like "the hostess with the mostest" as we used to say!
Three of the four ingredients are simple; two bottled chile sauces and root beer. You can never assume anything is gluten free but soda pop and many varieties of chile sauce are easy to confirm that they're safe.
The fourth ingredient is kecap manis. It's an Indonesian sweet soy sauce and I make it using gluten free soy sauce. I've heard there's a gluten free brand made from sorghum but I've never seen it. Since it only takes ten or fifteen minutes to make I just do that once a year for the handful of recipes I love. For me this is easy but of course there's a catch.
Homemade Kecap Manis and a Substitute
I know I often write that something is easy. That term is relative depending on your level of skill in the kitchen and your desire to have a well-stocked pantry. So the catch for kecap manis is the spice star anise. Who the heck has star anise in their kitchen, right?
Well, I do. I have it specifically for this recipe and you can read more about it in this post titled Gluten Free Kecap Manis. But I do like to give you a substitute for people slightly intrigued but not yet ready to go out and find that new ingredient. I've never tried this substitute but you can. It won't have those subtle hints of licorice and lemon but you'll have some great ribs and just might be inspired to go buy star anise.
Kecap Manis substitute - Replace the full amount of kecap manis in your recipe with any gluten free soy sauce and add some brown sugar to it.
PIN for later...
This post contains affiliate links. When you purchase using these links your cost is the same, but I receive a few cents for every dollar spent. I appreciate your support for this website.
A Discerning Palate and Super Tasters
When you start eating gluten free suddenly people talk about a gritty taste and use the term mouthfeel. I've cooked a lot in my lifetime yet never used these terms until I ate gluten free. Obviously we can learn to have a more discerning palate but it takes effort.
Have you heard the term 'super taster'? My husband is a super taster so in comparison I would say I'm not. He'll pause and comment on the spices he can detect without knowing anything about a dish. Maybe it's something you're born with but of course one can always improve by eating more slowly, focusing on the taste and talking about it.
If your eating gluten free for life it might be worth thinking more about your taste buds.
Get The Tools
Organization is one of the keys to cooking meals day after day but practise and having the right tools is what makes it easy. You don't need incredible knife skills or masterful techniques, just a willingness to learn.
In the summer I love anything cooked on the barbecue from a Deconstructed Grilled Caesar Salad to simple Grilled Peaches and every main dish in between. Here are some of the tools used for grilling!
Thanks to Fine Cooking magazine for the inspiration for this recipe. Making these Sweet Chili Root Beer Baby Back Ribs gluten free wasn't difficult. I'd love to hear in the comments below what you thought.
---
More Recipes - Ribs, Kecap Manis and Grilling
29 Great Gluten Free Grilling Recipes plus these...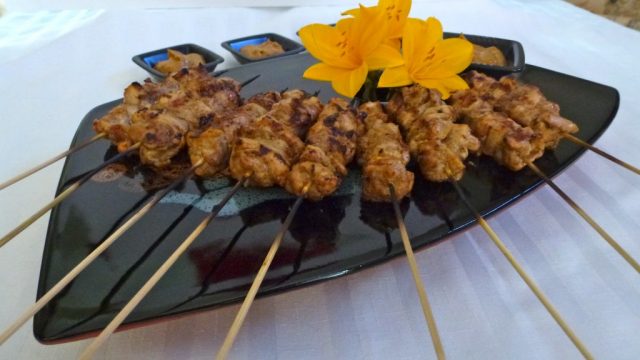 Originally published October 2015.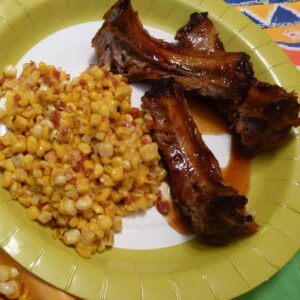 Sweet Chili Root Beer Baby Back Ribs
Sweet Chili Root Beer Baby Back Ribs have only four ingredients in the sauce yet the combination of sweet and hot is complex and delicious.
Ingredients
RIBS
2

racks

baby back pork ribs

2

teaspoon

salt
SAUCE
6

tablespoon

kecap manis*

¼

cup

root beer

¼

cup

sweet chili sauce

(also called Thai chili sauce)

2

tablespoon

Sriracha chili sauce
Instructions
SAUCE
In a large glass measuring cup combine kecap manis, root beer and both chili sauces. Set aside ½ cup of sauce for serving. Use the remaining sauce to brush the ribs when on the grill.
RIBS
Let ribs sit at room temperature for 1 hour.

Preheat the oven to 300°F.

Sprinkle the meat side of the ribs with salt. Place on a lightly oiled baking pan and cover with foil. Bake in oven for 2 hours. The meat should be tender but not falling off the bone. Ribs can be prepared to this point a day in advance. Return to room temperature before finishing on the grill.

Brush ribs on both sides with sauce. Finish ribs on the grill, turning once, until nicely lacquered, about 15 minutes total. Remove from the grill.

Using a sharp knife cut into individual ribs sections and serve. Serve with the reserved sauce drizzled over the ribs.
Notes
*Kecap manis is a sweet Indonesian soy sauce that is typically contains wheat. I make my own using gluten free soy sauce. Click here for the recipe, kecap manis.