Uncooked Dainties are an easy no-bake recipe that every kid should know how to make. They're naturally gluten free but must be made with certified gluten free oats to be safe for celiacs.
If you're new to gluten free this is one of the first cookies you should make! Share that tip with anyone new to the gluten free diet. You don't need to be a kid to enjoy a chocolatey sugar laden treat.
Ingredients
If you keep oats, coconut and cocoa in your panty you can make these anytime. They're great to send in school lunches and can be made late at night when you suddenly need a treat to send to an event at school.
The Best Gluten Free Oats for Cookies
I like the texture of whole oats for all uses; plain microwave or stovetop oatmeal, Overnight Oats, Homemade Granola and Granola Bars, Chocolate Coconut Oat Bars, Coconut Date Energy Balls, the topping for Fruit Crisp and my Rhubarb Streusel Muffins. Whole oats are also perfect in cookies like these Uncooked Dainties and my Pumpkin Chocolate Chip Cookies.
Using one type of oats makes stocking my pantry less complicated.
I'm not crazy about the texture of steel cut oats and I don't need the more processed instant oats. (Cooking whole oats in the microwave only takes 30 seconds longer than cooking quick oats.)
The final bonus, if I ever need oat flour I can just whiz up some whole oats in my food processor and make some. I don't want to make my own flour but it's an option and it isn't possible with other grains or seeds like quinoa or flax.
Aren't All Oats Gluten Free?
When you're new to gluten free it's fair to say oats are complicated. They come in contact with wheat and other grains during harvesting, processing and manufacturing therefore are not considered safe for anyone eating a gluten free diet.
Safe, gluten free oats are available and that's what you need to buy. Oats can definitely be a part of a healthy gluten free diet so look for certified gluten free oats.
To learn more about oats check out this post, Gluten Free Whole Oats vs Quick Oats. The Purity Protocol used by some manufacturers ensures no contact with wheat during the entire harvesting, processing and manufacturing steps.
No-Bake Treats
No-bake recipes are the best recipes for young kids. They're fascinated with measuring and mixing and as they get older they're curious about the magic that happens on the stove. Nurture this natural curiosity and you'll be rewarded with cookies.
Gluten free kids need to have fun in the kitchen more than anyone else since they have so many disappointments around food. Help them create a fun atmosphere in the kitchen and over time their skills will evolve. I guarantee that one day they'll want to cook 'real food'.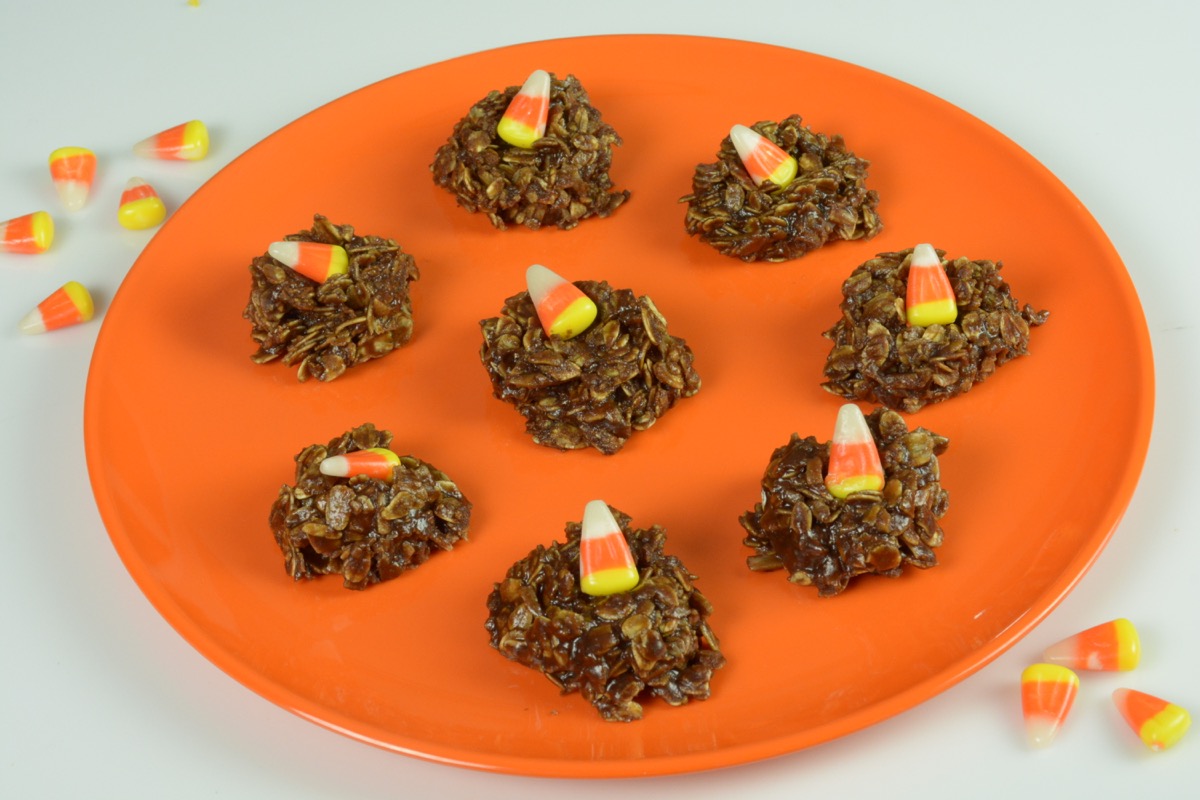 Baest Kitchen Tools for Cookies
Drop cookies are simple just needing two spoons and a baking sheet. You scoop a spoonful of the mixture out of the pot and use the second spoon to drop it onto the waxed paper lined sheet. A big spoon makes big cookies and a small spoon makes smaller cookies.
My youngest brother couldn't be bothered with all this effort so he just packed the hot mixture into a few small pie plates. I couldn't do it, I wanted mine to look just like the way my mom made them.
Metal portion scoops get the job done quickly and give your cookie a more rounded shape. I don't use them for these cookies but I definitely recommend you buy a set of scoops. They are efficient for making everything from meatballs to muffins and they make uniform sized cookies. You'll never regret that purchase!
I never thought of decorating these cookies for any holiday but some gluten free kids taught me it could be a lot of fun! Let me know in the comments below if you made these cookies.
Originally published in 2015, updated in 2022.
__________________________________________________________________________
New here? Join our community and get your FREE resource, the tips I wish I knew when I started cooking gluten free.
Yes, I need 29 Tips For Cooking with Gluten Free Flour.
Still haven't mastered gluten free cooking? Check out our online Cooking Classes.
_________________________________________________________________________
Uncooked Dainties
These are an easy no-bake cookie you can make fast. Keep gluten free oats and cocoa in your pantry and make them anytime.
Ingredients
2

cups

sugar

½

cup

butter

½

cup

milk

½

cup

cocoa

1

cup

coconut

3

cups

whole oats

(certified gluten free)

1

teaspoon

vanilla

pinch of salt
Instructions
Line a baking sheet or tray with waxed paper.
DRY INGREDIENTS
Combine coconut, oatmeal and salt together and set aside.
WET INGREDIENTS
In a large saucepan heat sugar, butter, milk and cocoa. Bring to a boil and let boil exactly 5 minutes.*

Remove from the heat and add dry ingredients and vanilla. Working quickly, stir until combined.

Using 2 spoons, fill one with the cookie mixture and use the other to push it off the spoon onto a baking sheet. (Use 2 soup spoons for larger cookies and 2 regular spoons for smaller cookies)

OPTIONAL - Immediately top cookies with candy or sprinkles so they harden right onto the cookie.

Allow to cool and harden before eating. Put them in the fridge to harden if you're in a hurry to eat them.
Notes
*If the mixture is overcooked on the stove they will quickly harden but will definitely be edible. 
DECORATIONS - These cookies don't need any embellishments but kids love to decorate. Here are some ideas:
Valentine's Day - heart candy sprinkles or cinnamon hearts
St. Patrick's Day - green candy sprinkles or tiny shamrocks
Easter - Candy Coated Chocolate Easter Eggs
Canada Day - red and white candy sprinkles
Halloween - Candy Corn
Christmas - red and green candy sprinkles