Pasta with Fresh Sorrel and Feta is one recipe I look forward to making as soon as the sorrel in my garden is ready to pick. It's a light, summery pasta sauce that's a bit different from the usual sauces I make.
What is Sorrel
Sorrel is a tart, lemony herb that I fell in love with the first time I tried it. In those days you couldn't find it anywhere so I planted it. Still a rare find at my local markets so if you're intrigued buy sorrel seeds and plant some. You won't be sorry.
Sorrel grows well in my Canadian garden and comes back every year without fail. I cut from it all summer and it continues to grow until my garden is done in the fall.
Pasta with Fresh Sorrel and Feta is one of the few sorrel recipes I look forward to making each year. The soupy sauce made from white wine and chicken stock works with the tart taste of sorrel. The sauce is different from anything else I make so I often adjust the vegetables in this recipe and just use the basic recipe for a summer pasta dish.
What To Make With Sorrel
I am a recipe person because I can repeat amazing dishes if I simply follow the recipe. Yet I only have a few specific recipes using sorrel. I most often use sorrel here and there with no specific recipe in mind.
I know some of you love to cook like that so here is my list of ideas to use fresh sorrel.
In any egg dish; an omelette, egg muffins, quiche, breakfast hash or frittata. I like to pair it with feta or goat cheese.
Velvety smooth sorrel soup with a heart pattern made using drops of slightly whipped heavy cream.
Add it anywhere you would use Swiss chard or spinach.
Add a handful to vegetable soup or pasta.
Make a sauce like hummus or pesto.
Serve it with salmon or other fatty fish.
What To Substitute for Sorrel
Wondering what you can substitute for sorrel?
Substitute spinach or chard then add some finely grated lemon zest right into the sauce or on top of pasta before serving. Like many substitutes it's not exactly the same but this is how you discover unusual or new combinations that you love.
When I taste a new combination of foods that is memorable I'm the one who says, "who would have ever thought to put these two foods together?" Well, someone just like you did!
Quick and Easy Weeknight Pasta Recipes
Pasta, once a quick and easy dinner, is a challenge for cooks new to gluten free. Once you learn these tips you'll think of pasta as a quick week night meal again but it takes time.
Let's just call wheat pasta forgiving! You can throw it in boiling water, cook it according to package directions (usually ten or twelve minutes) and it works. Every time!
Cook it an extra minute, or even leave it in the pot for five or ten minutes while you serve salad. No problem!
Wheat pasta seems to cook perfectly every time.
Not so for gluten free pasta but fear not. Keep reading for my list of tips.
What is the Best Gluten Free Pasta
In this post I'm talking about Italian style pasta dishes like spaghetti with tomato sauce, Pasta Primavera or Alfredo. Of course there are many sauces not remotely Italian but I am not including Asian white rice noodles.
There are now many different types of pasta just like there are many different gluten free flours. We finally have shapes and sizes to choose from too. Noodles can be made from brown rice, wild rice, black rice, corn flour, quinoa, buckwheat, chickpea, lentils, beans, vegetable purees and more.
With so many types of pasta, that all cook differently, you need to take the time to try different ones. Learn how to cook them, compare, make notes and choose your favourites.
In my early days of cooking gluten free pasta my first success was when I learned to cook brown rice pasta for 9½ minutes and then rinsed it.
This precision was, and still is, the key to cooking gluten free pasta perfectly.
If cooked a minute too long noodles break and go mushy. Even perfectly cooked pasta will disintegrate if left to sit an extra five minutes while everyone gets to the table.
If you want everyday pasta dishes that everyone in your house will eat, try all these tips.
Tips for Cooking Gluten Free Pasta
Timing is key so have your pasta sauce hot when you pasta is ready to go.
Have the pasta strainer waiting in the sink.
Start by setting your timer for the shortest cooking time suggested on the package.
After the minimum time, taste a noodle every 30 seconds until you learn how you like it cooked. If your kitchen timer doesn't display in seconds use your phone.
Drain the pasta and rinse briefly with cool water to stop the cooking process.
Quickly toss pasta with sauce, serve immediately.
Create a system to warm your bowls before you serve pasta. This can be done in a sink of warm water or in a warm oven. I don't do this often but sometimes it's a key step.
Rinse with cold water for cold pasta salads.
Let me know in the comments below if you've heard of sorrel, if you grow it and how you use it.
Originally posted in 2015, updated 2022.
__________________________________________________________________________________________
New here? Join our community and get your FREE resource, the tips I wish I knew when I started cooking gluten free.
Yes, I need 29 Tips For Cooking with Gluten Free Flour.
Still haven't mastered gluten free cooking? Check out our online Cooking Classes.
Summer Pasta Recipes
Click on the text on the image(s) to go to the recipe/blog post.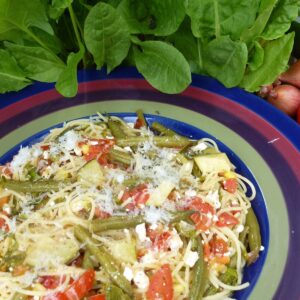 Pasta with Fresh Sorrel and Feta
This pasta dish has a thin sauce made with white wine and chicken stock and is a nice change from heavier tomato based sauces. You can substitute spinach for the sorrel but when you find this tart, lemony herb, this is the recipe to make. I pick sorrel in my garden all spring and summer long.
Ingredients
12

oz

gluten free pasta (spaghetti or fettuccini)

(340 grams)
SAUCE
4

tablespoon

olive oil

2

garlic cloves, finely chopped

¼

cup

finely chopped onion

1

zucchini, cut lengthwise into 4 and thinly sliced

24

green beans, cut in half

2

cups

chicken stock

¾

cup

white wine

4

Roma tomatoes, chopped

(or 1½ cups of halved cherry tomatoes)

½

cup

frozen corn

3

tablespoon

butter

(add it, you won't be sorry!)

1

cup

feta cheese, crumbled

¾

cup

sorrel*, julienned

salt and pepper to taste**

¼

cup

grated Parmesan cheese
Instructions
Heat oil in large saucepan over medium high heat.

Saute garlic and onion for one minute.

Add zucchini and green beans and saute for 5 minutes.

Add stock and wine, bring to a boil. Simmer for 5 minutes.

Add tomato, corn and butter. Stir until butter is melted, 3-4 minutes.

Prepare feta, sorrel and Parmesan cheese. Set aside.

Cook pasta according to package directions. Drain and rinse pasta in cool water to stop the cooking process.

Put pasta back in the pot it came out of. Add vegetables with sauce, feta and sorrel. Stir.

Taste and add salt and pepper to taste. Divide into 4 dishes, sprinkle with Parmesan cheese and serve.
Notes
*Sorrel is a perennial herb you only plant once but comes back year after year. You might find it at a Farmer's Market too.
**Develop the habit of tasting your food - 'Salt and pepper to taste', the famous last words added to many recipes. The amount of salt in everything from canned tomatoes to chicken stock will affect the taste of your dish as well as the saltiness of ingredients like feta cheese and Parmesan cheese. Learn to taste your food before you serve it and trust your tastebuds.