This Lemony Hummus recipe is a long time favourite in my family. Hummus is the Arabic word for chickpeas and this Middle Eastern dip is now ubiquitous in the North American diet. Who has not heard of hummus?
The base of this tasty dip is mashed or pureed chickpeas (your preference) and tahini, a sesame seed paste. It's a high fibre snack that can be varied throughout the year by adding different roasted vegetables and is perfect for anyone on a gluten free diet.
Is Tahini Gluten Free
The deli section of the grocery store is where you'll find many varieties of hummus, not all gluten free. To make it from scratch you need to find tahini, probably not in the deli section. (The joy of grocery shopping.)
Tahini is simply pureed sesame seeds so it should be gluten free (code word for 'always check the ingredient list'). I see it at the grocery store from time to time but you can always find it at a Middle Eastern grocery store or deli. Just going there will inspire you to make all the fabulous specialties from that part of the world.
Once you get it home tahini will keep in the fridge for more than a year. Since you bought it you might as well challenge yourself to use it. Let me know what you make with it.
PIN Lemony Hummus for later...
Your Gluten Free Pantry
Home cooking requires a well stocked pantry and I write about that often. Buying and storing ingredients is only one part, knowing what you have and keeping a handful of recipes to use each ingredient is equally as important.
It's a skill and as with any skill, you get better over time, especially when you're trying.
Variety is the Spice of Life
This is my short list of recipes that use tahini:
Roasted anything hummus; red peppers, garlic, beets or carrots to name a few. I make the beet version with canned beets and do not apologize for that.
Thin any flavour of hummus and use it as a salad dressing for a Middle Eastern or Greek inspired bowl.
Keep it thin as a drizzle over grilled vegetables or roasted vegetables.
A barbecue favourite of mine is this fusion recipe for Mongolian Pork Chops served with grilled peppers and zucchini with this Lemony Hummus on the side. A magic combination that is greater than the sum of its' parts.
Get The Tools for Lemony Hummus
Cooks have options when it comes to power tools so get the ones you like, or all of them!
Let me know in the comments below if you try a version of my lemony hummus recipe and how you served it.
Originally posted 2015, updated March 2021.
---
More Related Recipes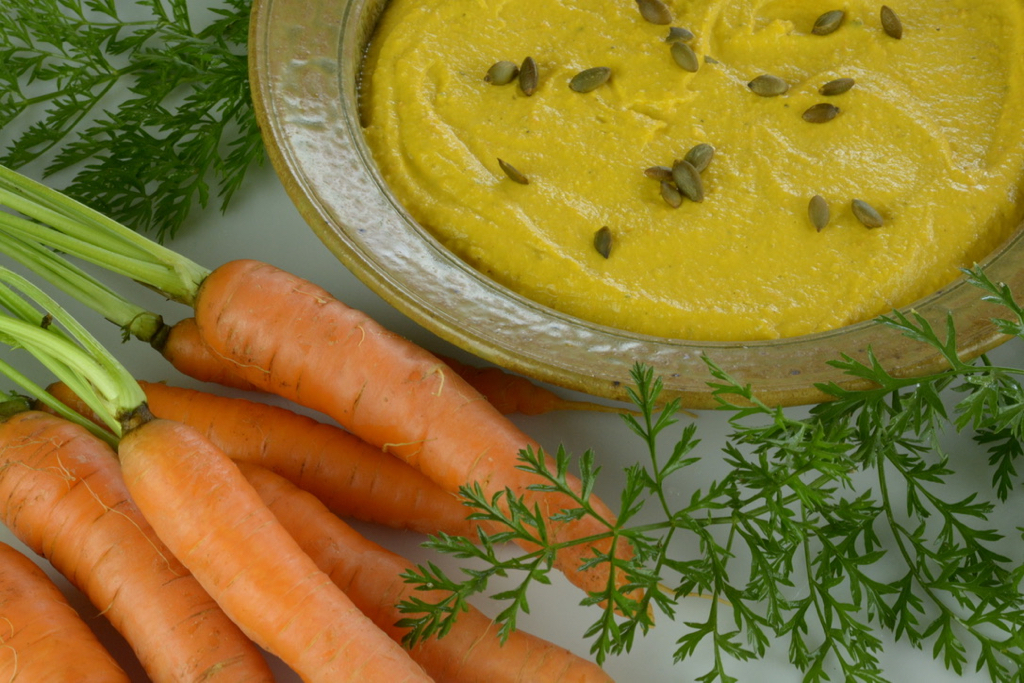 Lemony Hummus
Lemony Hummus is a tasty, high fibre dip that should be on your list of healthy snacks. Enjoy it with veggies or thin it for a dressing.
Ingredients
1

clove

garlic

(small)

1

can

chickpeas, drained

(15 oz/ 540 ml)

7

tablespoon

lemon juice

(2 big, juicy lemons)

½

cup

tahini

(sesame seed paste)

1

tablespoon

olive oil

½

teaspoon

cumin

⅛

teaspoon

cayenne

salt to tast

5

tablespoon

water
Instructions
Turn on the food processor fitted with a metal blade and drop the garlic clove in. Process for 10 seconds, turn off.

Add all remaining ingredients except water. Process for 2-3 minutes, longer if you prefer a very smooth dip.

Stop the processor, scrap down the sides of the bowl then processor for another 1-2 minutes, adding water until you have the desired consistency.

Taste for salt and adjust.

Serve with raw veggies or as an accompaniment to Mongolian Pork Chops.
Notes
The salt will vary if your chickpeas are salted or unsalted.